As time progresses, the technology around us is becoming more advanced. Today, AI tools can respond to our text and provide useful suggestions.
While AI tools came into the limelight a few months ago, there are lots of tools & apps that are underrated. One such tool is Google Earth which provides the world's most detailed globe.
You can access Google Earth by installing the desktop, Android, iOS, and Linux apps. On desktop, you have to download Google Earth Pro. For those who don't want to install any program can use the fully interactive web version of Google Earth from any web browser.
What is Google Earth?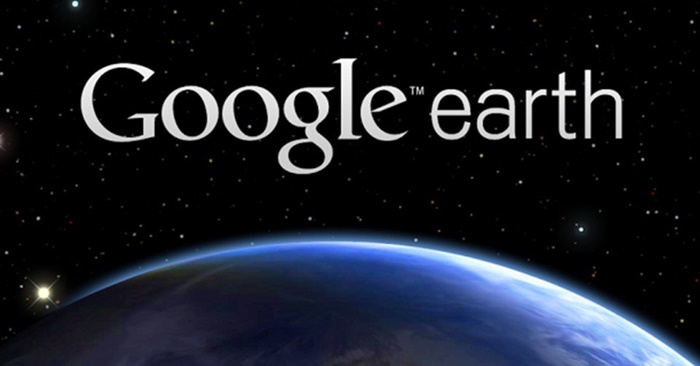 Many users often confuse Google Maps and Google Earth. Both of them share no similarities and hence are not applicable for comparison. Google Maps is a very useful navigation app, whereas Google Earth's goal is to take you on a virtual tour of different places around the world.
Google Earth is designed exclusively for explorers who want to explore different places on Earth. The tool allows you to visit beautiful places virtually in 3D without much distraction.
When you first access the Google Earth Pro desktop or the online tool, you can see our planet Earth in 3D. You can spin the globe and visit anywhere you want, right from home. You can also roam in the streets and view beautiful places.
Google Earth Pro Free Download
If you want to enjoy watching the world from above, you shouldn't waste more time investigating Google Earth. Google Earth has all tools you will need to explore worldwide satellite imagery and 3D buildings and terrain for hundreds of cities.
There are multiple ways to use Google Earth on PC. You can use its web version or download the Google Earth app for PC. The desktop app of Google Earth is called Google Earth Pro, and it has more features.
To get the most from Google Earth, you should download Google Earth Pro for desktop. Let's get the Google Earth Pro Download free.
How to Install Google Earth Pro on PC?
After you download Google Earth Pro on your PC, you must follow these simple steps to install it. Here's how to install Google Earth Pro on a computer.
1. Download Google Earth Pro Setup file on your computer from the link we have shared.
2. After downloading it on your computer, launch GoogleEarthProSetup file.
3. Now wait until Google Earth Pro downloads on your computer. Once downloaded, it will be installed automatically.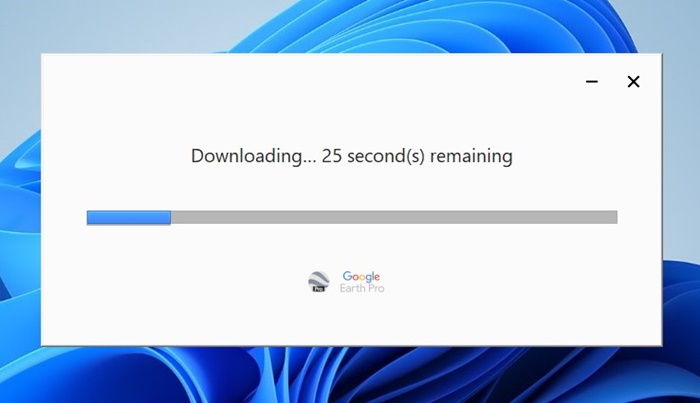 4. Now click on Windows Search and type Google Earth Pro. Now open the relevant app from the list of matching results.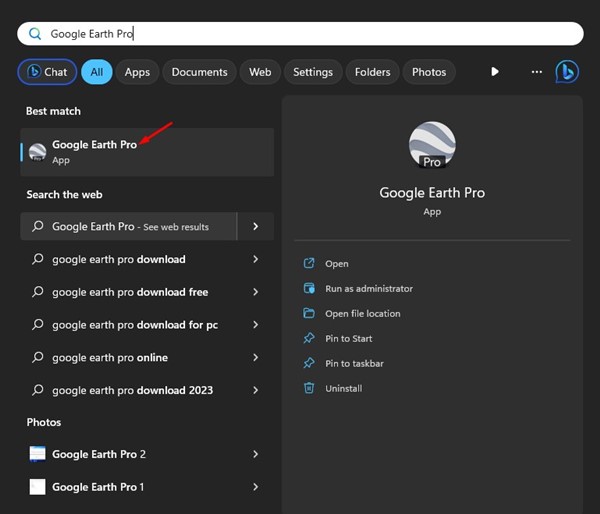 5. Google Earth Pro will launch on your computer. You can now access Google Earth Pro from your computer.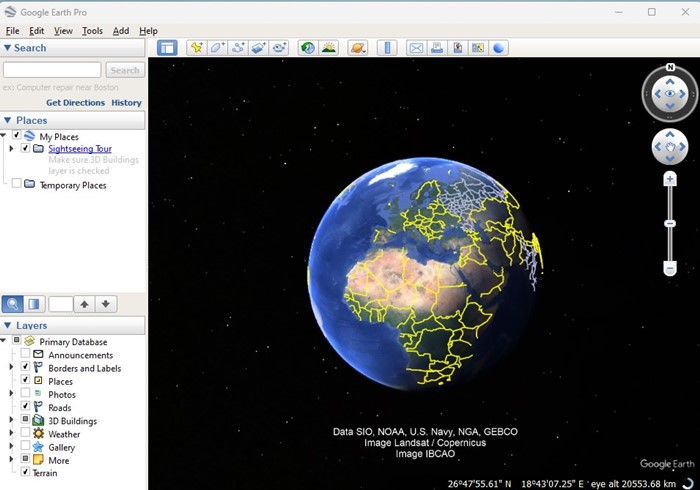 That's it! This is how you can download & install Google Earth Pro on PC.
Google Earth Online – How to Access?
To access Google Earth online, you must ensure the hardware acceleration feature is enabled on your browser. The feature is likely to be enabled already. Here's how you can access Google Earth online version.
Enable Hardware Acceleration
Follow some of the simple steps we have shared below to enable the hardware acceleration in your browser. Here are the steps for Google Chrome.

Open Chrome and input chrome://settings into the address bar.
Switch to the System tab.
Now enable the Use hardware acceleration when available option.
After enabling the hardware acceleration on your web browser, follow the steps we have shared to access Google Earth online and use it.
1. Open the Google Chrome web browser and sign in to your Google Account.
2. Once signed in, visit the Google Earth webpage and wait until the site loads properly.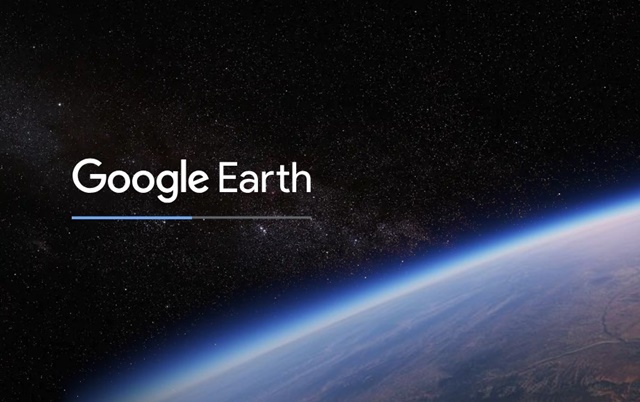 3. Now, you will be able to see the main interface of Google Earth.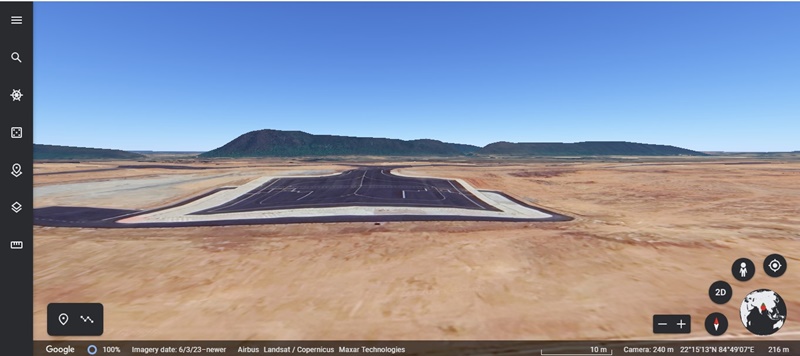 How to use Google Earth?
Once you access the Google Earth online version, you can explore the features and options to know how to use the web tool. Below, we have shared some tips on using the Google Earth web.
1. Open Google Earth on your web browser and click the Voyager icon at the left. This is a feature that lets you go on virtual tours. You use it to explore different tourist spots. There are interactive quizzes that let you test your knowledge regarding the selected tour.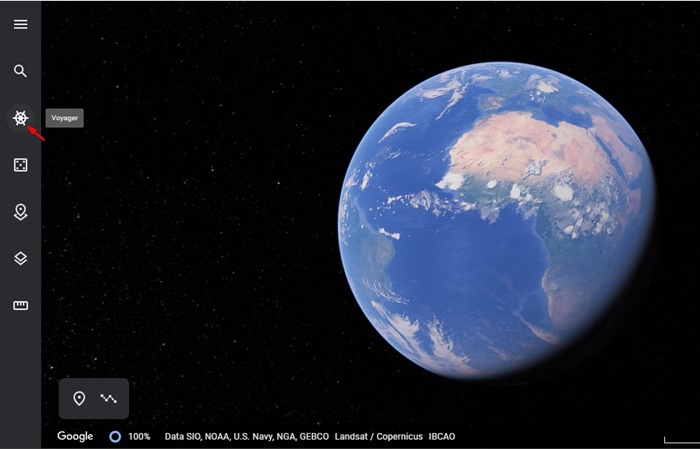 2. Google Earth web allows you to explore the buildings in 3D, but that requires you to have a dedicated GPU; otherwise, it will render the buildings in 2D. For that, click the Maps Style icon on the left and enable the 'Turn on 3D buildings' option.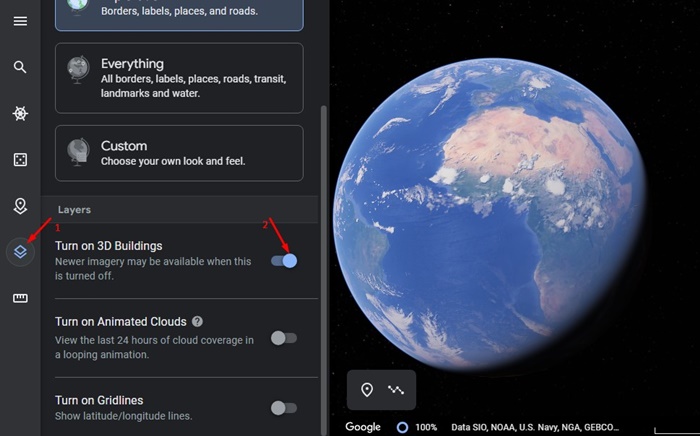 3. Creating Google Earth projects is also very easy. Projects let you collect together locations, photos, and videos to build a story or customized maps. You can click on the Project icon on the left and Create on the menu that appears.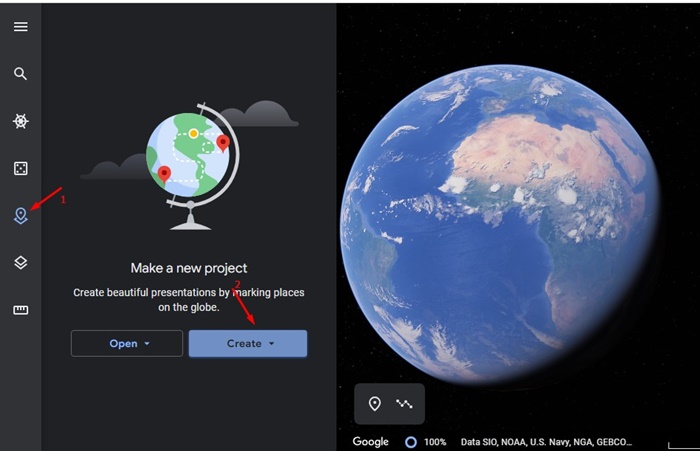 Next, select New Project > Create Project in Google Drive. Once done, assign a name to your project. After creating a project, you can explore Google Earth as usual and put things in your project by clicking on the Add to Project button.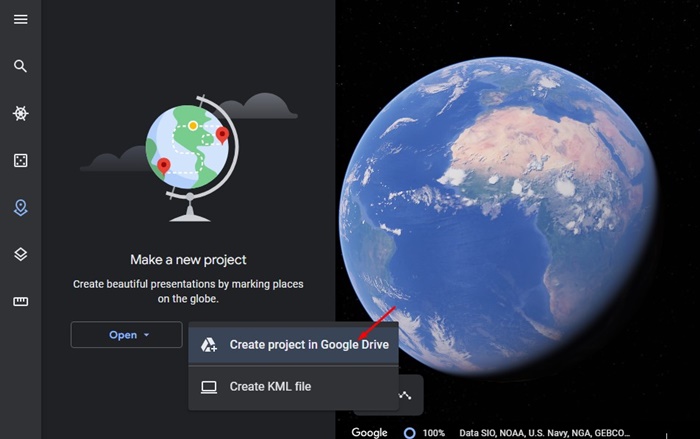 4. For first time users, Google Earth has a 'I'm feeling lucky' button. The feature is for those who don't know which place to explore. The feature rolls a dice on the earth and takes you to a random place. So, you can roll the dice with 'I'm feeling lucky' and see where the world takes you.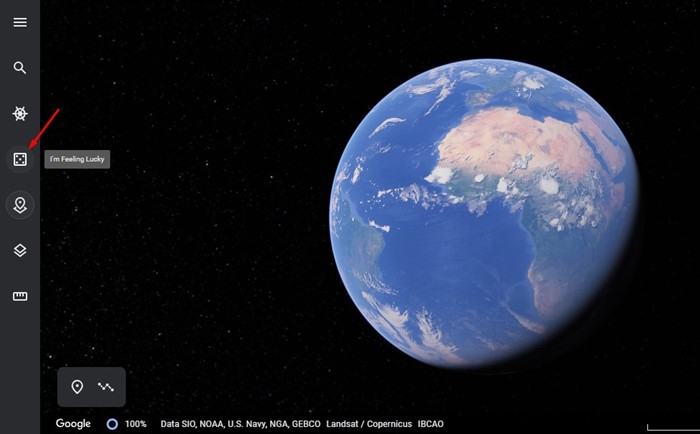 You can keep exploring the user interface of Google Earth to explore all its capabilities. It has many exciting features which you will come across while using it on your web browser.
Google Earth Street View
Street View is a feature seen on both Google Maps and Google Earth. The feature basically lets you explore places more closely. You can zoom in to check out the buildings, landmarks, bridges, and more.
Please note that Google Earth Street View isn't available everywhere. If the location you've searched has Street View, you must follow these steps to access it. Here's what you need to do.
1. Open your web browser and access Google Earth. You can also use the Google Earth Pro desktop app.
2. Now, search for the location you want to check or explore.
3. At the bottom, click on the Pegman icon. If there's no Pegman icon, the street view is not available for your location.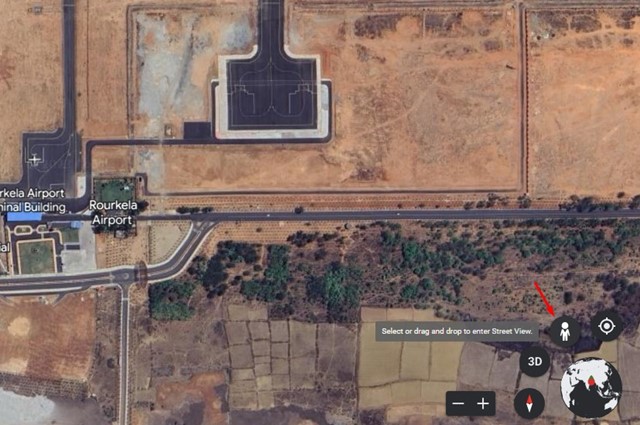 4. Now, you will see certain areas are highlighted in blue. Those are the places you can check in Street View.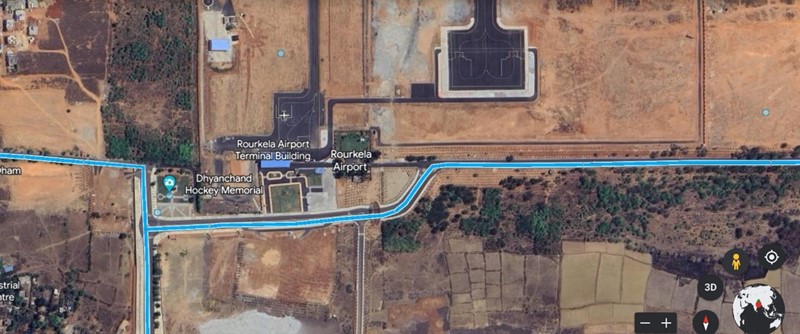 That's it! This is how you can use Google Earth Street View on Desktop.
Features of Google Earth
Google Earth has many exciting features which will keep you hooked to the app. Here are some exciting things you can do with Google Earth.
Find Places You Love
Google Earth is mainly used to find places you love. You can explore worldwide satellite imagery and 3D buildings and terrain for hundreds of cities.
Navigate Your Way
Once you find the places you would love to explore, you can zoom into the buildings and dive in for a 360° perspective with Street View.
Guided Tour Around the Globe
The voyager feature of Google Earth lets you take a guided tour around the globe with some of the world's leading scientists, storytellers, and non-profits.
Timelapse in Google Earth
A few months ago, Google added a new Timelapse feature on ts Google Earth. The timelapse video shows how planet Earth changed after 1984. You can check the timelapse on Google Earth for PC, Android, and iPhone.
Find a location with Google Earth and Share it
Google Earth is also used to find location information of interesting places worldwide. You just need to open Google Earth, find the location, and copy the URL. Once you get the URL, you can share it in messages and on social media.
Frequently Asked Questions
Is Google Earth Pro free?
Yes, Google Earth Pro is free to download and use on desktop. It's a desktop app that provides advanced features. You also get an option to go back in time with historical imagery.
What is Google Earth vs. Pro?
Google Earth is more lightweight than Google Earth Pro and can be accessed from any web browser. On the other hand, Google Earth Pro comes with more advanced features and needs installation on a computer.
Which is the best Google Earth Alternative?
Google Earth is the leading web tool that allows you to explore different places in 3D. Other tools that come close to Google Earth is Zoom Earth, NASA World Wind, and Google Street View.
How Often Is Google Earth Updated?
Google Earth collects images from various sources like satellite, aerial, and Street View photography. It also collects some images from third-party sources.
How often does it receives updates depends largely on a variety of factors like the location & area, time & money, security of the location, and a few other things.
Are images in Google Earth Pro Real-Time?
No, the images in Google Earth are not real-time. Images are collected over time from providers and platforms and are not in real-time. So, you won't see any live changes.
So, this guide is about downloading Google Earth Pro for PC. We have discussed everything about the Google Earth and Google Earth Pro desktop app. So, what's your take on Google Earth, which renders a 3D representation of Earth based primarily on satellite imagery? Please discuss this with us in the comments.