It's of no doubt that Android is right now the most popular mobile operating system. The operating system is right now powering millions of smartphones. Compared to every other mobile operating system, Android provides more features and customization options. Not only that, but the app availability is also quite high on Android.
On average, Android users install almost 40-50 apps on their smartphones. If you have been using Android for a while, then you might know that the operating system doesn't provide enough app management features.
There are times when we feel that our phone's app drawer is all messed up, leaving no options left apart from uninstalling unused apps. Actually, you don't need to uninstall any app if you know how to manage apps properly. Grouping apps by category can solve most of the app management related problems. In this way, you will always keep important things just a tap away.
How to Group Apps By Category on Android in 2020
So, in this article, we have decided to share a working method to group apps by category on Android. So, let's check out how to group apps by category on Android in 2020.
Step 1. First of all, download & install Poco Launcher on your Android smartphone.
Step 2. Once installed, open the app and select the wallpaper.
Step 3. Now you will be asked to grant a few permissions. Make sure to grant every permission that the app asks for.
Step 4. Now move to the home screen. Swipe up from the bottom of the screen to open the app drawer.
Step 5. On the App drawer, tap on the three horizontal lines, as shown in the screenshot.
Step 6. On the Poco Settings page, tap on the 'Manage app categories' option.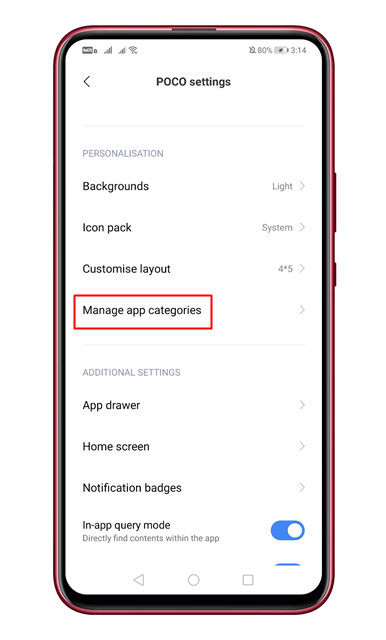 Step 7. On the next page, enable the 'Categorise apps' option.
Step 8. Now you will see the list of all categories.
Step 9. To add a custom category, tap on the (+) icon.
Step 10. Now select the apps that you want to add to the category and enter the category name.
Step 11. Now on the App drawer, you will see the newly created category.
That's it! You are done. This is how you can group apps by category on Android smartphones.
So, this article is all about how to group apps by category on Android smartphones. I hope this article helped you! Share it with your friends also.