GTA 6 is now expected to be getting a major upgrade to its map, as a new leaked map concept of the game suggests.
Currently, there is no official statement regarding those map upgrades, but these map concepts raise expectations for the real one, so let's discuss all details below.
GTA 6's Concept Map: All Details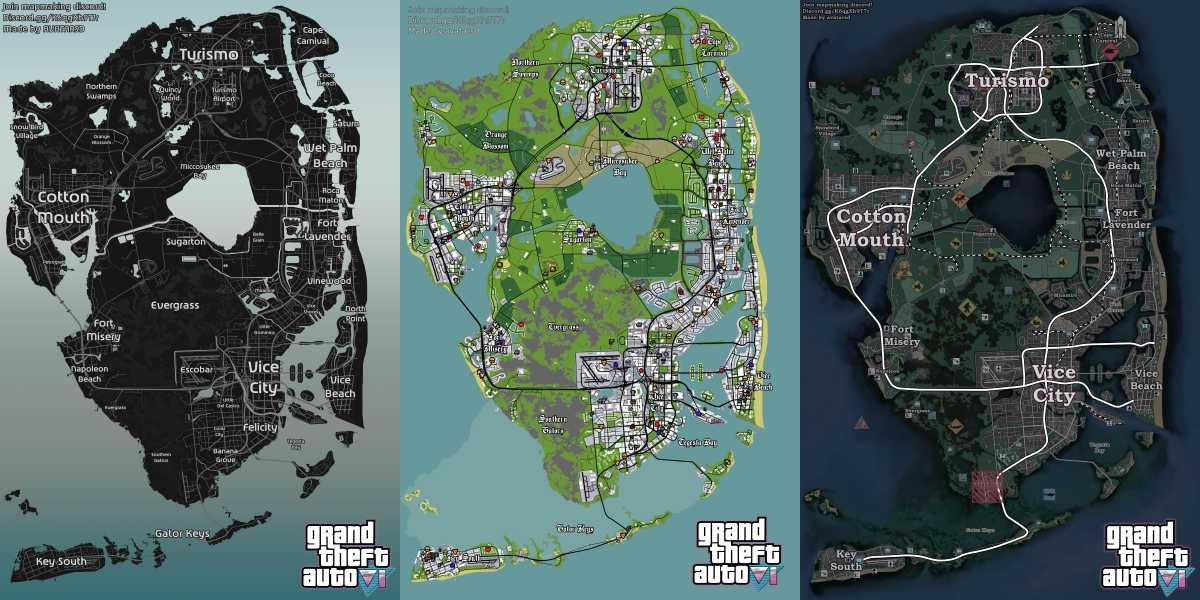 Rockstar Games released GTA 5 in 2013 after that, the company hasn't released any game under the GTA series and hasn't even announced until last year.
The game is way popular, and even it is listed in the list of the world's top ten best games but a lot of GTA fans are now bored of its map as they have explored it about completely in the last ten years.
Also, as you know, GTA 5's map is taken from GTA San Andreas, which was released by the developer company in 2004 that's why the gaming community is hoping to see a better and new map in GTA 6.
And then, the GTA 6's map concept came to light which made fans excited because it was claimed that GTA 6's map is going to be double-sized compared to GTA 5's map.
GTA 6 map concept based on Vice City which is rumored to be 2x the size of GTA 5's map. pic.twitter.com/SMHw50JsLm

— GTA 6 Trailer Countdown ⏳ (@GTAVI_Countdown) May 4, 2023
As you can see in the above tweet, GTA 5's map and GTA 6's concept map side by side for better comparison.
This concept map was first revealed by a Reddit user named avatarsd and he was able to bring this concept because of the massive leaks of GTA 6 that surfaced in September last year.
GTA Vice City's map wasn't big, but if the developer company is going to add more exploration sites and places on the same designed map but with a larger area.
If we talk in numbers so the total area of GTA 6's map is expected to be around 147 KM(square), and GTA 5's map is scaled at 76 KM(square), which is just 53% of this GTA 6's concept map.
Currently, we can only take this information with a grain of salt as the officials haven't confirmed anything but an earlier report claimed that Rockstar Games may announce the game on May 17th.