As of now, there are many instant messaging apps available for Android smartphones. However, out of all those, it was the WhatsApp, Telegram, and Signal Private messenger that stands out from the crowd. Compared to all others, these three instant messaging apps offer more security and privacy features.
If you have ever used WhatsApp, you might know about the Last Seen feature. The feature is also available on Signal and Telegram Messenger. Last seen and online is a status that tells your contacts the last time you have used or seen the app. Similarly, you can check your contacts' Last seen status to know exactly when they were online.
Although Last seen is an important feature, lots of users want to disable it. Telegram allows you three different ways to hide the Last Seen time. You can select to hide the feature for everybody, your contacts, or nobody.
Also Read: How to Send Anonymous Messages in Telegram
Steps to Hide Last Seen On Telegram Messenger
In this article, we will share a step-by-step guide on how to hide last seen on Telegram Messenger. So, let's check out.
Step 1. First of all, open the Telegram app on your Android device.
Step 2. Now tap on the three horizontal lines as shown below.
Step 3. From the menu option, tap on the 'Settings'
Step 4. On the Settings page, tap on the 'Privacy and Security' option.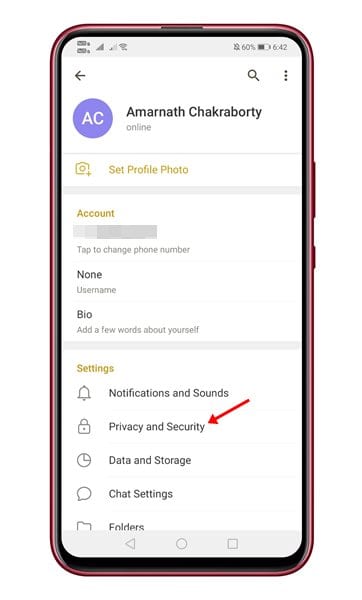 Step 5. Under the Privacy, tap on the 'Last Seen & Online'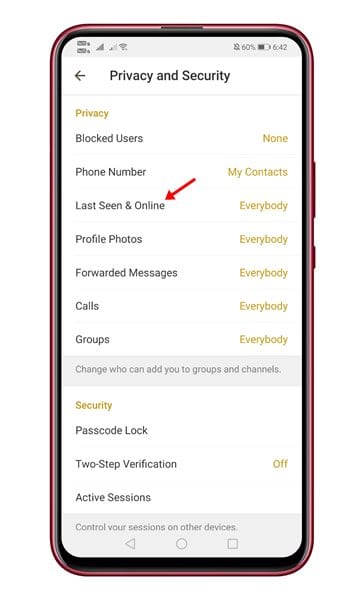 Step 6. Now select who can see your last seen time. If you want to hide the last seen status completely, then select 'Nobody'. If you want to show your last seen time to your contacts only, select 'My Contacts'. If you want everyone to see your last seen time, then select 'Everybody'
Step 7. If you want to hide Last seen for a specific contact, tap on the 'Never Share With' option and select the contacts you want to hide your last seen from.
That's it! You are done. This is how you can hide last seen on Telegram for Android.
So, this article is all about how to hide last seen on Telegram for Android. I hope this article helped you! Please share it with your friends also. If you have any doubts related to this, let us know in the comment box below.