A firewall is a security in any operating system that disallows all the dangerous IPs and also harmful programs to penetrate the operating system.
In an operating system like Windows, there is the inbuilt feature of a Firewall that protects your Windows PC from security threats.
Ways To Add Firewall on Any Android Device
But there is no such feature on Android, so we are here with a cool method that will let you add this Firewall Security feature to any android. You can protect your Android from various security threats.
1. First, you need to download and install the cool android app that is NoRoot Firewall, which will allow you to add a firewall feature to your device.
2. You must launch the app after installing it on your device. Now you need to click on "Start"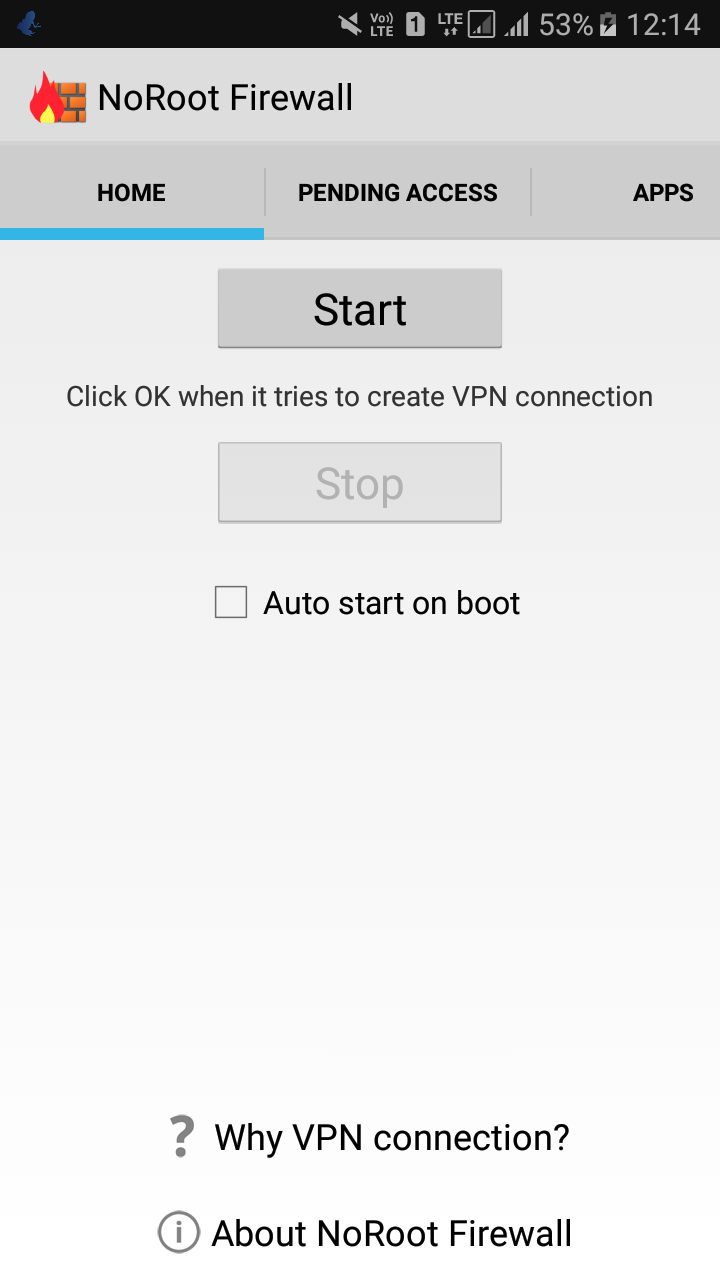 3. Now you need to allow the connection; simply tap on "OK" to continue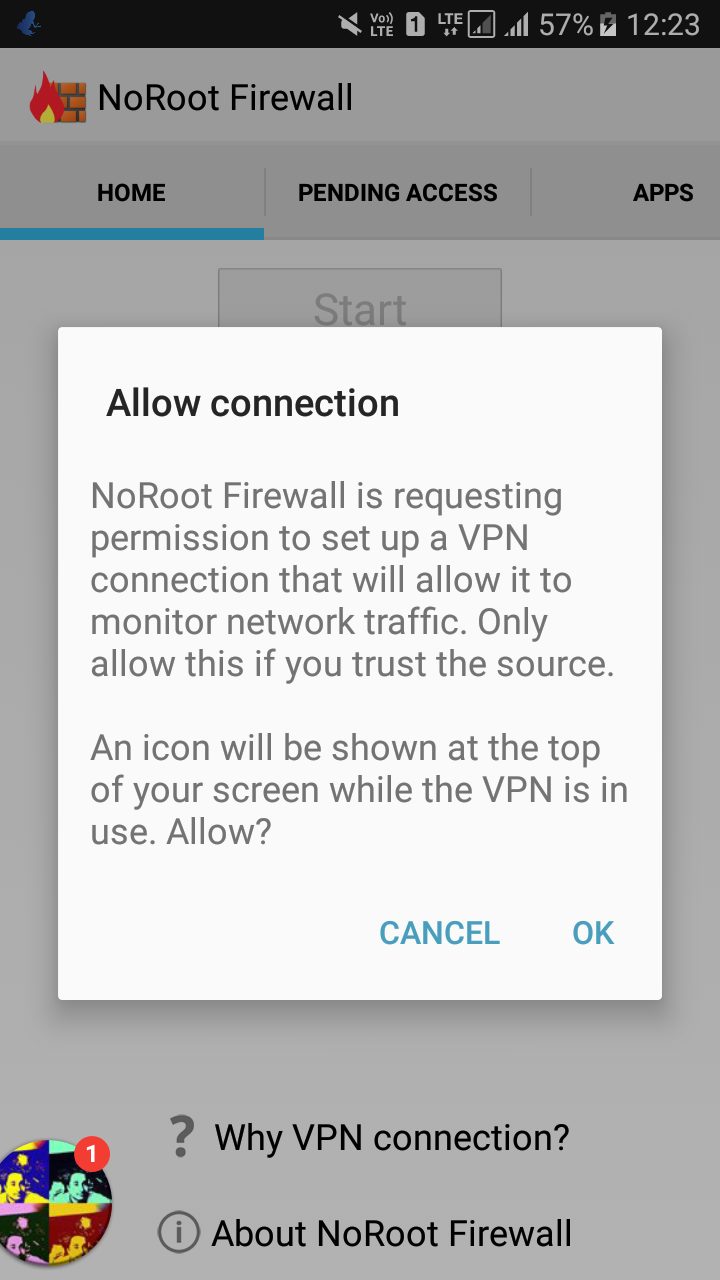 4. Now, you need to move over to the "Pending Access" tab, where you will see all the apps that require connecting to the internet. Simply allow them or deny them as per your wish.
That's it! You are done. Now your Android has a Firewall that will secure your device from various threats.
Using Mobiwol
Mobiwol NoRoot Firewall can save battery, reduce data usage, so you stay within your data plan, and secure your privacy by limiting the network access permissions required by apps.
1. First, you must download and install Mobiwol on your Android device. Once installed, launch the app.
2. Now, you will see the screen like below. Wait for a few seconds until the app loads.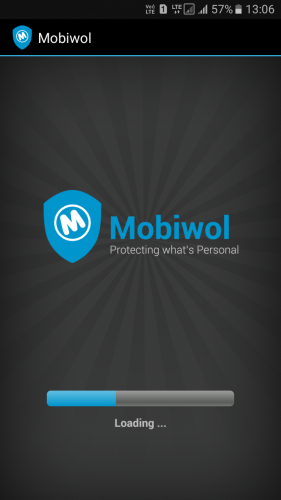 3. Now, in the next step, you will see the screen like below. Here you need to turn on the Firewall Status.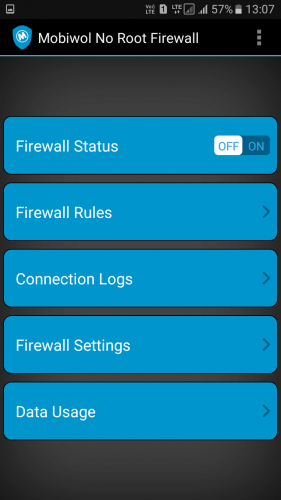 4. Now, it will ask you to grant permission to set up a VPN connection that will allow the app to monitor the network traffic. Simply tap on "Ok" to continue.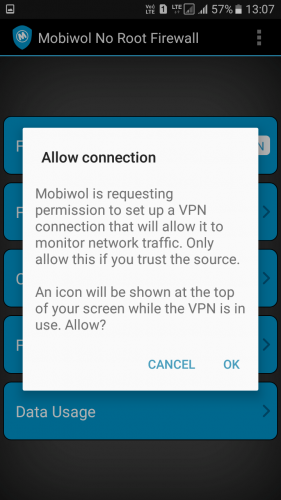 5. In the next step, tap on the Firewall Rules. There you will see all the apps that require connecting to the internet. Simply allow them or deny them as per your wish.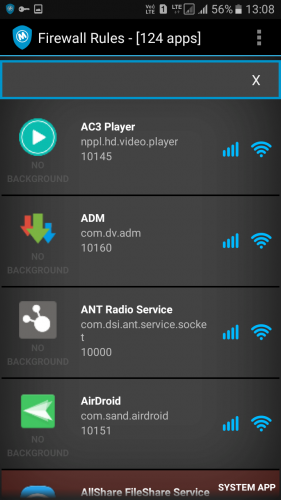 6. You can even set Firewall settings according to your wish.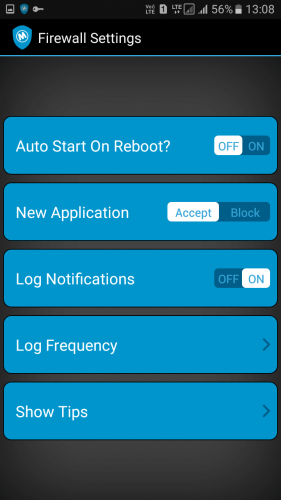 So, this is how you can use Mobiwol to add a firewall to your Android device.
Similar Apps:
NetGuard provides a simple and advanced way to block access to the internet – no root required. Applications and addresses can be allowed or denied access to your Wi-Fi and mobile connection.
AfWall+, also known as Android Firewall +, is a front-end application for the powerful iptables Linux firewall. It allows you to restrict which applications can access your data networks (2G/3G and Wi-Fi while roaming). Also, you can control traffic within LAN or while connected through a VPN.
However, this app also needs superuser access to provide extreme protection. With this app, you can also use LockPattern/Pin to add an extra layer of security.
NetPatch Firewall is an advanced Android network firewall that works on non-rooted Android smartphones. With this app, you can block any app from accessing the network. Not any apps, you can also block hostname and IP address using the no root firewall.
With NetPatch firewall, you can also reduce data usage, save your battery and protect your privacy over the app.
So, these are some of the simple steps and best apps to add firewall features on any Android device. If you need more help adding a firewall on any Android, let us know in the comments below.