Let's admit, we all have sets of photos that are very important to use. We usually store our most precious memories in photos. Whatever the occasion is, or wherever we go, we usually click 10-20 photos. However, the problem is that pictures fade with time.
If you have an extensive collection of old printed photos, you can digitize them using a scanner attached to your PC. However, the easiest and cheapest way is to use Photo Scanning apps for Android.
As of now, there are hundreds of photo scanning apps available for Android. With those apps, you can quickly digitize your old printed photos in no time.
The only drawback is that the overall picture quality and resolution achieved through mobile photo scanning apps won't compare with what you can get from a dedicated scanner.
Steps to Digitize Old Photos with Your Smartphone
So, if you are interested in digitizing old photos with your smartphone, you are reading the right article. Below, we have shared a step-by-step guide on how to digitize old photos with your Android. Let's check out.
Step 1. First of all, download and install the PhotoScan app on your Android device.
Step 2. Now open the app and tap on the 'Start Scanning' button.
Step 3. The app would again ask for the camera access permission on your device to grant the permissions. Next, you will see the main camera interface. Now you need to place the phone's camera on the photo that you want to digitize.
Step 4. Now capture the picture by tapping on the shutter button. You will find dots appearing on the four corners of the picture you have clicked; just move the center circle to one of those dots and wait for the app to start the scanning process. Do this for all the four dots on the picture.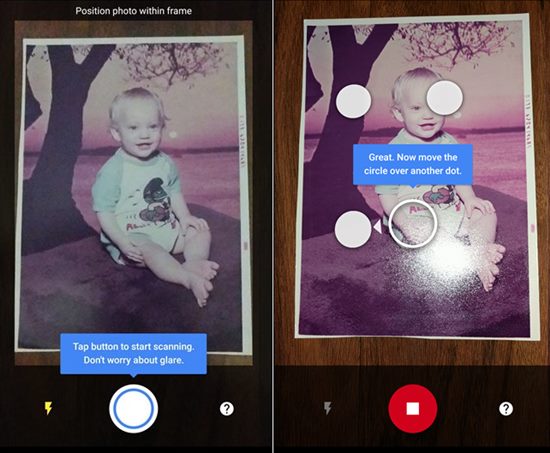 Step 5. Now the app would take out a clear picture of your photo without any flash glare on the photo.
That's it! You are done. This is how you can use PhotoScan to digitize old photos on Android.
Some other apps to digitize old photos
Just like Google's Photoscan, there are plenty of other apps available on the Google Play Store. These apps can create digital copies of printed photos. So, check out the apps.
PhotoMyne is another excellent Android app on the list that can digitize old photos and give them a new touch.
The great thing about PhotoMyne is its ability to scan multiple photos at once. It also allows users to pick up particular objects in the images for quick editing.
Quisquee is another best Android app that you can use to digitize your old photos. The most powerful feature of Quisquee is its powerful editor, which provides users with different unique features.
It's not exactly an app dedicated to digitizing old photos, but if you choose to explore the app, you can find some features to be useful. For example, the app can surely transform your old images into a new ones.
As the name of the app says, Old Photo Scanner can help you re-discover your precious moments by digitalizing your old printed photos. The app is much similar to the Photoscan from Google, but it packs far fewer features compared to Photoscan.
However, the app packs almost every feature that you need to digitize your old photos. So, Old Photo Scanner is one of the best Android apps that you can try to digitize your old photos.
So, this article is all about how to digitize old photos with your smartphone. I hope this article helped you! Please share it with your friends also. If you have any doubts related to this, let us know in the comment box below.