Now you can Digitize Old Photos with Your Smartphone with the help of an android app that will allow you to convert your old photos into digital mode easily, So follow the below guide to proceed.
There might be numerous old photos in your home which you know have got somewhat faded by that long time. All your precious photos that you have clicked in any of your functions parties or marriages would be a real gem for your life if these would remain safer all the time. But as by the time the photos get their colors eroded slight way so you need to pay some attention to prevent your quality of those precious moment photos. The best way to safeguard those photos is to digitize them, and this pretty lengthy process could be done right on your smartphone device only. Here in this article, we have written about the method through which you could be able to easily digitize your old photos with your smartphone only. If you were also seeking for this method then you are exactly at the right place because we have written about the method in a really easy way such that you might also not get any issues while implementing it by your own. Now it's your time to just follow up reading this article and hence get to know about this method!
Also Read: Best Android Apps To Transfer Files Over Wifi With High Speed
How to Digitize Old Photos with Your Smartphone
Also Read: Top 10 Best Android Apps To Train Your Brain
1. First of all download and install the PhotoScan app on your Android or iOS device. This app by the Google is available for being download on both of the iOS and Android devices only so you could get it for these devices through the internet.
2. After you have installed up the app correctly on your device you just have to go through the quick overview of how the app actually works up or you could just skip it up. Once the app start up fully press the Start Scanning button to get it up running.
3. The app would again ask for the camera access permission on your device, just grant that up and then you would see that the app jumps right onto the camera interface. The camera on your device would be used to scan up those precious photos that are getting old and faded and which all you wish to digitize.
4. Line up the particular photo in the camera interface on your device and then grab that picture for the photo by tapping on the shutter button. There would be four dots that would appear on the four corners of your screen or the picture that is clicked, just move the center circle to one of those dots and wait for the app to start up the scanning process. Do this for all the four dots on the picture and remember to do that in some order.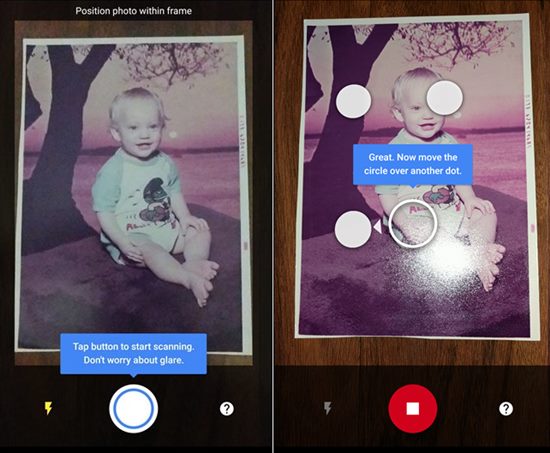 5. Now the app would take out the clean and superb looking picture of your photo without any garbage edges or any flash glare on your photo. The process if really excellent to remove the picture distortions and errors in colors ad hence provide up with the resulting image of great quality which would be saved to the app's gallery. The saved picture although could be edited further for your instance.
Also Read: How to Run Multiple Accounts On the Same App of Android Mobile
After reading up the above article you have now got about the method by which you would be able to digitize your old photos with your smartphone only. The method as you have read the above article is really simple to be applied and there might be no issues to get onto it. Hope that you might have liked up the method, in case you get into any trouble while trying to apply up the method then worry not but just tap your appearance below in the comments and we shall be there to help you out.
AUTHOR