Today we are going to share an easiest ways to find your Android smartphone if it went missing or in silent phone. Follow the 2 mentioned methods to find out your silent android phone
[dropcap]A[/dropcap]ndroid is a pretty smart device which implements lots of feature for its user. An Android operating system is most extensively used in the world. And there are lots of apps that is being developed to run on this OS that makes it more user-friendly.
Also Read: How to Stop Android Apps from Running in the Background
In this post, i will be discussing one of them that is the way to find your smartphone on silent mode which depends on a cool app that will do this work. So let's proceed with How To Find Android Phone Even On Silent Mode. You just have to follow a simple method discussed below.
How To Find Your Android Phone Even On Silent Mode
In this method, you will set up your android to ring up with a specific message that will set by an android app given below and which will help you to find your phone all around you when it is on silent mode. So proceed with some simple steps below.
Also Read: How To Add Recycle Bin Feature On Android
#1 Method: Using Ring My Droid App
First of all, you need to download and install a cool android app for this work that is Ring My Droid.

After installing it in your android open the app, in your device.
Now in the app, you will see the screen asking Set the key Phrase which is just a secret message that will ring up your android when it get received on your device.
Now after entering the key phrase click on set and now whenever your android get's lost in silent mode you just need to send an SMS holding that secret phrase to your android and it will start ringing.
And when you find you android just open the app and click on button found phone to stop it ringing.
That's it! you are done, now you can find your android device even when it is on silent mode and you misplace it as such.
Also Read: How To Control Your PC Using Your Android Smartphone
#2 Method: Using Google Play Store To Find Your Device 
Step 1. Beginning of all, utilize your android device navigate to security settings > device administrator.
Step 2. Now touch on Android Device Manager and activate if it is off.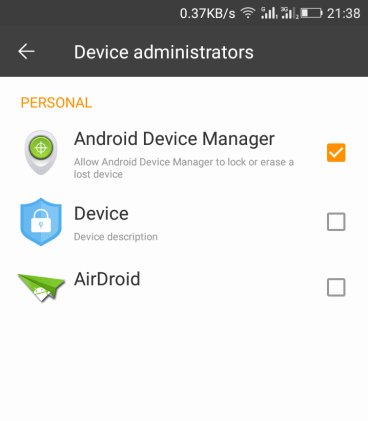 Note: I recommend to do this step immediately now because device administrator must be initiated to take advantage of Android device manager.
Step 3. Now go to Google Play Store. You can notice Gear icon at right side top. Now Click on Gear icon then you can notice three options My Order, Settings and then last Android device manager. Just click on Android device manager.
Step 4. As soon as you click on android device manager it will find the device with which it is connected.
Step 5. As soon as Android device manager locate your device it will show you on Google maps. It will also designate how far is your distance from you.
You can find three options:
Ring – If you click on Ring then your device mobile or tab will ring although it is in silent mode. This feature disappoints when the device is switched off.
Lock – If you click on Lock then it will lock your device and you can get the new password to access your device.
Erase – If you click on Erase then total memory in that device will be erased automatically. Make sure once you click erase then all the data will be deleted including android device manager so it won't work again. That's it, Guys, I am sure this will help you a lot! So don't forget to share it. If you have any problem just comment below we will help you out.
Also Read: How To Record Screen On Android Without Root (No Root)
So above is all about How To Find Android Phone Even On Silent Mode. With this, you can obtain your misplaced phone or lost android around you in silent mode by just sending a secret message or using google play services from your computer. Hope you like the post, don't forget to share it with your friends and leave a comment below if you have any related query with this.