Over the timespan of a decade, WhatsApp has become an industry-standard communication service. In addition to communicating with friends and family members, WhatsApp is also used by businesses to communicate with potential clients and customers. Thanks to the rapid advancements in technology, most users generally switch their smartphones in a year or so.
Consequently, it is important to have tools like Dr.Fone – WhatsApp Transfer for effortlessly transferring WhatsApp chats between iOS & Android smartphones.
Steps to Move WhatsApp From iPhone to Android
As you might know, while transferring your WhatsApp account from one device to another your previous chats are not automatically transferred. Luckily, Dr.Fone – WhatsApp Transfer resolves the aforementioned problem and it even helps users create a backup or restore WhatsApp. The feature-packed service is now available for WhatsApp business transfer as well and by using it you won't lose any of your old WhatsApp chats.
In this article, we have shared a detailed review of Dr.fone – WhatsApp Transfer and explained how this program outperforms other such applications in multiple aspects. Furthermore, we have also shared a simple guide on how to use the new WhatsApp business transfer feature and keep a backup of your important business chats.
What Is Dr.Fone – WhatsApp Transfer?
Dr.fone -WhatsApp Transfer is a PC software developed by Wondershare. This feature-packed software is dedicated to all Android and iOS smartphone users.
Using Dr.fone -WhatsApp Transfer you can seamlessly transfer WhatsApp messages from one device to another. Since its a cross-platform software you can use it on any mobile operating system.
Moreover, using the program doesn't require any technical knowledge, and the transfers are completed in a few clicks.
The program reviewed in this article is Dr.fone – WhatsApp. As mentioned earlier, this tool is ideal to transfer WhatsApp data from iPhone to Android.
Steps to transfer WhatsApp To New Phone Using Dr.Fone – WhatsApp Transfer?
You can follow these simple instructions to instantly transfer WhatsApp chats from iPhone to Android and vice-versa.
Download Dr. Fone toolkit and follow the on-screen instructions to install it on your PC
Once installed, launch the Dr.Fone toolkit and go to the "WhatsApp Transfer" section
From the left panel, go to the WhatsApp Business column and select "Transfer WhatsApp Business Messages".
You have to now connect both the smartphones to your desktop or laptop.
Next, to initiate the message transfer process simply click on the "Transfer" button.
Lastly, agree to the warning messages that says it will delete the existing WhatsApp Business data on the target smartphone.
Soon the WhatsApp Business transfer process will be started. You have to now follow and complete the steps of the prompt message.
Within a few minutes, the transfer process will be completed and you can disconnect both the smartphones from your PC.
5 Best Features of Dr.Fone – WhatsApp Transfer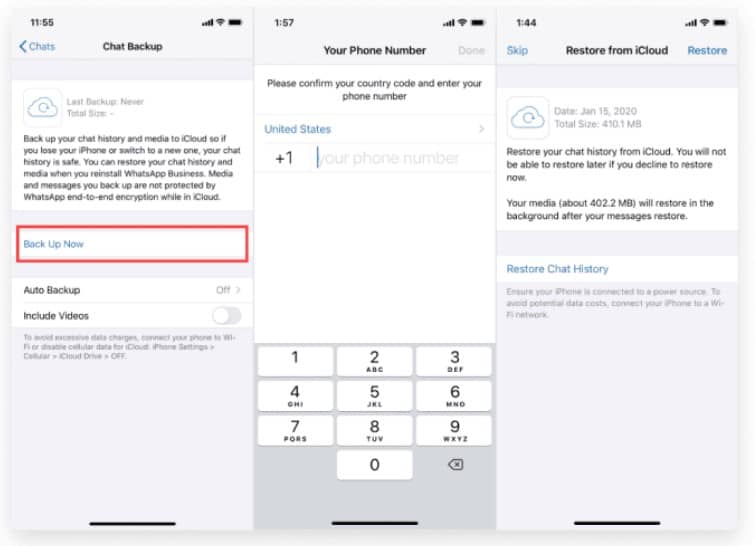 Clean User Interface
One of the major highlights of Dr.fone – WhatsApp Transfer is its simple and well-developed UI. You won't face any UI-based issue using this software and it is easy to navigate. As a matter of fact, even first time users can transfer WhatsApp Business chats using this software within minutes.
Cross-Platform Transport
Another noteworthy USP of this feature-packed program is cross-platform support. No matter what smartphone operating system you are using you will be able to transfer messages and backup with one button click. Presently, the software is available for both Windows 10 and macOS.
No Data Transfer Limits
Generally, most users prefer cloud-storage services for online data and file transfer. However, services like Google Drive and Dropbox limit the amount that can be uploaded for free. Once Dr.Fone – WhatsApp Transfer is installed on your PC you can transfer chats and media as many times as you want to. In simple words, there's no restriction.
Ability To Backup Your WhatsApp Business From Android To Computer
WhatsApp automatically backs up your messages to Google Drive. However, problems of data loss or rewritten still occur and the feature is limited to only one account. Using Dr.Fone – WhatsApp Transfer you can backup WhatsApp data of multiple accounts directly on your PC.
100% Advertisement Free
Unlike, other file transfer tools like, Dr.fone – WhatsApp Transfer is 100% advertisement free. As a matter of fact, Dr.fone doesn't even advertise its other services on the home screen of the WhatsApp Transfer.
Pricing
Dr.Fone – WhatsApp Transfer has been priced reasonably and the company offers a 7-day money-back guarantee.
You can get this service for a price of $21.95 for a one year license that supports 1-5 mobile devices and one PC.