In this post, we will be discussing the method on resizing an image file and further, we'll tell you an easy method by which you can easily resize any of the images without losing its quality.
Today we are here with the method to resize an image without losing quality. In Windows and another operating system, we resize the image with the software like paint etc or any other third party software which diminishes the size of the image but the pixel quality gets reduced to the high extent. Just follow the below post to proceed.
Also Read: How To Create Undeletable & Unrenamable Folder In Windows
How to Resize And Make Images Larger Without Losing Quality
Generally, people avoid the websites which loads slower as no one have extra single minute to waste. So, you have to resize the images that you have inserted on your website to attract the user towards your website. We've listed some of the best online portals that will help you to resize your images easily without loosing its quality.
Online Tools To Resize Images Without Losing Its Quality: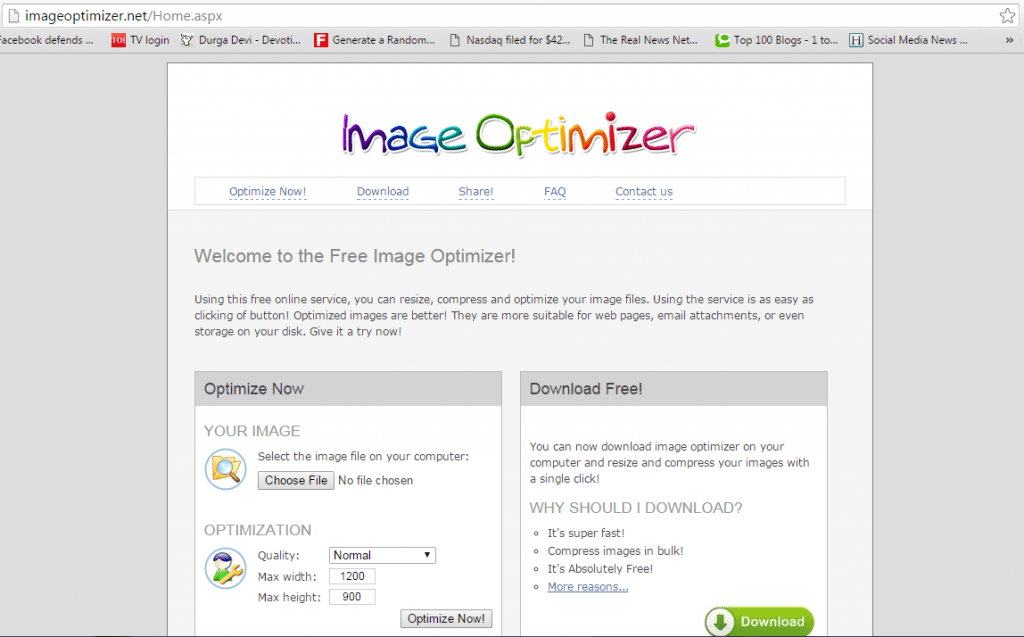 In this website, you just have to upload your image from your computer and then you will need to set your image output according to your wish and its tools will resize the image accordingly without losing its quality.
Features:
You can resize, compress and optimize your image files
They are more suitable for web pages, email attachments, or even storage on your disk.
It's super fast and it Compress images in bulk!
In this website, you can only resize the png format images. As this site resize any of png file to the great extent without losing or altering its quality. In short, PunyPNG is a free website optimization tool that dramatically reduces the file size of your images.
Features:
More compression controls
Preserve EXIF information
IE6 support, API access and more!
Also Read: How to Hide Important Files Inside A Image Without Any Software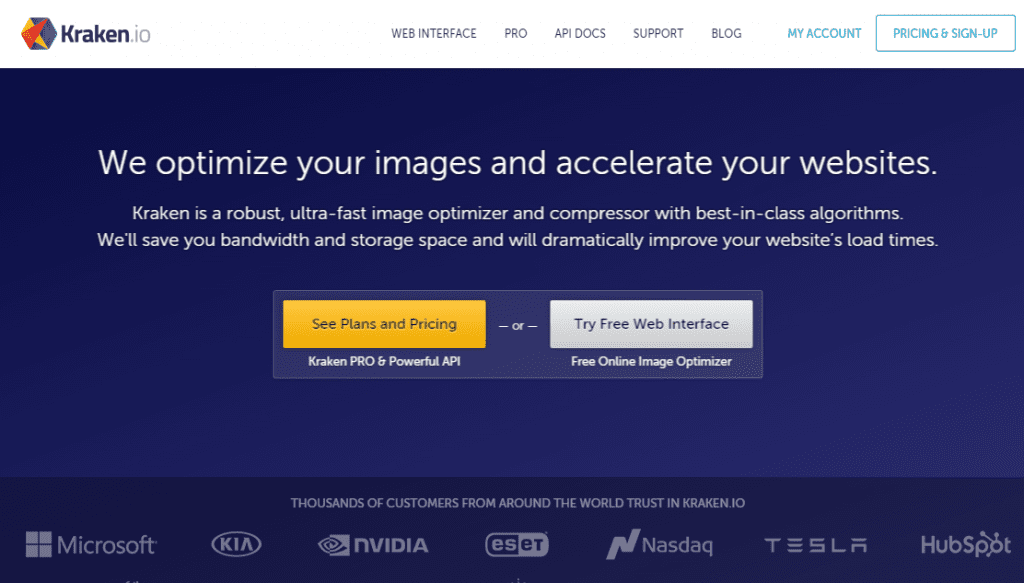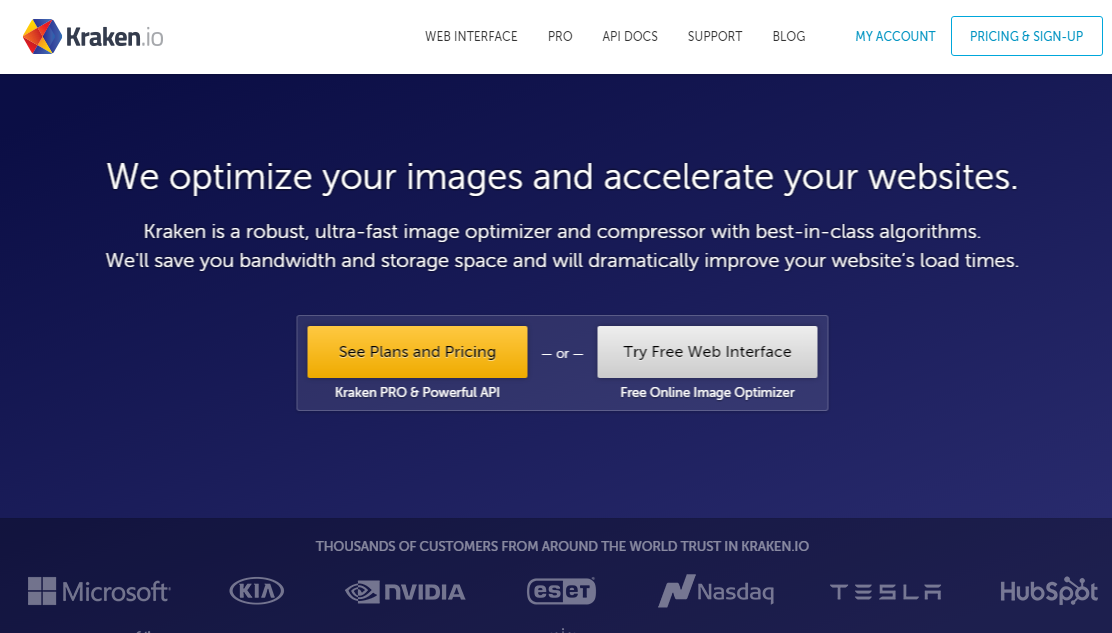 This is an online application which can easily resize some of the image formats like JPEG, PNG, GIF, SIV etc without altering the image quality. Kraken is a robust, ultra-fast image optimizer and compressor with best-in-class algorithms.
Features:
Maximum File Size- Optimize larger images of up to 32 MB in size 1 MB 32 MB
Lossless Optimization Options. Optimize your images without losing a single pixel of quality
Optimization Statistics- view your daily optimization statistics
API Access-Plug your applications into the powerful Kraken API
This is one of the best portals to resize the images as it gives the much option on uploading the picture, as the slider appears, when you upload an image from your computer.
Features:
Select up to 20 .jpg or .jpeg images from you device. Or drag files to the drop area. Wait for the compression to finish.
Download compressed images either separately or get them all, grouped in a ZIP archive.
Also Read: How To Share Animated GIF Images On Facebook
This is the one of the best and most popular online apps to resize the images. This app is present with an uploader as well as URL box to have the image and there will be the box to enter the image quality you want to set to resize an image.
Features:
You can upload a bunch of pictures in your browser
You can provide us with a list of image URLs or
You can get a Firefox Extension or a cross-browser bookmarklet to optimize the images found on any web page
Also Read:  How to Download YouTube Videos Easily with a Simple URL Edit
ResizePicOnline.com is a convenient online tool to resize images. It has the same interface for all of your electronic devices. You can full get freedom of movement and you can easily work on your images on any computer or other electronic devices.
Features: 
Work with a lot of images.
Change the file size in megabytes.
Change image file type.
Create an avatar.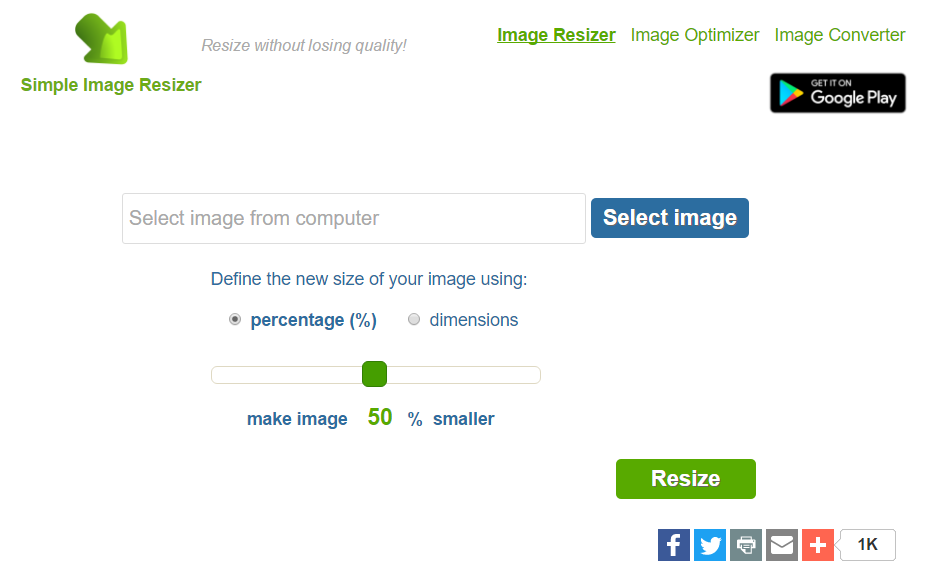 You can use Simple Image Resizer to resize photos and images online, on a variety of different situations. Simple Image Resizer helps you reduce picture size without losing quality. The file formats supported by Simple Image Resizer include JPEG, JPG, PNG, BMP and GIF.
Features:
Publishing images on your website to make sure pages load fast
Sending images as email attachments
Posting photos on blog
Posting photos on Facebook, Google+ and other social media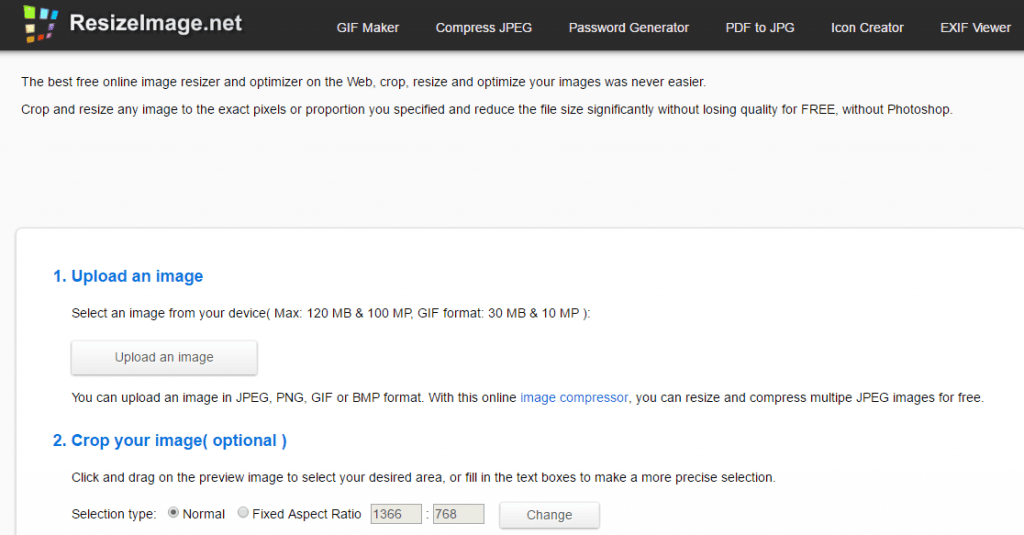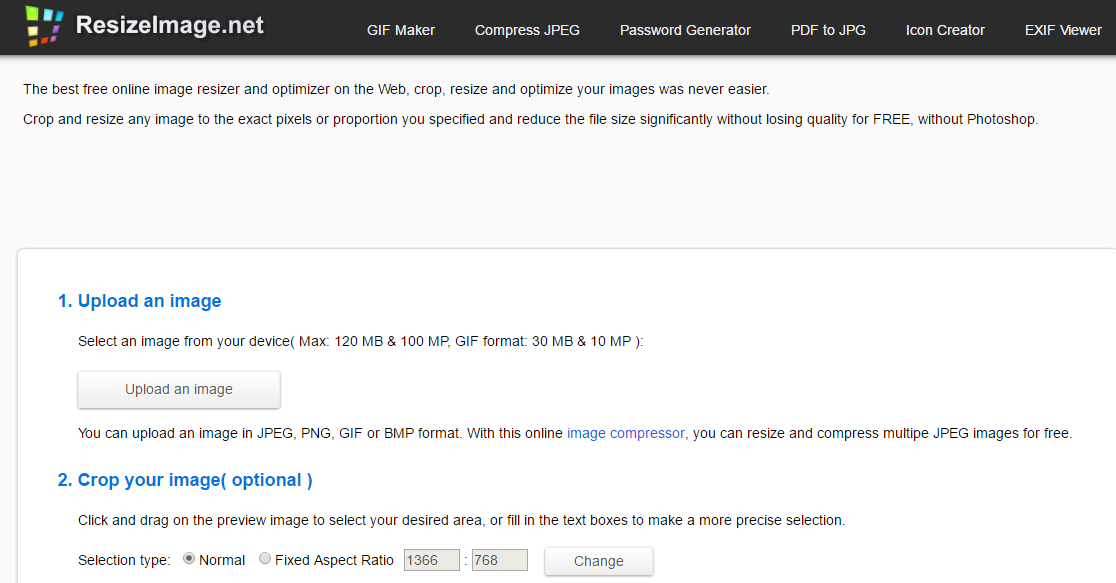 Crop and resize any image to the exact pixels or proportion you specified and reduce the file size significantly without losing quality for FREE, without Photoshop. You can upload an image in JPEG, PNG, GIF or BMP format.
Features:
Crop your images to match the proportion of your screen( e.g. 1920×1080 pixels ) and set them as your desktop wallpaper without distortion.
Shrink and optimize your animated gifs without losing animation and quality, making it easy to use them as your avatars, icons or signatures on internet forums.
Resize and compress your png images without losing transparency and quality.
Reduce the file size of your pictures to decrease the bandwidth usage of your websites and speed up your website load time.
Also Read: How To Download Videos From Facebook Without Any Software (3 Methods)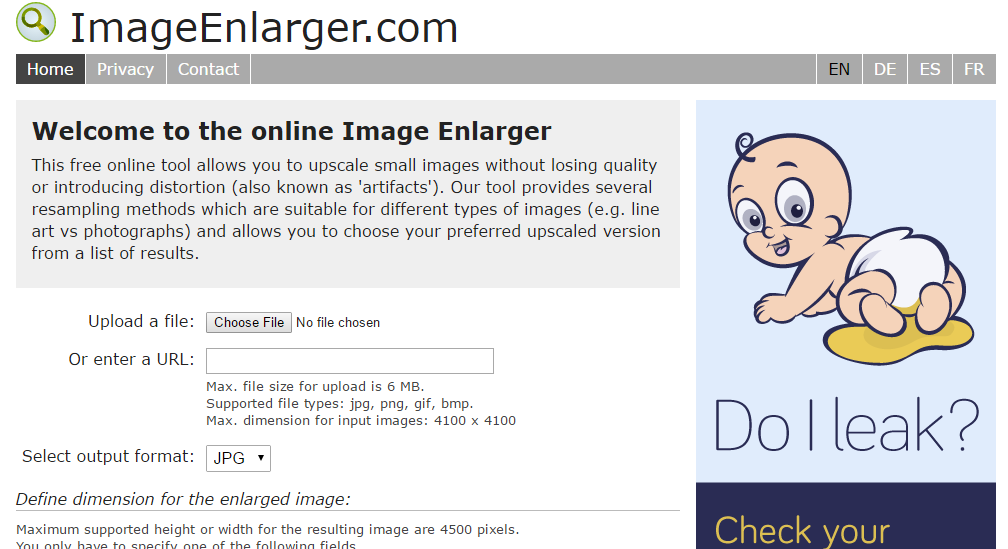 This free online tool allows you to upscale small images without losing quality or introducing distortion (also known as 'artifacts'). You can upload up to 6mb image file and the supported image formats are jpg, png, gif, bmp.
Resizemypicture.com allows you to resize a picture for free. Supported file formats are JPG, JPEG, GIF, and PNG. So, if you are looking for a quick, free way to resize your photo, look no further. Simply upload your picture to the website, and you can shrink or enlarge the picture by selecting your desired options.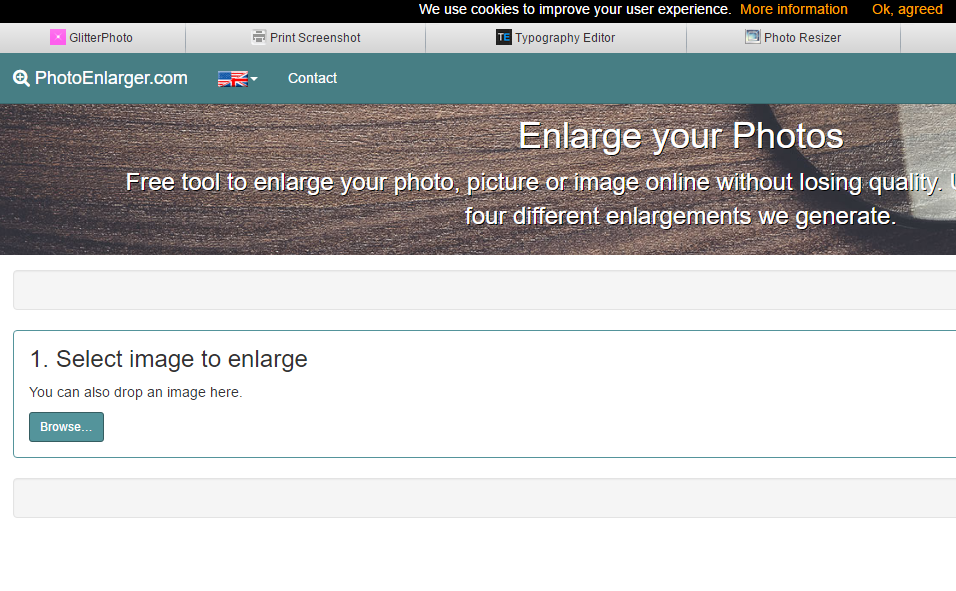 Photo enlarger is the free tool to enlarge your photo, picture or image online without losing quality. Upload and select from the four different enlargements that the website generate.
#12 Pic Resize
You can easily crop, resize and edit your images online for Free using Pic Resize. It was founded in 2005 and has become one of the oldest and popular image editors online. This site also lets users resize images in bulk.
Desktop Tools To Resize Images Without Loosing Its Quality:
If you want to compress or resize images offline on your desktop then you must go for  PNG Gauntlet. For this, you must have Windows framework 4.0 installed on your computer. This is the best software that will convert any of your images easily without loosing its quality.
Also Read: How To Change Facebook's Default Theme To Any Color You Want
So, above is all about Resize Images Without Losing Its Quality. By this method, you can easily resize any of the images from your computer without losing its pixels quality and attract the user by loading your website faster. Hope you like the post, don't forget to share it with your friend. Leave a comment below if you have any related query with this topic.
COMMENTS
AUTHOR