Today we are going you to share the useful method to scan suspected URL file online for virus and trojan. Below we have mentioned some online scanners that will help you to scan your Files & URL without any Antivirus installed.
Nowadays viruses and trojans' attacks are increasing day by day. We use antivirus and lots of things on our computer for getting rid of viruses. This virus mainly comes from Pendrives and downloaded files.
Also Read: How To Check Your Antivirus Working Perfectly Or Not
Steps To Scan Files & Url Without Any Antivirus Installed
In PC, you have the option to scan pen drive's for viruses but what about downloaded files. Mostly, people downloaded unofficial software from different sites, now they scan for a virus from their computer's Antivirus, and in the result, a virus is already installed in your system that means you have already downloaded it the infected file. So In this post, I will tell you, How can you scan suspected URL file online for virus and trojan. If you use a Computer or Laptop without Antivirus, the online virus scanner will be very helpful for you.
Online Virus Scanner is the web apps for scanning your infected files, URLs, and website for Virus and Malicious Programs.
Also Read: Create a Virus That Disable All Hard Disks
Virustotal is the free website for scanning your infected files, URLs, and website. You can scan any suspected files and websites from this online scanner website. This website uses 60 different Antivirus engine for scanning your files and URLs. Virustotal was owned by Google in 2012.
Also Read: How To Remove All Viruses From PC Using Rescue USB Disk
How to Use Online Virus Scanner Virus Total
Step 1. Go to www.virustotal.com from your favorite browser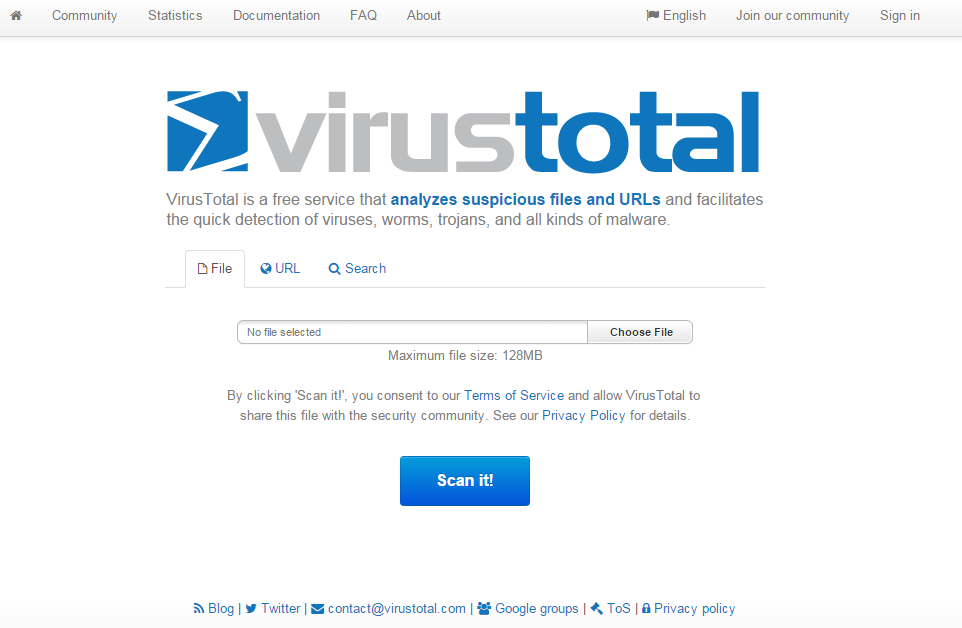 Step 2. If you want to scan a suspected file for virus, upload that file on Virustotal.(Max size is 128MB)
Step 3. In Virustotal, you have to scan particular URL or whole website for malicious infected virus and trojans.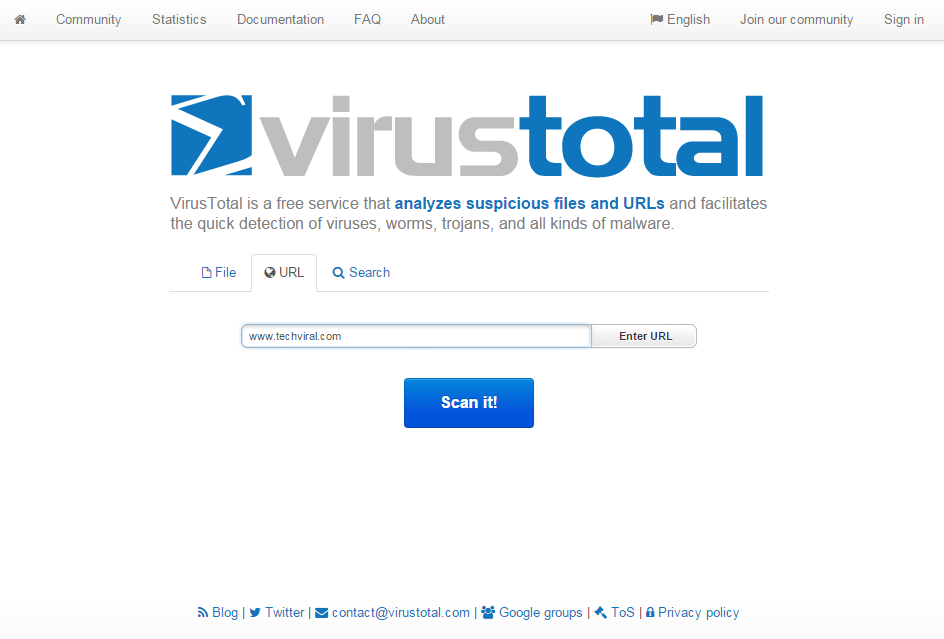 Step 4. Scan Files and Url from Online Scanner
You can scan whatever you want, Like if you are a blogger you can scan your WordPress themes for malicious shells and trojans. Largely virus comes from unofficial websites and pirated websites. So I recommend you never download unofficial software or files from pirated websites.
Also Read: How To Increase RAM Using USB/Pendrive In Windows 8 & 10
Similar Websites That Provide Online Virus Scanner:
Jotti's malware scan is a free service that lets you scan suspicious files with several anti-virus programs. You can submit up to 5 files at the same time. There is a 50MB limit per file. Please be aware that no security solution offers 100% protection, not even when it uses several anti-virus engines. All files are shared with anti-virus companies so detection accuracy of their anti-virus products can be improved.
Also Read: How to Remove Shortcut Virus from USB Drives & PC
It is a free website that scans for and analyzes a file without even installing any antivirus software. It comes next to the virus in total. You can look up a hash and can even scan an IP Address with the help of this. You can drop a file up to 140MB to scan with 42 anti-malware engines online.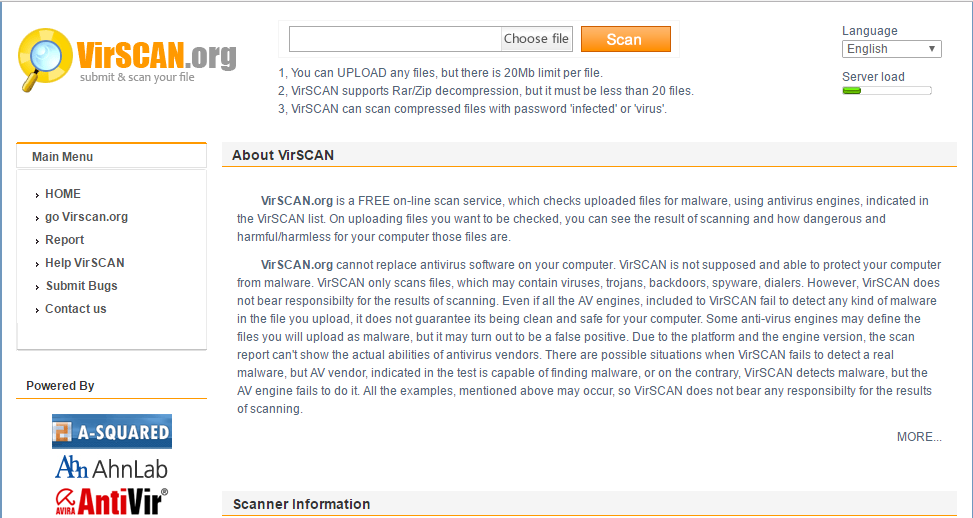 VirSCAN.org is a FREE on-line scan service, which checks uploaded files for malware, using antivirus engines, indicated in the VirSCAN list. On uploading files you want to be checked, you can see the result of scanning and how dangerous and harmful/harmless for your computer those files are.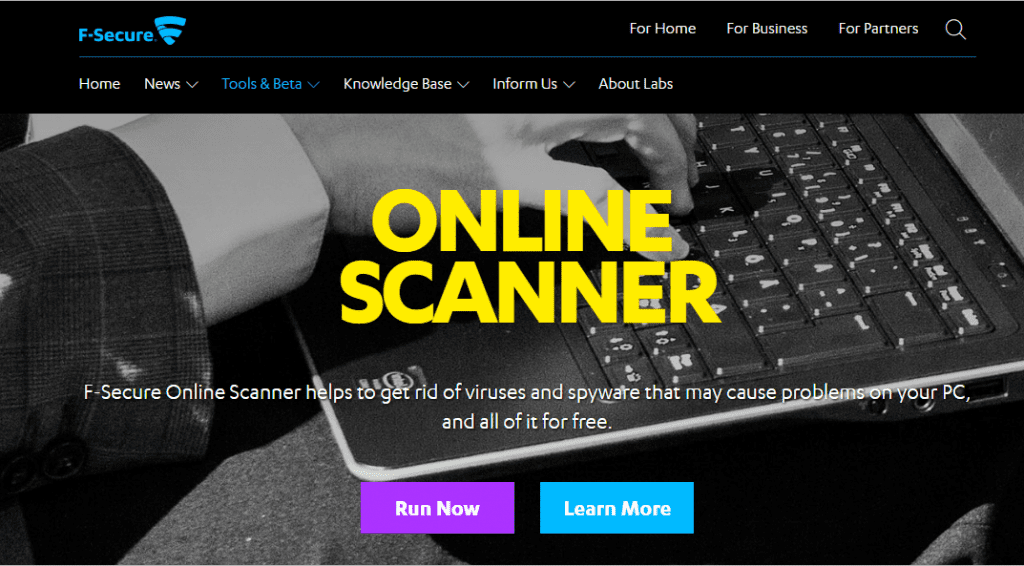 F-Secure Online Scanner helps to get rid of viruses and spyware that may cause problems on your PC, and all of it for free. You can use F-Secure's free utility tools to handle special tasks such as manually updating product databases, booting an unresponsive PC, and removing specific threats.
NoDistribute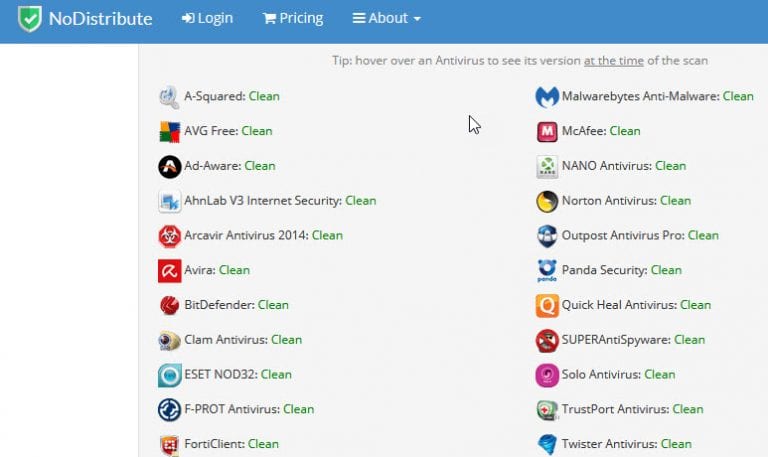 This is one of the best online scanners which you can use in order to get rid of viruses and malware that can cause problems on your computer. The online virus scanner supports more than 35 antivirus engines. However, the free version only provides 3 free scans and after that, you need to pay.
This is one of the best free online scanner tools that analyze the files in virtual environments. The best thing is, Hybrid Analysis shows results with more than 66 different antivirus vendors. You can use this online scanner to scan office files, PDF, Apk files and more.
UrlVoid is another best online URL scanner that you can use to scan online websites and files. The best thing about UrlVoid is that it analyzes the URL through 30+ blacklist engines and online web reputation services to find malicious files. Apart from that, UrlVoid can also be used to view the safety report of any websites before downloading files.
Comodo WebInspector is another best URL malware scanner on the list which passes the websites through a wide range of blacklist engines to find malicious files. Apart from that, Comodo WebInspector allows users to scan multiple URLs and you can scan up to 50 web pages at once under the free plan. So, Comodo WebInspector is another best site which you can visit to scan URL.
Dr.Web is another best online malware scanner on the list which allows users to scan URLs. The best thing about Dr.Web URL scanner is that it uses some advanced technology to detect hidden malware inside download URLs. That means, not just websites, but Dr.Web can also scan for download links and can scan inside web attachments. So, Dr.Web URL Scanner is another best site that you can visit to scan URL.
This list is all about Online Virus Scanner. If you suspect any file upload on Virustotal. Feel free to contact us by dropping your comment below.