Secure Your Google Account by generating 2 step verification codes from Google Authenticator App in your smartphone
[dropcap]G[/dropcap]oogle is a very giant network and today we all are using its lots of services in our daily life like its search engine, Gmail services, Play store services of android and lots more. And there are so many other service too that you might know. Now to login into our google account we use our username and password to sign in and if you had set the two step verification then you need a additional Code that you can get on your registered mobile number. But sometime this service irritates when the code is received after minutes. So here we have a cool alternative for this by which you can secure your Google account from hackers using a cool Google Authentication App. And to set this up just follow up the complete guide discussed below to proceed.
Also Read: How To Get Gmail Notifications On Your PC
How to Secure Google Account from Hackers Using Google Authenticator App
Here you will be setting up the authentication for your account that you will managing them using the Google Authenticator app that will help to authenticate devices for your account. So follow up the below steps to proceed.
Also Check: How To Password Protect Emails in Gmail and Others
Features Of Google Authenticator App:
* Generates codes even in airplane mode!
* Support for multiple accounts
* Support for multiple languages
* Support for Android Wear
Steps To Use Google Authenticator App In Your Smartphone:
1. First of you need to have 2 step verification activated for your google account and if you still not had done that then you can follow our guide
2. Now after activating this two step verification, download and install the app Google Authenticator in your smartphone.
3. Now launch the app and it will ask you to download and install the app QR Code Scanner and you will prompted to the Play Store to download the app.
4. Now in your PC you have to go to the link accounts.google.com/SmsAuthConfig with your google account logged in.
5. Now there click on Switch to App there.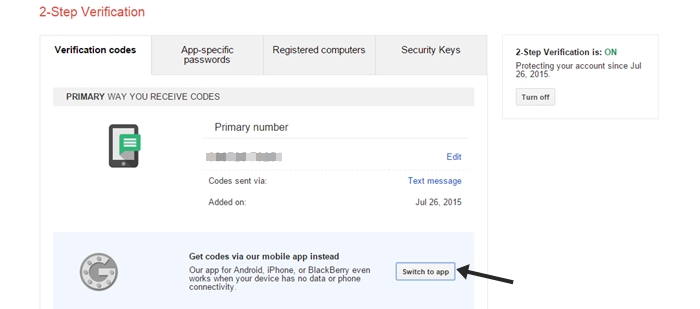 6. Now select the device that you want to get authenticated for it.
7. Now you will get the Bar code sign on your screen that you want to scan on your device.
8. In your smartphone launch the app and then select Get Started.
9. On the next screen you will scan the Bar code and then get the 6 digit number that you have to confirm on your PC.
10. Thats it you are done, now the app authentication will get activated and you can now generate the Authentication code directly from your app in your device.
Also Read: How to Unsubscribe All Annoying Emails In Gmail At Once
So above is all about How to Secure Google Account from Hackers Using Google Authenticator App. With this method you can easily secure your account from hackers by this way of securing the app using Google Account. So try this out and stay secure in the cyber world.