Well, Google has the biggest internet search engine in the world. Known as Google Search, the search engine offers a plethora of information about everything you can think of.
Google's isn't just another search engine. It's the search engine that many people turn to for product search, latest news, and every type oF everyday search. Google search results provide you with thousands of resources for your keywords.
If you are an active Google user, you might know that the search engine shows a total of 10 search results per page. If you are not satisfied with the top 10 results, you can go to the next page.
However, do you know you can increase the search results count from a settings option on Google? It's pretty easy to increase Google Search results per page, and in this article, we will show you how.
Also read: How to Enable Dark Mode For Google Search On Desktop
Steps to Increase Google Search Results Per Page
Below, we have shared a step-by-step guide on increasing Google Search Results per page. You need to open a browser on your computer and follow the steps shared below.
1. First of all, open your favorite web browser and head to the Google webpage.
2. On the Google search page, click on the Settings button at the bottom right corner of the screen.
3. From the list of option that appears, click on the Search settings option.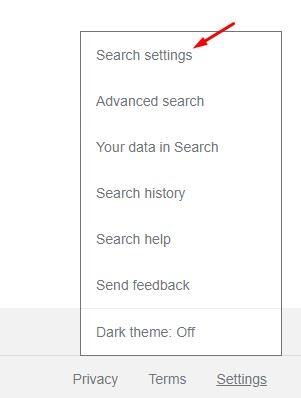 4. On the Search Settings page, click on the Search Results.
5. On the right pane, you will see a Results Per Page slider. You need to drag the slider to the right to increase the number of results per page.
6. Once done, scroll down and click on the Save button.
7. On the confirmation prompt, click on the Ok button.
That's it! You are done. This is how you can increase Google Search Results per page.
So, this guide is all about how to increase the Google Search results per page. I hope this article helped you! Please share it with your friends also. If you have any doubts related to this, let us know in the comment box below.