Instagram has been reportedly working on some new features double-tap gestures to like the story, a new concern warning on awareness of your surroundings, and never using the app while operating a vehicle.
Recently, Meta-owned Instagram introduced seven new messaging features, and now it's bringing several improvements to its interface and users' safety.
There are three features that well-known tipster Alessandro Paluzzi noticed. Besides, these features are currently under testing, and indeed they will get development and any other improvement.
Instagram Working on New Warning for User Safety
According to Alessandro Paluzzi, Instagram soon starts showing you a warning that reminds you always to be alert and aware of your surroundings and includes another alert never use the app while operating a vehicle for safety purposes.
That warning feature will be a significant step for users to be aware of their safety and make an excellent social media environment. Yet, there are no details on when the app will show this warning.
Double Tap Gesture to Like a Story
Recently, Instagram added a like button in stories, but as seen in Paluzzi's Twitter post, the company plans to add a double-tap to like a Story for instant story likes. It is the same as we like to post with a double-tap.
#Instagram is working on the double tap gesture to like a Story 👀 pic.twitter.com/vgMyX0QWrm

— Alessandro Paluzzi (@alex193a) April 6, 2022
Rebuild of Buttons on the Profile
In the other feature, Meta-owned Instagram is working on redesigning the button on the profile after such a long time. Also, a rumor says these upgraded buttons will give a collaborative look with your OS.
A Glimpse of Multiple Links in Profile Bio
An essential feature, 'Multiple links' in Instagram profile bio, has been rumored for a long time, but we didn't know how it would look, thanks to Alessandro Paluzzi, who shared a glimpse of this feature. Currently, you can only add one link to your profile.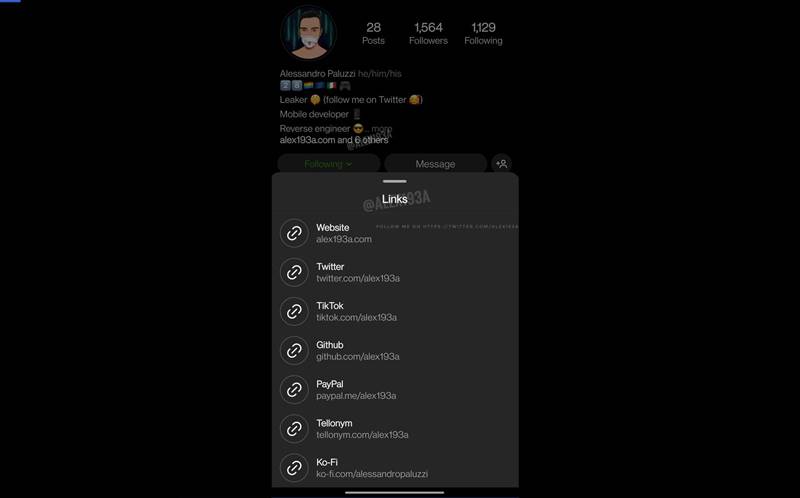 These all features are in testing or under development; there is no confirmed date when we will get them into the main application.