If we talk about the best photo-sharing platform, it will be Instagram leading the list without any second thought. It's a free photo & video sharing app owned by Facebook.
As of now, Instagram has over 1 billion active monthly users. The good thing about Instagram is that it offers a few other features besides photo and video sharing.
On Instagram, you can access other features like Reels, IGTV, Stores, and more. After the TikTok ban, many users have started to use Instagram Reels.
What are Instagram Reels?
Instagram Reels is a new Instagram feature that allows you to create and share short videos. It's a clone of TikTok.
After the ban of TikTok, most Indian users have started to use Instagram reels to show their creative talent. If you are also a content creator looking for the best ways to edit Instagram reels, you are reading the right article.
Also Read: How to Download Instagram Reels & IGTV Videos On Android
List of Best Instagram Reels Editing Apps
This article will share some of the best video editing apps for editing Instagram Reels. Let's check out the best reel editing app free to create viral videos.
Splice is the best app for making Instagram reels. The app lets you create professional-quality Instagram Reels videos in just a few minutes. You can use it to crop your existing Instagram reel videos or create a new one with the right aspect ratio.
With the video maker, you can combine your clips, trim/cut parts, add text & soundtrack, and more. After creating a video, you even get an option to share the video directly on Instagram, YouTube, or TikTok.
Mojo — Stories & Reels maker is a top-rated Instagram reel video editor for Android smartphones. The most noticeable part of the app is its templates. It has templates available for every platform you can think of.
If you want to create an Instagram reel, select the Reels template and edit your videos. Regarding video editing, you can merge/trim/cut clips, add filters, special effects, add text, and more.
If you often view Instagram Reels, you might know that the platform is known for vertical videos. You can upload landscape videos on Instagram Reels, but you won't get the best outcome. To make the video more appealing, you must look for ways to convert your landscape video into a vertical one.
Inshot is a video editing application that solves your landscape video problem. Based on what aspect ratio you have selected, InShot adds a dynamic background that is a blurred version of the original video. So, it's one of the best Instagram reel editing apps you can use on Android.
FilmoraGO is another best Android apps on the list, which you can use to create awesome viral short videos. We have listed FilmoraGO because it solves the video playback problem.
While Instagram allows you to slow the video speed to 0.5x or 0.3x, FilmoraGO offers more speed adjustment options. For example, you can slow down footage up to 0.1x or speed it up to 5x. Once done, you can export the video directly to Instagram.
Adobe Premiere Rush is a full-fledged photo editing app on the Google Play Store. The good thing about Adobe Premiere Rush is it solves the problem of converting a landscape Instagram reels video without losing any important information.
The app has a feature known as 'Auto Reframe' that automatically analyzes the video and detects the object in the middle, giving you the option to improve the effectiveness of the reframe by splitting the video into multiple parts.
You can apply various effects in the split parts of the video. However, you need to purchase its premium version to use the app at its full potential.
VITA is a popular Android app mainly used to overlay videos on top of other videos. The good thing about VITA is that it offers a full-fledged video editing interface.
You can use the video editor to adjust audio levels, resize the video, rotate it, etc. The app is free to download & use, and it doesn't have any hidden charges.
Funimate is one of the best free video editing app for instagram reels available for Android. This app lets you spice up your freestyle videos with unique features like transitions, custom animations, videos and text effects, and filters.
Also, you can add stickers, backgrounds, and overlays to your videos with Funimate. It's one of the best Instagram reel editor apps you can use today.
Whether a professional or a beginner, you will find tools for editing on VN Video Editor. VN Video Editor is a top Instagram reels making app with music.
With VN Video Editor Pro, you can multi-layer timelines for editing videos. You also get a green screen/chroma key to change the background.
GoPro Quik is one of the best video editor and slideshow maker apps on the Google Play Store. In just a few taps, GoPro Quik brings your favorite memories to life by producing cinematic audio edits.
It offers many simple yet powerful photo and video editing tools for your every editing need.
If you are looking for a video editor/movie maker or a video trimmer & joiner app for Instagram, look no other than YouCut. YouCut is an application that lets you edit videos like a pro.
You can create your videos from photos or video clips with YouCut in just a few taps. It's free to download & use and doesn't put any watermark on the edited videos.
Reelsy Reel Maker Video Editor is a top-rated Instagram reels video editor for Android. Millions of users already use the app to create eye-catchy videos for Instagram.
Guess what? Reelsy Reel Maker Video Editor has over 500 reel templates, original audio, and more. To start the video editing, you need to pick the template and start editing it straight.
It's also a no-watermark Instagram reel-maker app for Android. Reelsy Reel Maker Video Editor is free to download, and you can get it from the Google Play Store.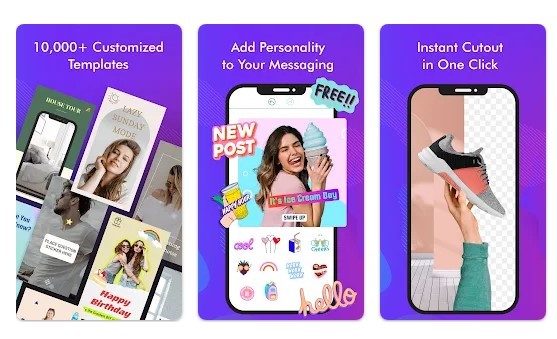 Promeo is one of the best Instagram Story and Reels maker apps on the Google Play Store. Currently, Promeo has over 10,000+ ready-to-use templates designed for social media use.
Along with the video templates, you also get a large selection of royalty-free music, stock photos & videos, stickers, filters, etc.
So, Promeo has everything you need to create amazing Instagram reel videos.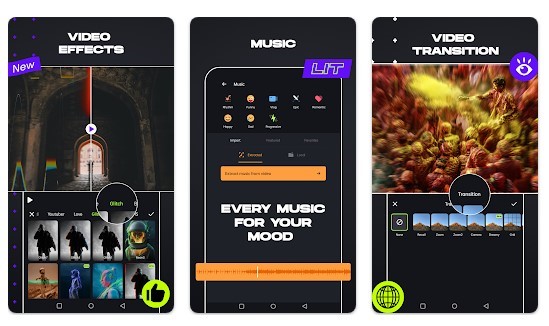 ShotCut is a full-fledged music video editor app for Android that can be used to create videos for Instagram reels, YouTube, WhatsApp Status, etc.
The app offers editing tools for trimming, cutting, merging, and splitting videos. You also get a wide selection of filters and transition effects.
Some other features of ShotCut include extracting audio from video, recording voice, adding marks to the track, etc.
Vidma is a very lighweight and easy-to-use music video editor app for Android. You can use it to create amazing reel videos for your Instagram profile.
It's a full fledged video editor and a video maker that offers a wide selection of music and video effects. The effects found on this app can improve the quality of your videos in no time and make them stand out on social media sites.
Some of the key video editing features of Vidma include video trimming, merging, transition effects, and other basic video editing features.
What we like the most about the app is the trending filters and effects. Vidma has some rare filters and effects that will make your videos look more vibrant in no time.
Videoleap is one of the best Android apps to create free Instagram reel videos. It's a video editing app like all other apps listed in the article.
Videoleap recently got some new AI features that can transform the touch of your videos in just a few taps. You can apply AI effects and AI filters to your videos and transform them.
You can use Videoleap to edit movies and stories, apply the edit to your reel videos, create YouTube shorts, etc.
These are some of the best video editing apps on your Android smartphone. You can easily edit your Instagram reels with these free apps. Also, if you know of other such apps, let us know in the comment box below.