After the ban of popular video sharing platform Tiktok, Instagram introduced a new feature called Reels. Instagram Reels is strikingly similar to TikTok as it allows users to record 15 to 30-second videos set to music. Instagram Reels has been there for a while now, and it recently got a new feature known as 'Remix.'
The all-new remix feature of Instagram reels lets users upload their reels next to another that already exists. TikTok already has a similar feature known as Duets. TikTok's duets allow users to react to or interact with another person's video content while creating their own.
Now Instagram got the same feature, but it's called 'Remix'. Instagram's new Remix option on Reels is now available for both Android and iOS. According to Instagram, the Remix feature is enabled by default for all new Reels you publish. However, one needs to enable the Remix feature for older reels manually.
Also Read: How to Save Instagram Stories On Android
Steps to Use Instagram Reel's New Remix Feature on Android
So, if you want to remix someone else's existing Reel, you need to ask them to enable the Remixing option. Below, we have shared a step-by-step guide on using Instagram Reels' new Remix feature on Android. Let's check out.
Step 1. First of all, head to the Google Play Store and update the Instagram app for Android. Once updated, open Instagram on your Android device.
Step 2. Now open the Instagram Reel you want to remix. Tap on the three dots as shown below.
Step 3. From the list of options, select 'Remix this Reel.'
Step 4. Now click on the record button to start/stop recording. Once recorded, you can use the editing tools to apply stickers, add sound, add text, etc., to the video. Once done with the remix, tap on the 'Next' button as shown below.
Step 5. On the final page, you will get the option to post the reel on your account.
That's it! You are done. This is how you can use the Instagram reels' new Remix feature on Android.
How to Enable Reels Remix on Instagram?
To enable the Remix option in Instagram Reels, you need to follow some of the simple steps given below. Here's how you can enable the Remix option for Instagram reels.
Step 1. First of all, open the Instagram app on your Android and tap on your profile picture.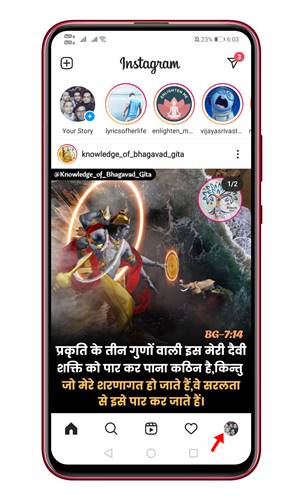 Step 2. On the account page, tap on the three horizontal lines and select 'Settings.'
Step 3. On the Settings page, tap on the 'Privacy' option.
Step 4. On the Account Privacy page, tap on the 'Reels' option.
Step 5. On the next page, use the toggle button behind the 'Enable Remixing' to turn on the feature.
That's it! You are done. This is how you can enable remixing feature for your Instagram reels.
So, this article is all about how to use Instagram's new Remix feature. I hope this article helped you! Please share it with your friends also. If you have any doubts about this, let us know in the comment box below.