Back in June 2020, Apple introduced the latest version of its iOS operating system – iOS 14. After a few months of beta testing, Apple officially released the iOS 14 update to the public today. This is one of Apple's biggest iOS updates to date, introduced lots of new features.
Before we share with you the list of best new features of iOS 14, please note that Apple says iOS 14 can run on the iPhone 6s and later. If your iPhone is running on iOS 13, then it will support iOS 14 too.
Check out the list of devices supported by iOS 14:
iPhone 11, 11 Pro, 11 Pro Max
iPhone XS
iPhone XS Max
iPhone XR
iPhone X
iPhone 8
iPhone 8 Plus
iPhone 7
iPhone 7 Plus
iPhone 6s
iPhone 6s Plus
iPhone SE (1st generation)
iPhone SE (2nd generation)
iPod touch (7th generation)
iOS 14 – 10 New Features you Need to Know About
As we have mentioned above, the iOS 14 update includes a variety of new features. Below, we have highlighted some of the useful and cool new features of iOS 14.
1. Widgets on the Home Screen
With iOS 14, iPhone users can add widgets directly to the home screen, much like Android. You can also choose from different widget sizes and arrange however you like. It also lets you add a smart stack of multiple widgets to the home screen that uses Apple's on-device intelligence to show the right widget based on time.
2. New App Library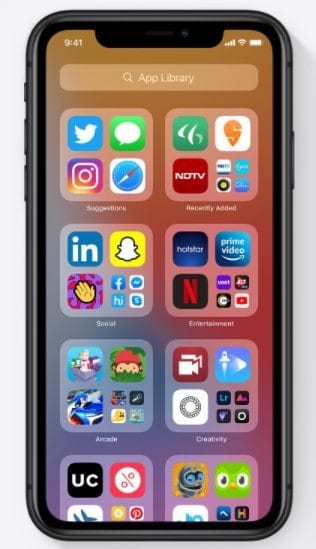 The new iOS 14 update also introduced a new App library. The App library has now become smarter, and it organizes all of your apps into one simple, easy-to-navigate view.
On iOS 14, apps are sorted by category, and your frequently used apps are always just one tap away.
3. Compact Calls
Well, the new iOS 14 makes things easy for those who receive frequent calls. With iOS 14, the incoming phone calls will no longer take over your iPhone's entire display. Apple has introduced something known as 'Compact Calls' that displays all calls from your iPhone, FaceTime, and third-party apps in an all-new compact design.
The incoming call bar will now appear at the top of iOS, allowing you to accept or reject the call easily.
4. Picture in Picture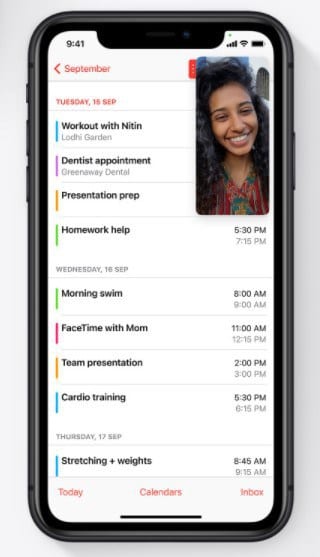 The much-anticipated Picture in Picture mode is finally introduced with the iOS 14. With Picture in Picture enabled, you can keep watching videos or continue your FaceTime call while using another app.
5. Messaging Features
iOS 14 gives you new ways to stay connected to the conversations that matter most. The new update allows you to pin up to nine of your most important conversations to the top. Also, it offers new tools for customizing group conversations with Photos, Animoji, and Memoji.
It also introduced a new feature known as 'Inline Replies' that lets you reply directly to a specific message in a conversation. The feature is already seen on WhatsApp.
For group conversations, it has a new feature, '@Mentions'. With this feature, you can direct a message to a specific group participant.
6. Maps
Maps in iOs 14 also got some useful new features. The new Maps now show Cycling directions, Electric Vehicle routing, etc. Also, Apple has worked with trusted brands and partners to offer Guides for great places worldwide to explore.
Along with that, Apple Maps in iOS 14 also has a native rating system. The rating system lets you rate and review places of interest and upload relevant photos.
7. HomeKit Accessories
Although the HomeKit and Home app didn't get any redesign with iOS 14, Apple had made some significant improvements. Apple introduced a new smart feature known as 'Suggested Automations' that suggests you relevant automation.
8. Privacy Options
Well, iOS 14 stops apps from tracking your precise location. With iOS 14, Apple gives you more control over the data that you share with apps.
The App Store app pages now show you the summaries of developers' self-reported privacy practices. The report is displayed to you in a simple and easy-to-read format.
Instead of sharing your exact location to the apps, you can now choose to share the 'Approximate' location. The privacy options also include a status bar indicator that blinks whenever any app uses the microphone and camera.
9. Download Updates on Cellular Data
This is one of the most useful features of iOS 14 introduced for Indian users. With iOS 14, Apple allows you to download app updates, Siri Voices, and any other downloads via Mobile data instead of WiFi.
10. Few Other Useful Features
Some of the other features include updated Apple Arcade, Exposure Lock on camera, Redesigned Game Center, Sleep tracking in Health App, Smart suggestions in reminders, and more.
So, these are some of the cool new features of iOS 14. Please let us know your favorite features of iOS 14 from the list. I hope this article helped you! Please share it with your friends also