Cricket fans who have been waiting for so long for the IPL 2022 to kick off will feel a sense of relief as the tournament has begun on 26 March 2022. Although television is the most preferred way to enjoy live cricket matches with friends & family, many users still prefer to stream live games on their portable devices such as laptops & smartphones.
Now that the tournament has already started, users are looking for ways to stream it online. So, if you are also looking for ways to stream your favorite cricket tournament, we have got you covered.
This article will share some of the best apps and websites from where you can watch the live telecast of IPL 2022. You can use any device like a smartphone or computer to watch the live telecast of the most loved cricket tournament.
IPL 2022 Live Streaming Apps
If you are a mobile device user, you need to rely on Android & iOS apps to watch IPL 2022 live. Below, we have mentioned some of the best mobile apps to stream IPL.
1. Hotstar
Disney+Hotstar is a go-to video streaming app for mobile users. On this app, you can watch your favorite live sports, TV Shows, Movies, and much more. In addition, the app offers you over 100,000 hours of video content.
While watching the live streams, you can also join the live chat, view the multi-cam feed, etc. Now only the Indian Premier League, you can watch other sports channels and Indian TV shows with Hotstar.
Download Hotstar for Android & iOS
2. IPL 2022 App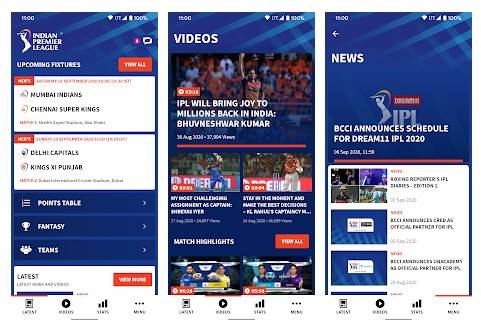 Well, it's an official IPL app developed by IN10 Media Private Limited. The app is made for mobile users, and it's free of adverts. IPL 2022 mobile app brings you live-action and exclusive coverage of the current IPL season.
From this app, you can view live scores & ball-by-ball commentary. Not only that, but you can also read the latest news, match reports, and watch exclusive interviews too.
Download IPL 2022 for Android & iOS
3. ESPNCricinfo
Well, it's an Android app made for cricket lovers. From internal cricket to IPL, CPL, BBL, World Cup, you can watch it all from the ESPNCricinfo mobile app. The app offers live match commentary, ball-by-ball cricket scores, notifications updates, etc.
If we talk about the IPL, you can view the Live Scores or hear the ball-by-ball commentary. Apart from that, the app lets you follow your favorite cricket teams.
Download ESPNCricinfo for Android & iOS
4. CricBuzz
From CricBuzz mobile app, you can read cricket news, articles, etc. You can also watch the live coverage of cricket matches, including the videos, scorecards, text commentary, match highlights, team rankings, etc.
The Cricbuzz mobile app is pretty fast, and it's available for both Android & iOS. Apart from the live stream and scores, you can also set notifications for live matches and breaking news.
Download Cricbuzz for Android & iOS
5. JioTV
If you live in India and use Reliance Jio, you can stream IPL for free. To stream the IPL tournament for free, you need to use the Jio TV mobile application.
After downloading the Jio TV mobile app on Android or iOS, select the Star Cricket channel. The mobile app will redirect you to the official Hotstar web or mobile app, from where you can watch the live streams.
Download JioTV for Android & iOS
IPL 2022 Live Stream Websites
Just like the mobile apps, you can use online websites to stream the IPL tournament. Below, we will list down some of the sports live streaming sites to watch IPL 2022.
As we all know, Disney+ Hotstar is the official digital streaming partner of IPL. You can use either the mobile app or the official website to live stream the sports event.
What's more important is that apart from living streams, it shows you a few helpful information like upcoming matches, match highlights, match news, etc.
If you live in New Zealand, you need to visit the Fox Sports website to watch the IPL. However, you need to spend around NZD 4.99 to subscribe to the channel for a month. Also, Australian cricket fans can access IPL 2022 on Fox Sports.
If you live in Singapore, South America, Continental Europe, and Malaysia, you need to use the YuppTV website to stream IPL live.
However, please do note that it is a premium service, and the subscription rates vary depending on the location.
Flow Sports is another best website from where you can stream IPL live. However, Flow Sports only serves the Caribbean Islands.
So, suppose you live in any Caribbean Islands location like Anguilla, British Virgin Islands, Saint Lucia, Saint Kitts, Nevis, Jamaica, Grenada, etc. In that case, you need to use Flow Sports.
It's another subscription-based sports channel that will broadcast the live IPL tournament. As of now, Sky Sports Now TV is only available for UK users. If you live in Ireland, you need to use the Now TV Ireland website.
IPL 2022 Broadcast Channel List:
Some users enjoy watching live cricket matches on Television screens. Therefore, the IPL 2022 tournament will be telecasted on different TV channels in different countries. Here is the list of the TV channels that will broadcast IPL matches.
United States: Willow TV
Australia: Fox Sports
MENA Countries: BeIN Sports
South Africa: SuperSport
New Zealand: Sky Sport NZ
India, Bhutan, Nepal: Star Sports Network, DD Sports
United Kingdom: Sky Sports Network
Singapore: Starhub, Eleven Sports
Papua New Guinea: EM TV
Caribbean: Flow Sports (Flow Sports 2)
Canada: Willow TV, Hotstar Canada
Bangladesh: Channel 9, Gazi TV (GTV)
Afghanistan: Radio Television Afghanistan (RTA)
Sri Lanka: SLRC (Channel Eye)
Malaysia: Measat
So, that's all about IPL 2022 Live Streaming apps, websites & TV Channels. You can use any of the listed apps & services to watch the most loved cricket tournament. I hope this article helped you! Please share it with your friends also.