Lucky Patcher might be the best pick for you if you are searching for an Android app that gives users absolute control over other apps. However, is Lucky Patcher safe? Here, we have discussed some essential things about Lucky Patcher that users should know.
Well, there's no doubt that Android is the most used mobile operating system. If we take a brief look at the Google Play Store, we will find apps for almost every different purpose. For example, search for music player apps on the Google Play Store, and you will find many music player apps.
Similarly, there are countless other apps available on the Google Play Store. This thing motivates Android users to explore more and more new apps. However, not all apps on the Google Play Store are free to download. Most of the valuable apps come with a premium tagline.
Not only that, but most of the free apps and games available on the Google Play Store put some restrictions on the features. To avail of those features, users must purchase in-app items like coins, tokens, UC, etc. This is why users choose to download game hacker apps for Android. One of those apps is known as Lucky Patcher.
What is Lucky Patcher For Android?
Lucky Patcher might be your best pick if you are searching for an Android app that gives users absolute control over other apps. Guess what? Lucky Patcher can help users remove advertisements from apps, change the app's permissions, create a backup, bypass in-app purchases, etc.
With Lucky Patcher, users no longer need to pay for gaming items like coins, boosts, gems, or other resources. Out of all the features, the ability to avail of free in-app purchases remains the top. Apart from that, Lucky Patcher can also remove license verification from premium apps.
So, with all those features, you might wonder if it is safe to use Lucky Patcher. So, is Lucky Patcher safe? Let's explore some exciting things about Lucky Patcher for Android.
Is Lucky Patcher Safe?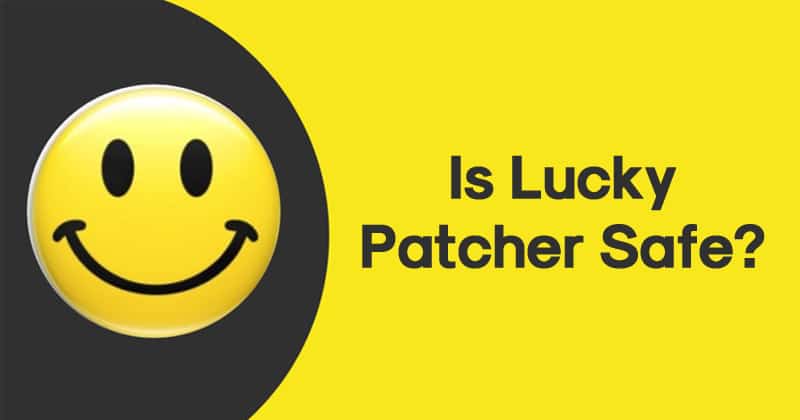 Lucky Patcher is not a safe app to use. You will find many users saying that Lucky Patcher is a secure app, etc. However, it's not true at all. Well, it was the app's nature that made the app unsafe to use. In simple words, it's 'No'.
Lucky Patcher is an app used to hack in-app resources, which are illegal. The app can steal from honest developers who worked hard to develop a fantastic app. Users use Lucky Patcher to hack the in-app resources, directly affecting the developer's revenue.
When the developer knows about the hack, they ban the account. So, with Lucky Patcher, there's always a risk of losing an account. Another thing is that Lucky Patcher is not available on the Google Play Store for genuine reasons.
Google Play Store Protect flags Lucky Patcher. Not only that, but 4 different antivirus engines on Virustotal also flag the app. So, the app has malicious files that can raise serious security concerns. The app also needs root access to work at its full potential, so we allow it to modify system files by granting root access.
Several sites provide the latest version of Lucky Patcher Apk, but in most cases, those files are spyware and adware. So, users must find the genuine Lucky Patcher app to avoid the risk of spyware and adware.
Final Verdict – Is Lucky Patcher Safe?
Well, it entirely depends on whether you want to use it. If you feel okay while hurting the revenue of the developer who has worked so hard to develop such a fantastic app, then you can use it.
However, the risk of losing the account is always high while using Lucky Patcher Apk. We believe staying away from such apps is the best thing to do. Still, everyone has their own opinion, so let it be on the users.
Frequently Asked Questions
Is Lucky Patcher harmful to your phone?
The answer to this question depends on whether your Android is rooted. If your device is not rooted, Lucky Patcher won't do any harm because it will have limited functionality. However, if your device is rooted, there's always a risk associated with using Lucky Patcher.
Is there a virus in Lucky Patcher?
There's no virus in the original Lucky Patcher app. There are many modified versions of Lucky Patcher making rounds on the internet that try to install viruses.
How powerful is Lucky Patcher?
Lucky Patcher is quite a powerful tool since it gives users full control over the installed apps. The app can be used to remove ads from other apps, change the app permissions, bypass in-app purchases, and more.
Is Lucky Patcher still available?
Well, Lucky Patcher is still available on the web and still works. However, newer apps seem to have better protection and can't be patched.
Is Lucky Patcher on PC?
No! Lucky Patcher was never meant to run on PC. The app was originally introduced for Android smartphones and works well with root access. However, you can run Lucky Patcher on PC with BlueStacks emulator.
So, what's your opinion on this? Is Lucky Patcher safe? Share your views in the comment box below.