On Windows, you have hundreds of websites to download software and games. You can download your favorite apps from the Microsoft Store if you want to rely on something other than third-party sites.
If you often try new software, you may have come across a site called Softonic. Softonic is a site that provides users with software for free, but the important question is, Is it safe and legal to use Softonic?
A new Windows user can think before downloading any software from third-party websites. And it's very important to confirm whether the site providing free software is safe and genuine. But, before understanding all those things, it's important to know the history of Softonic International.
What is Softonic?

Softonic is basically a site. Its company name is Softonic International, and its web portal based in Barcelona, Catalonia, Spain.
The site was founded way back in June 1997, and up until today, it's serving users with free Windows Apps, Games, Android apps, and many other things.
You can find many other things on the Softonic website, such as Roblox Games, Chrome Extensions, Browser Games, etc.
According to the website, softonic.com, which is the company's main domain, receives almost 100 million monthly visits. This makes Softonic one of the world's largest apps and software platforms.
More importantly, Softonic is accessible from smartphones as well. It has an interactive user interface that loads well in mobile web browsers.
Its compatibility with mobile apps ensures that mobile users can download apps without relying solely on the official app stores.
Is Softonic Safe?

Now, let's come to the main part of the article. Before downloading any software, you may ask yourself, 'Is it safe to download from Softonic'.
The official site claims Softonic is a safe online location to download software and games. According to the site, they have experts that review the programs.
If we have to trust this, Softonic is a safe site to download software and games. However, there are quite a few things that you should know.
A few user reviews on forums like Reddit, Quora, etc., claims that the site is not 100% safe and legit. This is because it doesn't host all software on its server. When you hit the download button, it fetches the download link from the official site and then provides you with the download.
The problem here is that from where it fetches the download link is compromised; you will end up downloading a malicious file. So, there are always some hidden criteria and risks when downloading programs from third-party websites.
The site has never faced major backlashes from users for providing malicious files. This makes the site one of the leading and trustable sources for Windows software and games.
Is Softonic Legal to Use?
As long as the site is available in your region, it's 100% legal to use Softonic. You can download the software without worrying about any penalties or legal issues.
The site claims to provide free software, but it's not 100% true. When you download premium software from the site and install it, it will ask you to enter the purchase detail.
So, the site provides you with the installation files; what you do with them depends on you. For example, if you try downloading the Avast Premium antivirus, you will get the installation file. After installing it, you can only use the trial version of the product, and after that, you will be asked to purchase the license to continue using it.
Softonic Reviews – Is it legit & Safe?
Trustpilot is one of the leading sites that review companies and let you know whether you can trust them.
The site had already reviewed Softonic and gave a fairly positive review. The site gives Softonic 4.3 out of 5 stars. Along with that, the site also has a review section that shows you real reviews from users.
However, some reviews claim that the site tries to install bundled applications. So, it's still best to review the files before downloading them.
How to Download Software from Softonic?
Now that you know what Softonic is, you may want to know how to download software from it. It's fairly easy to download software legally from Softonic. For that, follow the steps shared below.
1. First, open your favorite web browser and visit en.softonic.com
2. You will see a massive search bar on the homepage. You need to utilize that to search for your favorite software.
3. For example, we will download Avast Free Antivirus. We have to open it and click on the 'Free Download' button.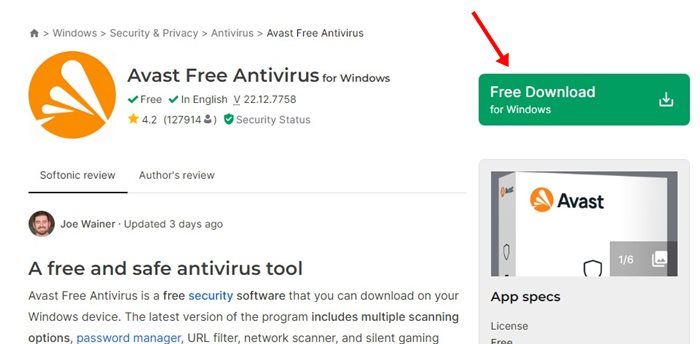 4. Clicking on the 'Free Download' link will start downloading Avast Free Antivirus on your computer.
That's it! You need to follow the same steps for every software you want to download.
How to Download Safe content from Softonic?
Most of the files available on Softonic are safe and legal to download. However, scanning the downloaded files before installing them is still recommended.
This is because if Softonic is ever attacked and hijacked by hackers, they can inject malicious scripts into the software. So, it's always best to scan the files before installing them to remain safe.
Also, check that the programs you're downloading from Softonic are updated. Outdated software may have bugs & glitches that may create problems. Also, older versions of apps have increased risks of cybersecurity attacks.
So, this guide is all about Is Softonic safe & legal. We have tried to answer all your questions related to Softonic. If you need more help on this topic, let us know in the comments. Also, if the article helped you, make sure to share it with your friends.