If you are using Windows, you may know about the Insider Program. The Windows Insider Program allows users to test the upcoming features of the operating system.
While the new program is very handy, especially for those who don't want to miss any new features, it also has many disadvantages. First, if you join the Windows 10 Insider Fast Ring, you will receive updates that are not entirely free from bugs and glitches.
Running a bug-filled operating system, especially on a low-end device, might cause BSOD. It can even slow down your PC. Anyways, if you are a pro user and know what to do if things become problematic, you can join Windows 10 Insider Fast Ring.
Steps to Join Windows 10 Insider Fast Ring
Below, we have shared some easy steps to join Windows 10 Insider Fast Ring. The steps will be very easy; follow them as we have mentioned.
1. First of all, open Settings on your Windows 10.
2. In the Settings App, click on Update & Security.
3. Next, click on Get Insider Preview Builds. To start up with the Insider program, click on the Get Started button below this option and then click on the Link a Microsoft account further. Accept all prompts that would appear.
4. Now, return to the Windows Insider Program option and look for the Choose your Insider level option.
5. here you would see some different options to get updates from the developers, like the Slow Ring or the Fast Ring. The Fast Ring connects you to the insider program, which gives you a fast update. The updates will be filled with bugs and glitches. And the Slow ring gets you the more stable versions. Select the Fast Ring option.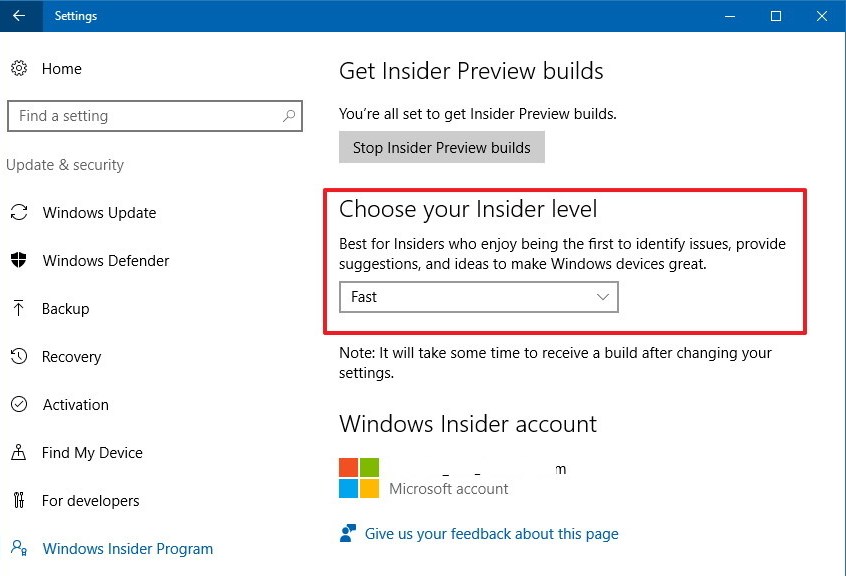 6. Go to the Windows Update option on the left pane, and then check for the updates. If there would be any updates, Windows 10 will download and install them.
So, these are some easy steps that will let you join Windows 10 Insider Fast Ring. If you need more help joining Windows 10 Insider Fast Ring, let us know in the comments below.