Airbus subsidiary APWorks managed to create the "world's lightest bike" with a 3D printer. The company experts were able to make this electric bicycle a shaped device and thanks to the super tough aluminum. In total, the vehicle weighs about 33 kilos, which costs $56,000 USD.
Light Rider World's First 3D Printed Electric Motorcycle
[dropcap]A[/dropcap] subsidiary of a European aircraft manufacturer Airbus has unveiled in Germany an electric motorcycle that looks like a swiss cheese on wheels which was made by a 3D printer that injected aluminum alloy particles.
Actually, it's more than aluminum: it's what APWorks calls "Scalmalloy" which is a custom aluminum alloy powder with almost the specific strength of titanium that the company uses to build this unbelievable structures by fusing thin layers of the material together.
The vehicle is known as Light Rider which weighs 77 pounds and has the capacity to the speed of up to 50 miles per hour. As the parts of the frame of the motorcycle are hollow place inside cables and pipes.
As we mentioned earlier that it was manufactured by the subsidiary of a European aircraft manufacturer APWorks, which is specializing in the manufacture of layers of additives. As the box of the vehicle weighs just 13 pounds, which is about 30% less than conventional electric bikes.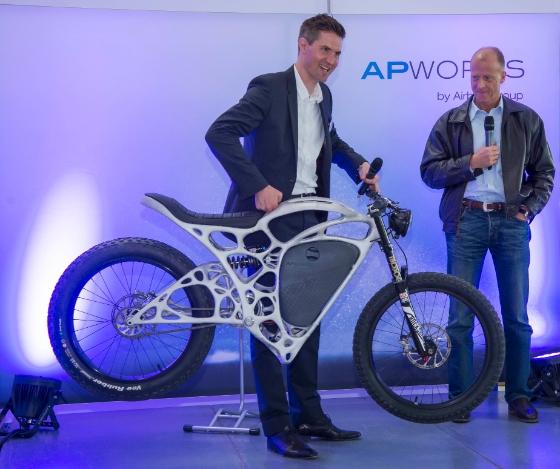 The Airbus APWorks says that the 3D printed electric motorcycle will go up to 80km/h (50 mph) as we mentioned earlier and can run from 0-45km/h within just 3 seconds, which really keeps this 3D printed electric motorcycle fully out of superbike territory. Moreover, just think of this as a lightweight, street-legal runabout that just happens to look unlike anything else on the road.
The chief of the Airbus APWorks, Joachim Zettler said that "The complex hollow structure would not have been possible with conventional production technologies, such as milling or welding".
Hence, the company takes orders for a limited edition of 50 3D printed electric motorcycles only, and each of the 3D printed electric motorcycles will cost $ 56.095, plus the tax and currently the new 3D printed electric motorcycle has a cruising range of 37 miles.