I'm sure there are many people who want to earn money by doing something at home. Of course, we always look for some easy ways to earn some handy money. Therefore, we are going to mention a method that will help you earn some handy money using your Android Lockscreen.
[dropcap]A[/dropcap]s we all know spending money is easier compared to making it, and very often you thought to make some money through your Android. There are many apps available on Google Play store that helps you to earn money. However, some of them are spam, and others are ineffective. Have you ever thought of making money by simply unlocking the lock screen of your Android smartphone? This is actually possible. You can make money from your Android Lockscreen itself. Let's know how to make some handy money using your Android's Lockscreen.
Also Read: How to Customize Notification LED Behavior on Android
How To Make Money By Unlocking Your Android Phone
Slidejoy lets you make money to check trending news and to unlock your lock screen! Slidejoy pays you in cash or rewards you in gift cards to have trending news and ads on your lock screen. Redeem cash rewards to your PayPal account or gift card rewards to your favorite retailers/brands.
Also Read: How to Block Internet Access in Specific Apps on Android
How To Use SlideJoy?
Step 1. You need to install the app Slidejoy- Lock Screen Cash on your Android device.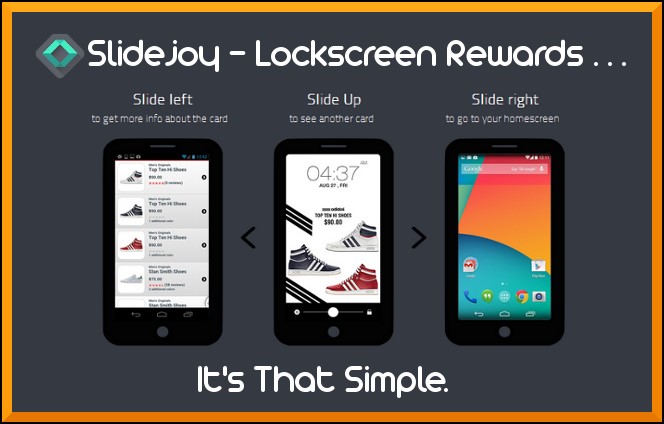 Step 2. Once you install the app, open it, and it will ask you to sign up to continue, you can use your Facebook account to sign up with SlideJoy.
Step 3. Once you signed up, you will be given the full tutorial on how to use Slidejoy to earn money from your Lock screen. Simply read the tutorial. Once you register on Slidejoy, every time you unlock your phone, you will get a card with news or promotion on your lock screen.
Slide UP on your lock screen to see more news
Slide RIGHT on your lock screen to unlock your phone and go to your home screen
Slide LEFT on your lock screen to get more information on the content
Slide DOWN on your lock screen to access your notifications and app shortcut menu
Step 4. Now you will be taken to the Home screen of your app, where you will be given the bonus of 20 Carats.
That's it you need to use your phone normally to earn some money.
Also Read: How To Block Ads On Youtube In Android
Other Similar Apps Like SlideJoy
#1 Using Fronto Lock Screen:
[appbox googleplay co.fronto]
Fronto lock screen lets you earn rewards just for using your phone normally. That's it! With Fronto Lock Screen, you will discover interesting articles, deals, and promos on your lock screen. Swiping left, as always, will lead to your home screen. Swiping right will take you to a web page or to Google Play to discover a new app or service.
You can use the Points for Amazon.com Gift Cards, Google Play Gift Card, Target eGiftCard, Walmart eGift Card, Steam Wallet credit, PayPal, etc.
#2 Unlock & Win! by Perk
[appbox googleplay com.perk.screen]
With this app, you need to win points, tokens, and prizes by unlocking your phone! Discover new brands, products, apps, and designs delivered right to your screen! Simply swipe left or right for a chance to win. Every time you unlock your phone, you could win.
#3 S'more – Lockscreen Rewards
[appbox googleplay com.lab465.SmoreApp]
S'more is an app that allows you to earn points by allowing us to show you content & ads on your lock screen. S'more gives you points every single day that you have our app installed. That's it, no catch. As long as you use S'more, you will get paid.
Points can be redeemed for gift cards.
S'more is the easiest way to make money using your phone. If you're looking for a way to earn a little extra money, look no further.
#4 Adme – Lockscreen Cash Rewards
[appbox googleplay mobi.adme]
Adme rewards you with cash throughout the day just for using your phone. It shows you ads along with popular trending content when you wake up your phone. Cash rewards can be requested via PayPal as soon as your balance reaches $10.
The best part of Adme is that it has very positive user ratings on Google Play Store.
So, this is all about how to make money using your Android Lock screen. With the help of Slidejoy – Lock Screen Cash and other apps, you can make some handy money by simply unlocking your Lock screen. If you want to know the in-depth detail on how to earn good amount of money then you can visit Google Play Store for more. If you like the article! Share it with your friends too!