Spotify is mainly a music streaming service, but it does include some social networking features. For example, you can find and add friends on your Spotify account to see what your friends are listening to.
Similarly, you can share your music with your friends or followers. If you have been using Spotify for a while, you may know that the app allows you to share playlists with your friends and family members.
Although the idea of sharing playlists with friends and family is great, sometimes, you may want to keep your playlists containing your favorite songs private. When you make a Spotify playlist private, the playlist is only accessible to you. If someone has liked your playlist in the past, they will no longer be able to access the playlist anymore.
Steps to Make a Spotify Playlist Private (Desktop & Mobile)
So, if you are interested in making your Spotify playlist private, you have landed on the right page. Here we have shared a step-by-step guide on making Spotify Playlist private on desktop & mobile. Let's get started.
How to Hide playlist from Spotify Profile on Desktop
The ability to make Spotify Playlist Private on a desktop is available in a few regions. However, another option can help you hide your Spotify Playlists from your public profile. The only thing is that anyone who has liked your playlist before can still access your hidden playlist. Here's what you need to do.
1. First, open the Spotify desktop app on your PC.
2. Next, select the playlist you want to remove from your public Spotify profile.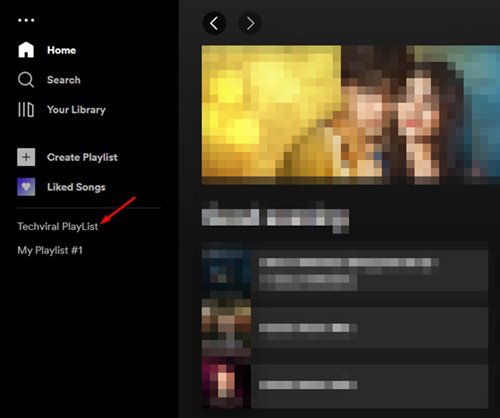 3. Now click on the three dots beside the Playlist name.
4. Select the Remove from Profile option from the menu that appears.
5. This will remove your playlist from your Public profile. Your friends can't see this profile if they haven't liked your playlist before.
6. If you wish to add the playlist back to your profile, click on the three dots and select Add to profile option.
That's it! You are done. This method doesn't make your Spotify playlist private; it just removes the playlist from your Spotify's public profile.
How to Make Playlist private on the Spotify Mobile app
You can use the Spotify mobile app to make your playlist fully private. The change you make to your Spotify mobile app will reflect in all connected devices. Here's what you need to do.
1. First, open the Spotify app on your mobile and tap on the Your Library option.
2. Select the Spotify Playlist that you want to make private on the next screen.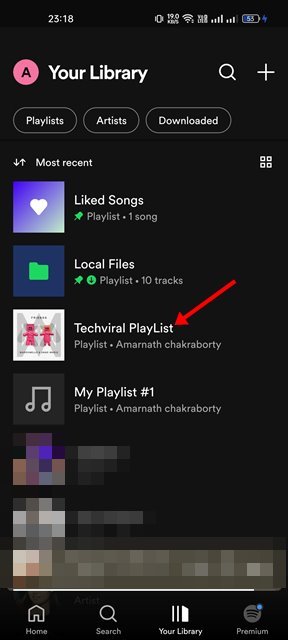 3. On the Playlist page, tap on the three dots below.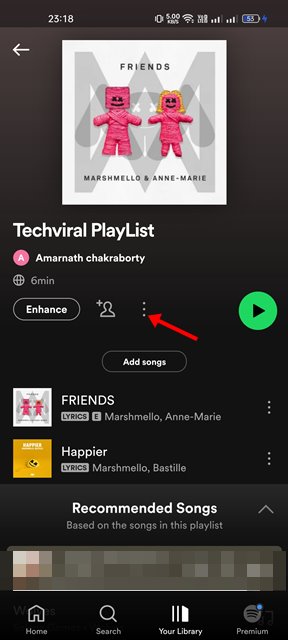 4. From the pop-up that appears, scroll down and select Make Private.
5. On the confirmation prompt, tap on the Make Private again.
That's it! You are done. This is how you can make a Spotify playlist private via a mobile app.
If you don't want others to see your playlists on Spotify, it's good to make them private. Alternatively, you can start a Private session on Spotify to prevent your listening activity from being visible. When you begin a Private session on Spotify, not a single person, even the recommendation algorithms of Spotify, can't see the songs you are listening to.