Well, if you have been using Windows 10 for a while, you might know that the operating system offers lots of security features. Security features like Windows Defender, Firewall, etc., comes built-in with the operating system. Despite having so many security features, the security risks on Windows 10 are still high.
It's because Windows 10 is right now the most used desktop operating system, and hackers & cyber criminals choose Windows to carry out their evil tricks. So, to safeguard your computer from malicious files and hackers, it's best to use a reliable Security suite.
Now, there are almost hundreds of free security suites available for Windows. However, not all of them were effective. We found Malwarebytes highly effective on regular usage, and it works well in blocking PUPs, viruses, and malware.
What is Malwarebytes?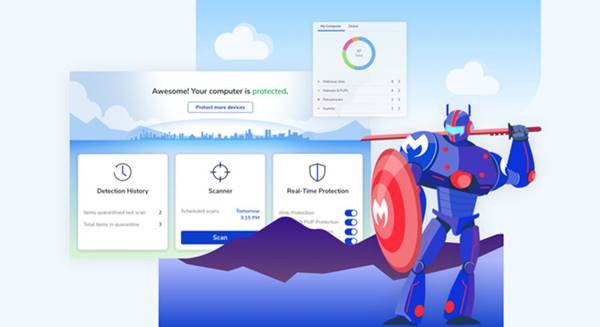 Well, Malwarebytes is a security program that finds threats like malware, viruses, and unwanted programs that slows down your computer. It does not just find them; it also removes them from your system. The real-time protection of Malwarebytes secures your PC, files, and privacy 24/7.
Like every other security solution, Malwarebytes is also available in two versions – Free and Premium. The free version of Malwarebytes can scan and find security threats from your system, but it doesn't offer real-time protection. However, with Malwarebytes premium, you get real-time protection and few other additional features.
Features of Malwarebytes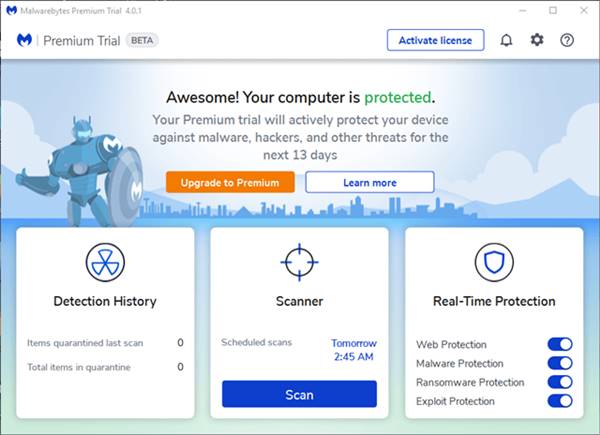 Now that you are well aware of Malwarebytes, it's time to know some of its best features. Below, we have shared some of the best features of Malwarebytes for Windows 10. Let's check out.
Finds & Removes Security Threats
On our testing, we found Malwarebytes to be highly effective. It does not just detect security threats; it also removes them from your computer. The security tool can block malware, viruses, ransomware, spyware, and other security threats.
Web Protection
The Web protection feature of Malware is pretty effective. It works by blocking all malicious downloads, malicious websites, phishing pages, potentially unwanted programs, and more. The web protection also secures your web browsing session.
Lightweight
Compared to other security suites, Malwarebyte is more lightweight. It comes in a compact size and doesn't slow down your device. Despite having a web protection feature, Malwarebytes doesn't even slow down your internet browsing speed.
Blocks Ransomware
The Ransomware protection feature of Malwarebytes uses proprietary tech to create a powerful defense against ransomware that locks down your PC. So, with Malwarebytes, you no longer need to worry about any ransomware attacks.
Available for Free
As we all know, Malwarebytes is available in two versions – Free and Premium. The free version works well, in our opinion. However, it doesn't provide real-time protection. The free version can be used to remove an infection from any computer.
So, these are the best features of Malwarebytes. It would be best if you start using the app to explore some more features.
Download Malwarebytes Offline Installer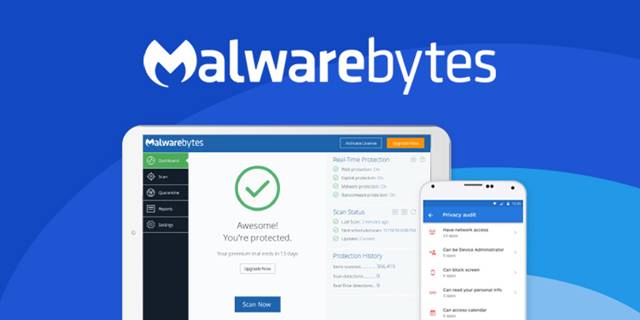 Now that you are well aware of Malwarebytes and its features, it's time to know how to install it on any system. To install Malwarebytes on a device, you first need to download the installation file. Malwarebytes offers two installation files – Online and Offline Installer.
The Online installer requires internet connectivity to download the files from the internet. In contrast, the offline installer can run without an internet connection. Since Malwarebytes is meant to remove security threats from an infected system, it's best to use the offline installer.
The benefit of Malwarebytes Offline installer is that it can be used to install Malwarebytes on multiple computers, without even an internet connection. Below, we have shared the download links of Malwarebytes Offline Installers.
So, these are the download links for Malwarebytes offline installer. The offline installer is not available for macOS and iOS. You need to download & use the online installer.
How to Install Malwarebytes Offline Installer?
Well, Malwarebytes offline installer is relatively easy to install. You need to move the offline installers to the system you want to install. To move the Malwarebytes offline installers, you can use any portable device like a PenDrive or external HDD/SSD.
Once moved, run the installation file and follow the on-screen instructions. The installation would take a few minutes to complete. Once completed, restart the computer and start using the security tool.
So, this article is all about Malwarebytes offline installers in 2021. I hope this article helped you! Please share it with your friends also. If you have any doubts about this, let us know in the comment box below.