Research has shown that regular meditation can do wonders for our mental health. Meditation has been proven to relieve insomnia, anxiety, blood pressure problems, and depression. So, Meditation is indeed the best way to relax our minds.
If you cannot take the first step toward meditation, you can always take offline classes. However, if you don't have enough time to join meditation classes, you can use the meditation apps.
We have already shared a list of the best meditation apps for Android. Today, we will be sharing the list of best meditation apps for the iPhone.
Also Read: Best Android Apps To Remove Audio From a Video
List of 10 Best Meditation Apps For iPhone
These apps were available on the iOS app store, and they are mostly free with in-app purchases. So, let's check out the best meditation apps for the iPhone.
Meditation Oasis is an iPhone app that could help you learn or practice meditation. If you are an active meditator, you can use it to deepen your meditation practice.
The app brings meditation techniques created by Mary Maddux, a leading meditation teacher who has already guided thousands of people worldwide.
To learn meditation techniques, you need to join a program. There are three different meditation programs available for users, which you can access after purchasing a monthly or yearly subscription.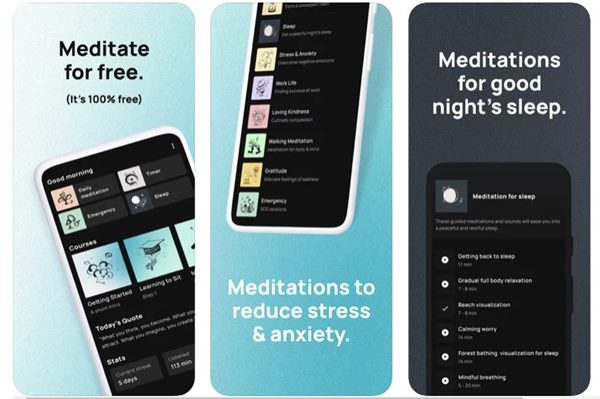 Medito is one of the best meditation and mental well-being apps you can use on your iPhone. The app brings many guided meditations, breathing exercises, mindfulness practices, relaxing sounds, etc.
If you are a beginner, you can use the app to learn basic concepts & techniques of meditation. However, it also has a premium version called Prime that includes an intermediate course, daily meditations, sleep sounds & sleep stories, etc.
The app serves as a guide to mindfulness for your everyday life. With Headspace, you can quickly learn meditation and mindfulness skills from world-class experts.
If we talk about the features, the app offers hundreds of guided meditations on subjects like exercise, focus, sleep, etc. Not only that, but it also has lots of short meditation techniques for quick mental rest.
Calm is one of the best and top-rated iOS Meditation & Relaxation apps available on the app store. The app can significantly help you improve your sleep quality, lower stress, etc.
It also has guided meditation techniques, sleep stories, breathing programs, stretching exercises, etc. So, Calm is the best meditation app you can use on your iOS device.
Well, Insight Timer is an all-in-one meditation app available for iOS devices. The app has many guided meditations and talks led by top meditation experts, neuroscientists, psychologists, and teachers.
The free account of the app lets you access thousands of guided meditations for free. It has guided meditation on sleep, self-love, leadership, stress reduction, addiction recovery, etc.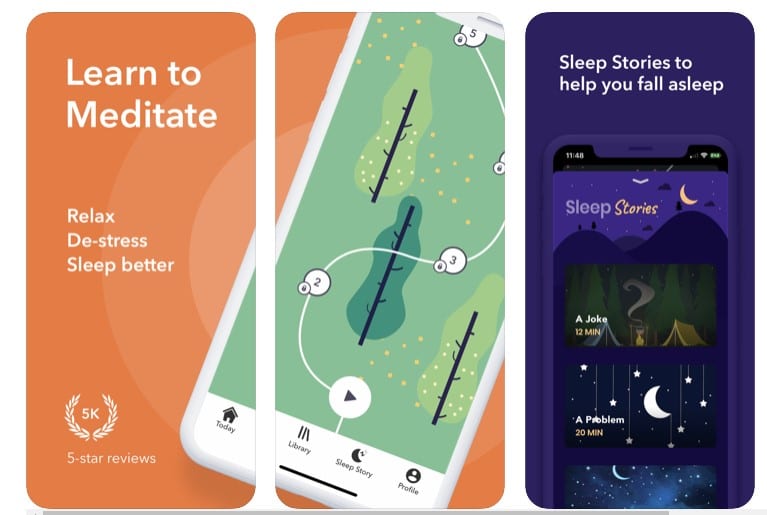 It is one of the best and top-rated Meditation apps available on the App Store that claims to bring more clarity, joy, and happiness to your daily life.
The app offers you hundreds of mindfulness meditations to help you destress, relax, and sleep better. Not only that, but the app can also be used to track your progress with daily streaks and time spent meditating.
Oak – Meditation & Breathing claims to transform your meditation practice from an experiment into a habit. The app offers plenty of guided, mindful, and loving-kindness meditations. You can even choose a guided session duration ranging from 5 to 30 minutes in length.
Well, Sattva Meditations & Mantras is another best iPhone meditation app that you can use today. The great thing about Sattva Meditations & Mantras is that all meditations, sacred sounds, and music on Sattva are delivered by Sanskrit scholars who have mastered the mind's subtle inner working.
The app has over 100+ guided meditations and plenty of sacred sounds & music.
If you are looking for an iOS app to reduce stress, ease anxiety, improve sleep & boost confidence, Meditation Studio might be the best pick. The good thing about Meditation Studio is that it provides you with step-by-step guidance on every meditation session.
The app has guided meditations on topics ranging from happiness to performance, plus meditations, especially for teens, kids, adults, and moms.
This app makes Meditation an easy, natural, and simple activity for everyone. Relax Meditation: Guided Mind could be the best pick for you as a starter because it provides step-by-step guidance on every meditation topic.
It covers meditation techniques for everyday topics like Self-Esteem, Relationship, Success, Creativity, etc.
You can improve your mental health with these meditation apps for iOS. I hope this article helped you! Please share it with your friends also. If you know of any other iOS mediation apps, let us know in the comment box below.