If you have been into Apple's ecosystem before, you will probably know Memoji. Memoji is Apple's answer to Snapchat's Bitmoji and Samsung's AR emoji. The feature lets you create a Memoji that would represent you in the chat.
While Memojis was great, it's not available for Android users. Android users must rely on other apps to create personalized emojis that reflect their personality and mood. Hence, if you are interested in exploring such apps for your Android, you are reading the right guide.
Best Memoji Maker Apps for Android (2022)
The following article will share a list of the best memoji creator apps for Android. With these apps, you can create an expressive cartoon avatar for yourself. So, let's check out the best free Memoji apps for Android smartphones.
If you are a Snapchat user, you may already know about Bitmoji. Bitmoji is an app that lets you create your own personalized emoji. This app can create an expressive cartoon avatar that represents you.
Bitmoji is also compatible with various apps such as Snapchat, Gboard, and more. This means you will be able to use your Bitmoji through these apps.
Using Bitmoji in Snapchat also unlocks another feature called Friendmoji. Friendmoji is a 2-person Bitmoji featuring you and your friends.
MojiPop is another excellent app for Android that lets you instantly create your funny cartoon stickers. You can take this app as an avatar creator where you can create your avatar and convert it into a sticker.
Once converted, you can use the sticker on all social media and instant messaging apps. MojiPop may not be as popular as Memoji or Bitmoji; still, it can create avatars that accurately represent yourself.
You can even create animated stickers with MojiPop. However, you can only share animated stickers on platforms that support GIFs.
Well, Facebook Avatars are much like Bitmoji stickers used in Snapchat. You can use the Facebook mobile app to create an avatar representing you on the social networking platform.
It's pretty easy to create a cartoon version of yourself with Facebook. You can use the avatar you create in Messenger, Facebook news feed replies, and more.
We have already shared a detailed guide on creating a Facebook avatar. Make sure to go through that guide to know the steps.
Avatoon may not be a perfect Memoji alternative for Android, but it does its job pretty well. The app arrives with a powerful photo editor that you can use to create a personalized avatar that expresses just how exciting you & your life is.
It also has a feature called Avatar Snapshots that lets you use in-app backgrounds or real-life photos to modify your avatar's expression.
The avatars you create using Avatoon can be shared across all social media and instant messaging apps. Overall, Avatoon is a great Memoji maker app for Android.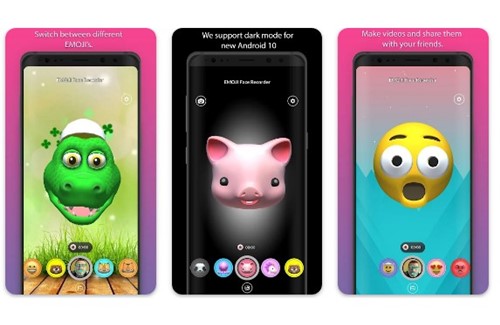 EMOJI Face Recorder differs from Memoji, but it can still be considered an alternative. Instead of turning your face into an emoji, EMOJI Face Recorder lets you select a variety of fun creatures and emojis.
You can select emojis of fun-looking creatures like unicorn, octopus and the creature will mimic your facial movements. The emoticons created via EMOJI Face Recorder have 3D touch in them, which looks good.
The app even lets you include your voice in the emojis. Overall, EMOJI Face Recorder is an excellent Memoji alternative for Android smartphones.
So, these are some of the best free Memoji or Memoji maker apps for Android smartphones. You can use these apps to create an emoji that looks like you. If you know any other apps to create Memoji on Android, let us know in the comments below.