Let's admit it; there are times when we think about earning a few extra bucks. The few extra bucks that you earn now could be helpful in critical situations. Let's take an example of the recent COVID- Pandemic; the threat has forced users to stay and work from home. However, not everyone knows how to utilize technology to earn a few extra bucks per month.
It's all because of the lack of resources. Look, there's no sure-shot way to earn money, but you can always have a try with the apps listed in the article. This article will share a few best Android apps that would help you make some decent money. You can use these apps on your Android smartphone to generate decent secondary income.
List of 10 Best Money Making Apps For Android
It's worth noting that the apps listed in the article require hard work, and they won't bring money overnight. Therefore, you need to understand how these apps work to earn a decent income. For proper understanding, we recommend you watch YouTube videos or visit the company's webpage.
Paidwork is an app that pays you for playing games, completing surveys, typing texts, answering questions, watching ads, browsing websites, creating accounts and doing a few more mini tasks.
It also has a referral-based system that pays you for inviting your friends. If your friends join Paidwork, you and your friend get $10 for free. While this is not an app to generate passive income, it will still satisfy your side needs.
If you are an artist looking for a platform to sell your arts and crafts, you need to try Etsy. Etsy is similar to eBay, but it focuses more on arts and crafts.
On Etsy, you need to create your shop to sell whatever you want. The mobile app for Android lets you manage your shop, your orders, and your listings.
Etsy is a bit different than other shopping apps. The app is known for its arts and crafts, and even if you don't want to sell anything, you can explore the unique catalog to find some great home decorating ideas.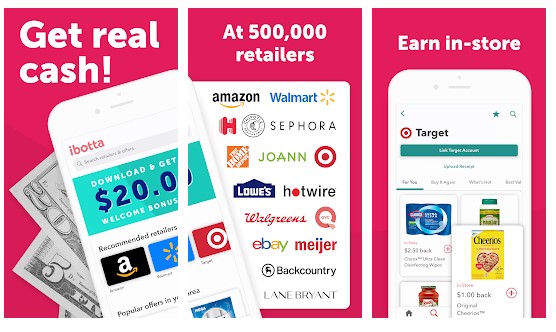 If you love to shop online, you need to give Ibotta a try. It's a free app that gives you real cashback on every purchase, online or in-store.
The good thing is that it gives you cashback every time you shop for essential items, groceries, and more. It's a cash-saving app, so don't expect decent money.
This is an app created by the Google Surveys team. At first use, you need to answer basic questions about yourself. Once done, the app will periodically send you surveys.
If you are a frequent traveler, you can earn more from Google Opinion Rewards. This is because most of the surveys available on the app were location-based.
The good thing is that in answering each survey, you earn credit. So, this is a decent money-making app where you don't need to do any hard work.
This app is pretty much similar to the Google Opinion rewards listed above. In addition, surveys On The Go lets you complete surveys for money. However, unlike Google Opinion rewards, this one pays out in cash.
On the downside, there are limited surveys available per month. So, don't expect massive money from this app.
Kormo Jobs alone won't make you money, but it's an app that would help you find entry-level jobs. So, if you are sitting idle at home and looking for a job opportunity, you need to give Kormo Jobs a try.
Google itself backs Kormo Jobs, and it could help you find new jobs from verified employers. Overall, Kormo Jobs is an excellent app for finding a new job.
It's right now the leading e-comm retail website in the world. You can sell your own product on Amazon Seller by creating a seller account. What's more important is that Amazon Seller is a free platform.
You can sell everything on Amazon, like grocery items, books, refurbished smartphones, etc.
Well, YouTube is right now the most popular video platform out there. If you are good at something, you can showcase your skills on YouTube.
However, don't expect millions of subscribers overnight, but the right content, consistency, and hard work can score you enough.
If we talk about the money earning options, you can make money on YouTube via Advertising, Channel Membership, Merchandise shelf, Super Chat, etc.
Well, LinkedIn is probably the most trusted network for businesses. With this app, you can build connections with industry leaders in your community.
You need to sign up with LinkedIn and complete your profile. Then, you need to list your experience, education skills, hobbies, etc., to grab a new job.
If you are an excellent mobile photographer and searching for ways to earn money by selling your photos, then Foap might be the best pick for you. On this app, you need to upload your photos and sell them to well-known brands worldwide.
What's more valuable is that Foap distributes your content through partners like Getty images to help you grab more buyers.
So, these are the ten best money-making apps for Android. I hope this article helped you! Please share it with your friends also. If you know of any other such apps, let us know in the comment box below.