[dropcap]W[/dropcap]e are going to share the easiest method that will help you monitor your data usage in a proper way so as to avoid the extra charges of overusing internet plans. The methods are pretty simple and depends on some cool tools that will allow you to track your network packets. Moreover, this will show you the real-time usage.
If you are running short of the internet data then you need to monitor the complete data usage of your internet. In Windows 7, there is a widget where you can view the actual status of internet usage when you are connected to the internet. However, on the other version of windows, this feature was missing. So we are here with an excellent method that will allow you to monitor your data usage properly to avoid extra charges of overusing internet plans. So have a look on complete guide discussed below to proceed.
Also Read: How to Lock Specific Apps in Windows 10
How To Monitor Real Time Data Usage In Windows
The method is very simple and depends on some cool tools that will allow you to track your network packets. Moreover, this will show you the real-time usage. So, check out the best data usage monitor for windows 10

This is one of the best software that you can use to monitor all the data status of your network. It is very simple to use bandwidth monitoring software to track Internet bandwidth usage. It remains in tray and displays the bandwidth usage in the current session, day and month. This will be helpful for those with limited bandwidth broadband/Adsl connection. By using this, you can avoid extra usage of your data.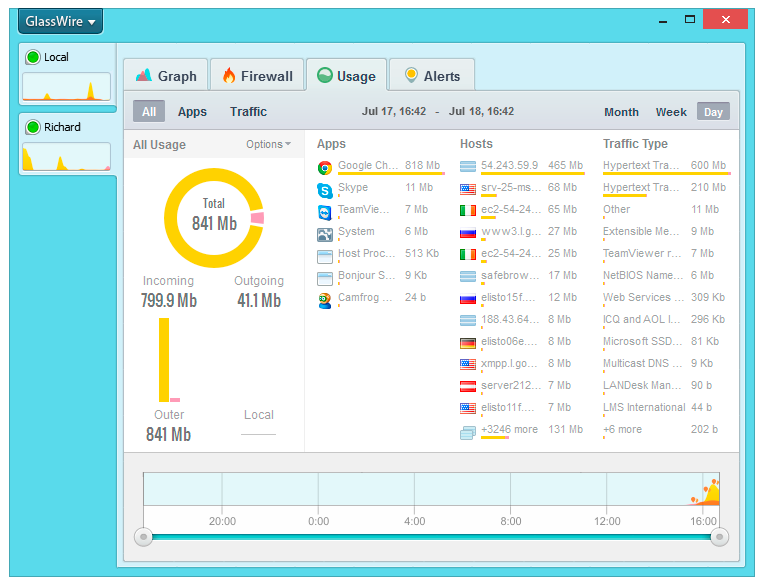 GlassWire's network monitor visualizes your current and past network activity by traffic type, application, geographic location, all on a beautiful and easy to understand graph. Go back in time up to 30 days and see what your computer or server was doing in the past. Click the graph to see details of what app or network event caused a spike in network activity. So must try out this cool software in your Windows PC and have the complete track on your internet usage to manage them best according to your plan. Also with this tool, you do lots of other things too like creating firewall, etc. in your Windows PC.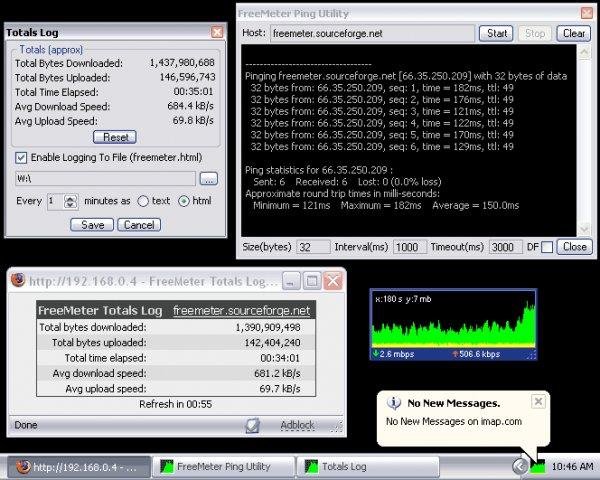 FreeMeter is the best data usage app for pc that performs as a widget on your PC's desktop. It will help you to monitor network bandwidth (C#.NET 2k/XP+) Desktop and Systray graph. Configurable connection speed, update interval, color, transparency. Monitor any or all network interfaces. Ping/Trace/UPnP utilities. This widget is small and easy to install and it will track all your network usage and will show you in real-time.
Also Read: How to Enable Enhanced Anti-Spoofing in Windows 10
BitMeter OS is a free, open-source, bandwidth monitor that works on Windows, Linux, and Mac OSX. BitMeter OS keeps track of how much you use your internet/network connection and allows you to view this information either via a web browser or by using the command line tools. The Web Interface displays various graphs and charts that show how your internet/network connection has been used over time – online demo available. The Monitor pane displays a graph that updates once each second, showing you what's happening with your connection right now
Also Read: How To Reset Windows 10 To Default Factory Settings
NetWorx is a simple, yet versatile and powerful tool that helps you objectively evaluate your bandwidth consumption situation. You can use it to collect bandwidth usage data and measure the speed of your Internet or any other network connections. The incoming and outgoing traffic is represented on a line chart and logged into a file so that you can always view statistics about your daily, weekly and monthly bandwidth usage and dial-up duration.
tbbMeter is a bandwidth meter we have developed to help you monitor your Internet usage. It allows you to see how much your computer is sending to and receiving from the Internet in real time. It also shows you how your Internet usage varies at different times of the day.
Well, it's another simple tool that helps you to monitor your internet usage. After installing this tool, you will see the icon in the system tray. Users just need to hover the mouse pointer over the two computer screen icon to view the upload and downloaded internet data for the session.

iTraffic Monitor is a network monitor and reporting tool. It provides a real-time graph of network traffic. It also displays the total downloaded and uploaded data for the connected session. So, its one of the best windows 10 network meter that you can use.
NetBalancer is not just a tool to monitor real-time data usage, but its more than that. With the help of NetBalancer, you can control and monitor your data usage. You can manage multiple network adapters and the processes. Moreover, you will also get the option to set priorities for the running processes.
Actually, NetBalancer comes with some sets of settings which allows users to control the speed limits for processes. For example, you can set uTorrent to consume only 50Kbps. You can check network speed, connected networks, data consumed by apps and detailed traffic analysis for all apps with the help of NetBalancer. So, its one of the best data usage monitor for windows 10 free download.
NetGuard is another best Windows tool which allows users to monitor their real-time data usage. NetGuard comes with a powerful bandwidth monitoring tool which helps users to keep a watch on apps consuming data. You can also set the network limit to each individual apps which helps to save some precious data.
Another unique feature of NetGuard is that it displays graphs to understand the bandwidth use of each apps running on your Windows computer. It also analyzes your data consumption and forecasts the amount of bandwidth you need each month.
SLT Usage Meter is another best data usage monitor on the list which can help you to monitor the internet data usage in real time. The great thing about SLT Usage Meter is that it shows the graphs of data usage in different categories like Total Usage, Peak Usage, Off-Peak Usage, etc. So, SLT Usage Meter is another portable Windows 10 tool which you can use to track real-time data usage.
As the name of the tool says, Data Usage is one of the best Windows 10 utility available on the Microsoft store that allows users to monitor real-time data usage. The tool arrives with a neat interface and it can show the details of current connection like External IP, Host Name, Local IP, etc. So, Data Usage is definitely the best Windows 10 tool which you can use to monitor Real Time Data usage.
#13 Using Windows 10 Task Manager (how to check data usage on pc)
You can have a brief look at all the data that the installed apps use. You can get the data overview of a current month. The best part is you don't need to install any third-party app to Monitor your network usage. Let's know how to check network usage with Task Manager
Step 1. You need to right click on the taskbar and select Task Manager, or you can simply press CTRL + SHIFT + ESC to open Task manager.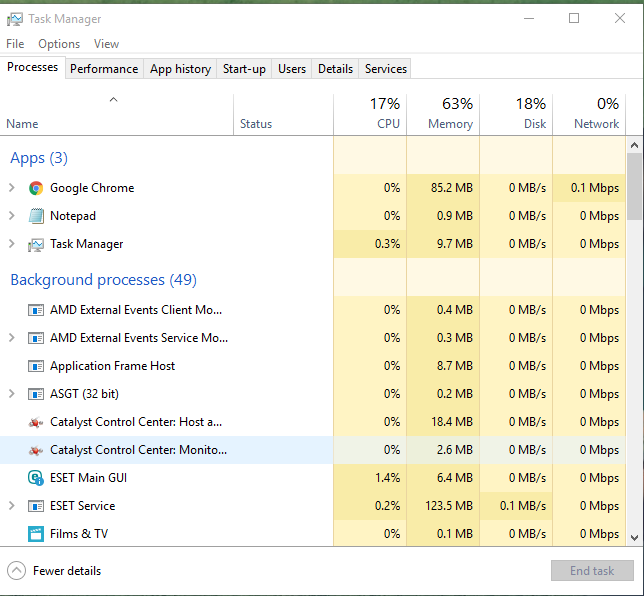 Step 2. Once you opened the task manager you can see the option of "App History" where you can see the overview of Universal Windows platform apps, it will not include desktop applications like Chrome or Microsoft Office, etc.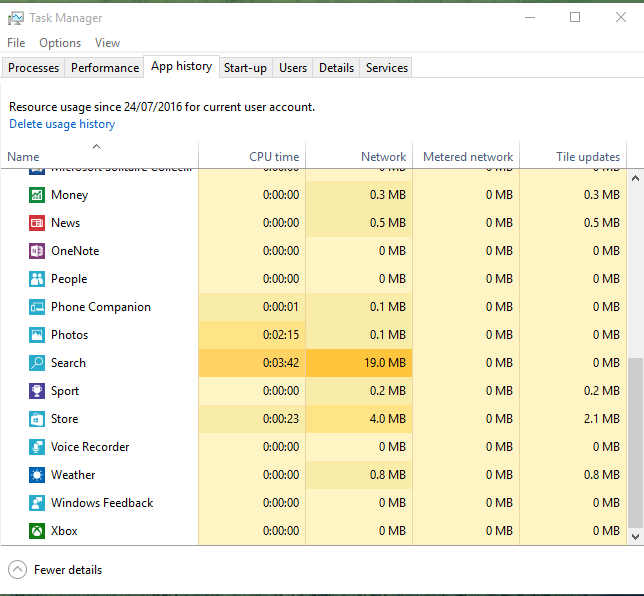 Also Read: Top 8 Best VPN For Your Windows To Browse Anonymously
#14 Monitor Using Windows 10 Settings
Step 1. You need to search for the option of Data Usage in the Windows 10 Search Box and select the option "Data Usage Overview"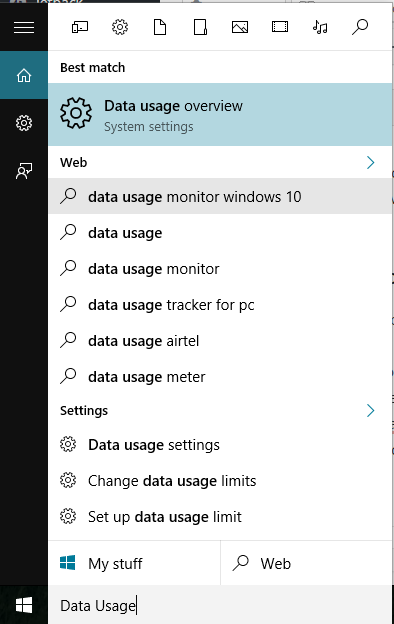 Step 2. Now you will see the complete overview of past 30 days. You just need to click on "Usage Details"
Step 3. Now you will see all the network usage for all your applications installed on your Windows 10 computer which will also include desktop applications like Chrome, Office files, etc.
#15 Find Out if Windows 10 is downloading/updating in the background
As we all know, Windows 10 arrives with a bad habit of updating itself silently on the background. This thing consumes lots of internet data and can make your computer slow for a few hours. Usually, users can end the 'Windows Update' process from the task manager itself, but there's something more running on the background which triggers the 'Windows Update' process again.
Most of the time it was the Windows process called 'Service Host' which consumes all of the internet bandwidth. You can't end the 'Service Host' process from the task manager and you need to use Resource monitor for that.
On Windows 10, you need to open the Task Manager and under the 'Performance' tab, you need to click on 'Open Resource Monitor'
On the Resource monitor, select the 'Network' tab and you will be able to see the process which is hogging the internet data in real-time. You can easily close the process from the Resource Monitor.
So above are the tools for Monitoring Real Time Data Usage In Windows. With the above-discussed tools and methods, you can easily view the complete receive and sent packages of data in your Windows PC. Moreover, you can overcome extra charges on limited internet plans. Hope you like this, do share with others too. Leave a comment below if you have any related queries with this.