MonoDefense is an online security suite developed by KeepSolid, a company with over 10 years of expertise in the online security sector. This suite provides tools that help improve online safety, privacy, and access to content.
It includes VPN Unlimited, Passwarden, DNS Firewall, SmartDNS, and Authenticator. These tools cater to various aspects of online security and privacy, from encrypted browsing and password management to bypassing geo-restrictions and ensuring secure authentication.
Exploring MonoDefense Internet Security Suite: Features & Benefits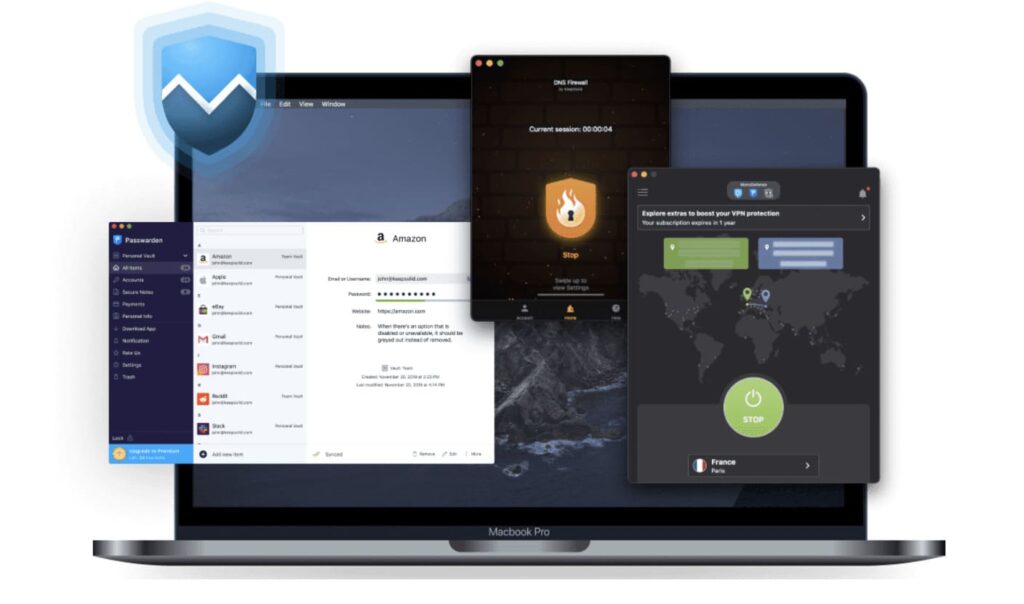 Let's briefly go over each of these products.
VPN Unlimited
The flagship product of MonoDefense is VPN Unlimited. Here are some features that make it stand out:
Variety of Protocols. VPN Unlimited offers multiple VPN protocols, including IKEv2, OpenVPN, L2TP/IPSec, Wireguard, and the KeepSolid Wise, which ensures that VPN Unlimited can be used even in countries with strict internet regulations that try to block VPN services.

Zero-Log Policy: VPN Unlimited promises not to keep any logs of user activities, enhancing user privacy.
Split Tunneling: Available exclusively for Android devices, this feature lets users choose which apps should bypass the VPN connection.
Trusted Networks: This feature allows the VPN to automatically deactivate when you're on a trusted network like your home Wi-Fi.
Kill Switch: A critical security feature that disconnects the user from the internet if the VPN connection unexpectedly drops, ensuring data is not transferred over an unsecured connection.
Over 3,000 Servers: VPN Unlimited has a large server network across over 80 different locations, giving users a lot of options and better connection quality.
Compatibility: VPN Unlimited offers apps for a wide range of devices, from mobiles (iOS, Android) to desktops (Windows, macOS, Linux), and even browser extensions for Chrome, Firefox, and Opera.
Useful Additional Features: VPN Unlimited comes with other features such as DNS leak protection, a ping test to measure the speed to various server locations, and the ability to choose server loads to optimize connection speeds.
While some of these features are common among many VPN services, the combination of them all, along with a few unique offerings, makes VPN Unlimited a competitive choice in the VPN market.
Passwarden
Passwarden is a trusted password manager designed for both individuals and families.
Here are some features that make Passwarden an excellent choice for those who want to ensure the security of their sensitive data
Two-factor authentication: This is an added layer of security where, after entering your password, you'll be asked for a second piece of information. It helps make sure that even if someone guesses your password, they still can't get in.
Sharing capabilities: If you need to share a vault with sensitive data with a coworker or family member, you can do it safely without exposing the actual password. It's a secure way to give access without compromising security.
Strong encryption: Passwarden uses tough security measures (military-grade AES-256 and ЕС р-384 protocols) to protect your data. This means that even if some unauthorized party tries to look at what's inside, they'd only see gibberish.
Security Dashboard: If there's a potential security risk, like a data breach, the dashboard will let you know immediately. It's like a security alarm for your passwords.

Duress Mode: Imagine someone forces you to open your password manager. With this mode, you can show them a version of your vault that hides sensitive information. It's a clever way to protect your most important secrets.
Cross-device synchronization: If you change or add a password on one device, it'll automatically update everywhere else.
In conclusion, from its top-notch encryption standards to its innovative Duress Mode, Passwarden stands out as a reliable and comprehensive tool for digital security.
KeepSolid SmartDNS
KeepSolid SmartDNS is a tool designed to enhance the online streaming experience. Rather than encrypting your entire internet connection like a VPN, SmartDNS focuses specifically on bypassing geo-restrictions on media content. It allows unrestricted access to popular platforms such as Netflix, Hulu, and BBC iPlayer, no matter where the user is located.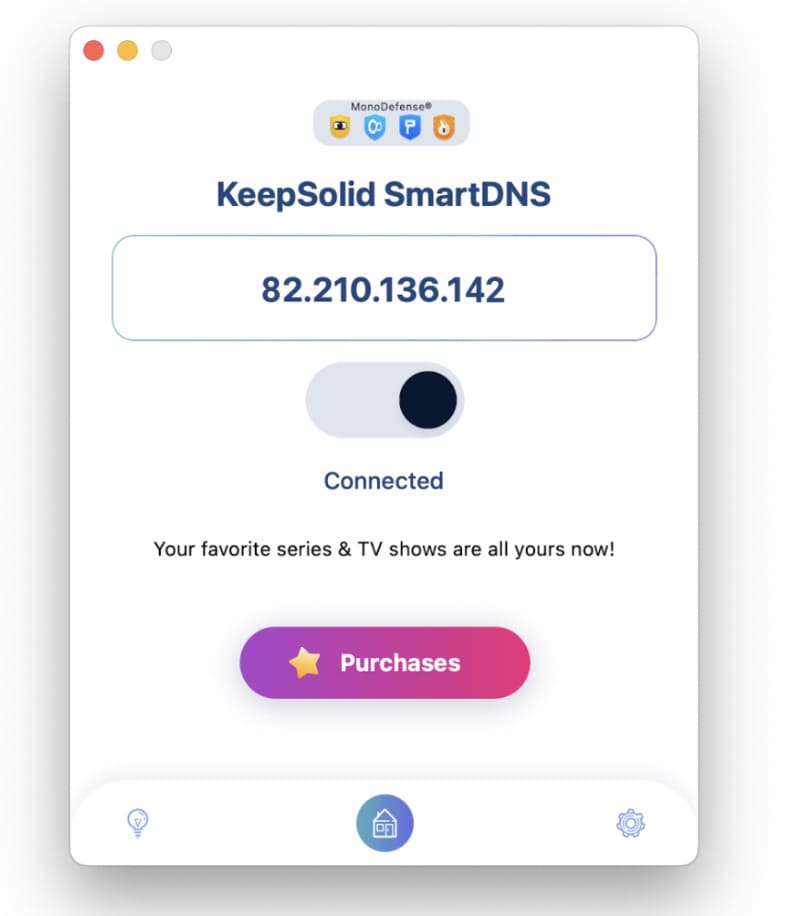 A key advantage of using this SmartDNS is that it usually results in minimal, if any, loss of connection speed, ensuring smooth playback. This is especially beneficial for streaming high-definition content without lag or buffering.
KeepSolid DNS Firewall
The main function of KeepSolid DNS Firewall is to enhance online safety by filtering internet traffic.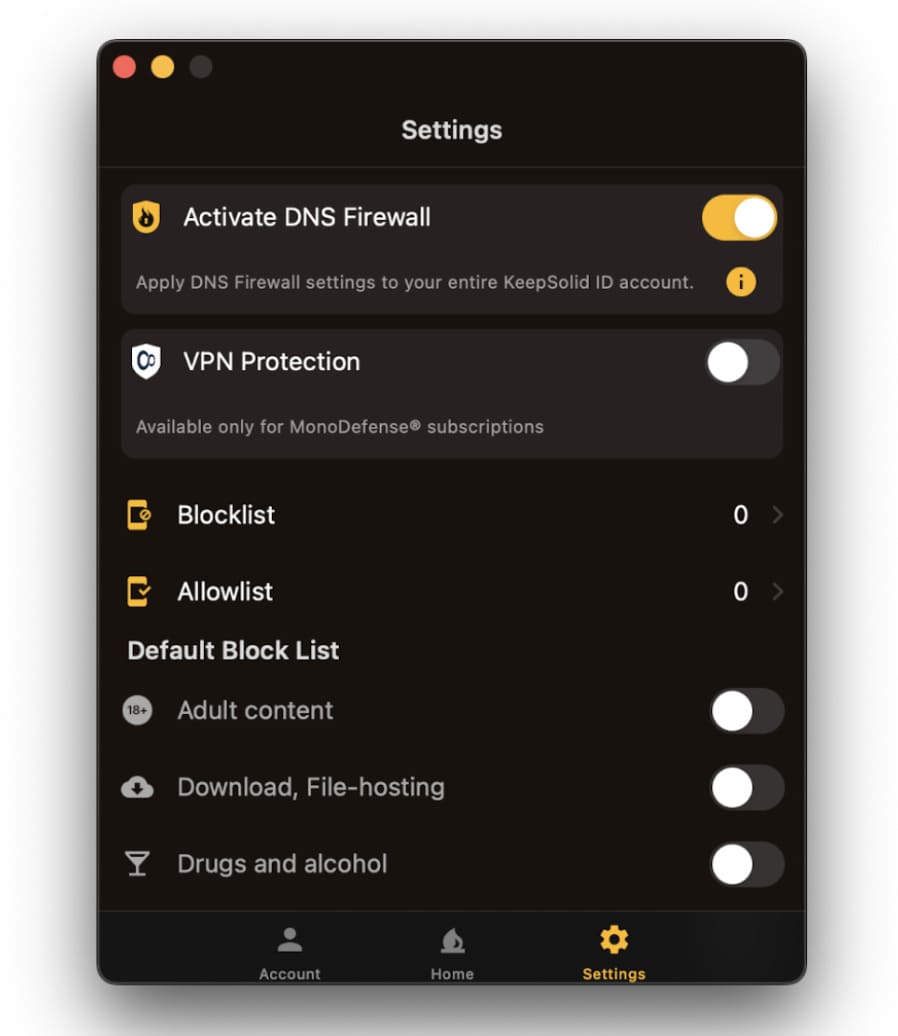 Here's a breakdown of its functionalities:
Blocking Harmful Domains: KeepSolid DNS Firewall actively blocks domains that are known to host phishing schemes, malware, and other cyber threats, ensuring that users are not exposed to these dangers when browsing.
Content Restrictions: Users have the option to set specific content restrictions. For instance, you can block access to sites related to gambling, games, fake news, and adult content. This can be especially useful for parents or institutions that want to maintain a certain browsing standard.
KeepSolid Authenticator
KeepSolid Authenticator is a tool focused on bolstering account security. It's a part of the MonoDefense suite offered by KeepSolid.
Here are the main features of KeepSolid Authenticator:
Two-Factor Authentication (2FA): At its core, KeepSolid Authenticator provides two-factor authentication for online services. This means that in addition to entering a password, users are required to provide a second piece of information – a code generated by the Authenticator.
Time-Sensitive Codes: Instead of relying solely on static passwords, users receive time-limited codes on their devices. These codes change after a short period, making it considerably more challenging for unauthorized parties to gain access to accounts.
User-Friendly Interface: The Authenticator is designed to be intuitive and easy to use, ensuring that even those who aren't tech-savvy can set up and benefit from the additional layer of security.
Platform Compatibility: One of its strengths is its wide compatibility across different platforms. This means users can use the Authenticator, just like other products by KeepSolid, across multiple devices, enhancing their security landscape regardless of the device they're using.
Summary
In conclusion, MonoDefense provides a comprehensive set of tools for online safety. With VPN Unlimited for secure browsing, Passwarden for password management, DNS Firewall, SmartDNS for managed content access, and Authenticator for added login security, it covers all bases for a safer and more productive online experience. It's a one-stop solution for those looking to enhance their digital protection.