Well, it's no doubt that almost everyone loves to listen to music on their smartphones. Music is something that can lighten up your mood and can brighten your entire day. Music plays a vital role in our life, and we choose to rely a lot on music.
Since we all now listen to music via our smartphones, it has become mandatory to have good music player apps. If we talk about the stock music player app offered by iPhone, the music player has almost everything that requires proper music playback. However, it misses lots of useful features.
Also Read: Best Android Apps To Remove Audio From a Video
List of 10 Best Music Player Apps For iPhone
In this article, we will share a list of the best iPhone music player apps that you can use right now. All music player apps listed in this article are different, and they would fulfill all your music needs. So, let's explore the list.
If you are searching for an iPhone music player app with a fluid and intuitive interface, you need to try Vox Music Player. Guess what? It's one of the best offline music player app available on the iOS app store that offers users a wide range of features.
For instance, with Vox Music Player, you can rely upon the gestures, eliminate extra music control buttons, etc. The music player app also offers a built-in equalizer and can integrate with SoundCloud, Spotify, etc.
Radsone Hi-Res Player may not be a popular music player app; it still serves a great purpose. Guess what? Radsone Hi-Res Player promises analog-quality audio and offers you many exciting features.
It has a feature called Distinctive Clear Technology (DCT) that optimizes sound based on listening. It also supports a few basic swipe gestures that allow you to control the music player.
The great and most notable feature of Flacbox is its ability to play the downloaded music directly. It automatically scans and updates the downloaded music files on its music player lists.
The music player also supports a wide range of music formats like FLAC, AAC, OGG, MP3, WAV, AIFF, etc. What's more interesting is that it can locate music stored on cloud storage services like Google Drive, OneDrive, Dropbox, etc.
jetAudio is another best and top-rated music player app for iPhone on the list you can use right now. The key highlight of jetAudio is its user interface, which looks clean and well organized.
Apart from that, jetAudio also has support for Gestures as well. Some other features of jetAudio include sound enhancer, bass adjustment, depth, pitch-shifting, etc.
TapTunes has the most beautiful music player interface, and it offers users a wide range of features. For instance, TapTunes allows users to tap, swipe, drag, touch, and shake to control the music.
There are 25 settings available on the app to improve the music listening experience.
Music Player is one of the top-rated music player apps for iPhone available on the Apple Store. With Music Player, you can stream songs & offline music at ease.
You can use this app to discover new popular music in your region. The app offers Readymade playlists with the latest songs from around the world.
If you don't have an internet connection, you can use this app to play the locally stored music on your device.
Well, if you are searching for a simple, smart, and great music player app for your iOS device, then you need to give Boom a try. Guess what? Boom is a fully customizable music player app available on the iOS app store.
The app offers multiple libraries for unlimited music if we talk about the features. Apart from that, the Boom music player app also offers multiple themes and lots of audio intensity control options.
Marvis Music Player is the most good-looking music player app that you can use on your iPhone right now. The app offers users multiple themes – Dark and Light to fit your environment.
Apart from that, Marvis Music Player also provides lots of unique music sorting options, like you can sort albums under artists like alphabetically or chronologically.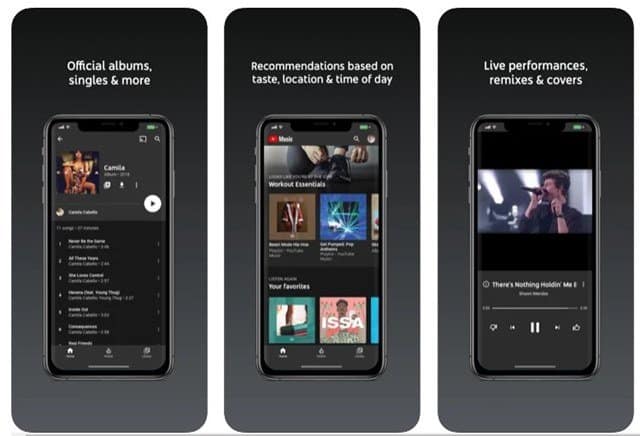 YouTube Music is a music streaming app made by Google. With YouTube Music, you can easily find what others are looking for and even discover new music.
The app creates playlists and sends you recommendations based on your context, tastes, and what's trending around you. With YouTube Music premium, you will get an ad-free music experience, more music playback options, offline playback, etc.
It's a smart and powerful MP3 music player app for iPhone 2020. The great thing is that Evermusic can sync with various cloud storage like Google Drive, OneDrive, etc., and list down the music files.
You need to move your music library to the network storage and listen to it directly through this app.
If you want to enhance your music experience on your iPhone, you need to start using these free apps. If you know of any other iPhone music player apps, let us know in the comment box below. I hope this article helped you! Please share it with your friends also.