Netflix has officially announced every detail about its ad-supported subscription plan. After relying on leaks and assumptions for a long time, we finally know when Netflix's cheaper tier will arrive and how much it will cost.
Netflix has named this subscription plan 'Basic with Ads,' and it also clarified that the existing Basic plan would remain ad-free, which means it will now be known as Ad-free Basic.
Everything You Need To Know About Netflix's New Cheaper Subscription Plan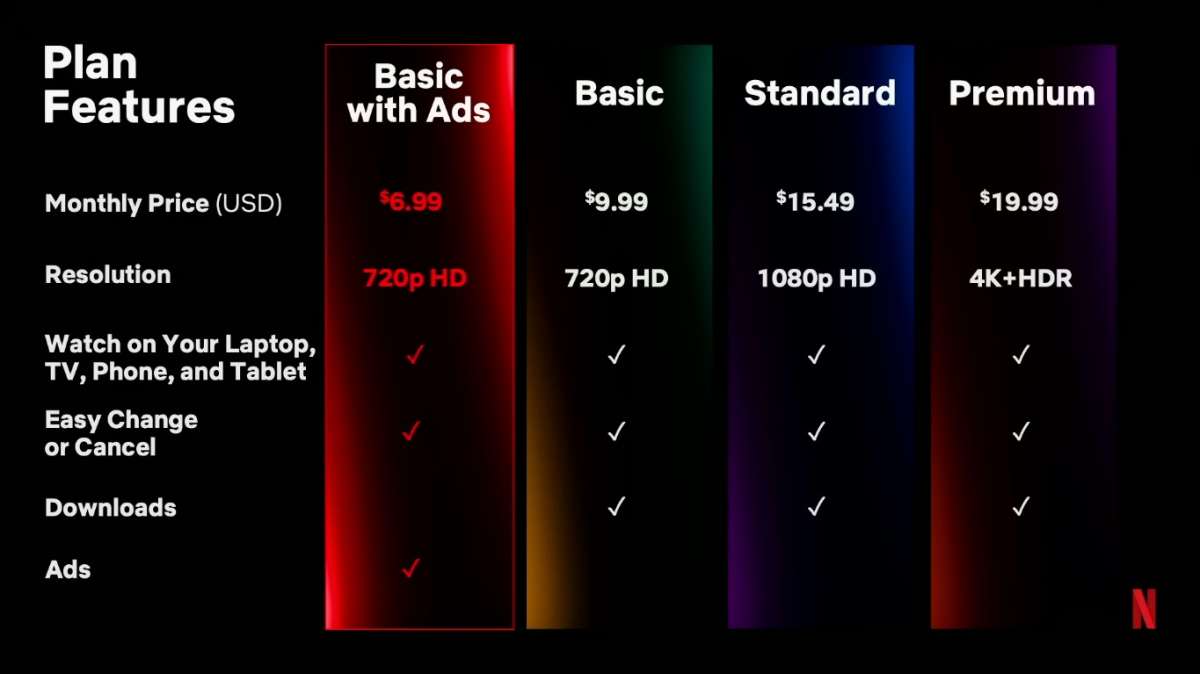 As Netflix detailed in the report that this plan is priced according to the region, such as for United Kingdom users, it will cost £4.99, and for the user's from every other-supported region, including the Americas, it is priced at $6.99 USD.
Currently, the company has planned to launch it in a limited number of countries. In Brazil, Canada, France, Germany, Italy, Japan, Korea, Mexico, Spain, and Canada, the plan will debut on November 1.
And in the US, UK, and Australia, it will arrive on November 3. Besides, Netflix has also shared the timing of its arrival, which is 9 AM PT / 12 PM ET.
Also, the other plans will remain the same as they are, and there are not many differences between both basic subscription plans despite the advertisement, which you can also note in the above image.
Such as the "Basic with Ads" plan, users will not be able to download the content, but they are allowed to cancel it anytime and make changes easily. 
There is still a huge library of TV shows and movies to watch in video quality up to 720p/HD.
The ads will be shown at the beginning of the content, which would be around 15 to 30 seconds, and according to Netflix, the subscription holder will see around 4 to 5 minutes of ads in one hour of content.
As Netflix has already reported earlier, Microsoft will manage the advertisements, so we do expect to see relevant ads. Also, currently, there is a restriction on some of the content due to licensing issues.