No one is secure in social media, as we are witnessing big names are getting hacked and now NFL's (National Football League's) Twitter account was hacked and a bogus tweet was tweeted that Commissioner Roger Goodell had died.
NFL's Twitter Account Hacked! The Reason is "For the Lulz"
This is not the first time we are witnessing celebrity accounts being hacked, recently Facebook's CEO Mark Zuckerberg was hacked on Twitter and now the billion-dollar brand NFL (National Football League) account was hacked.
Someone took comprehensive authority over NFL's account on Tuesday and the hacker forwarded a tweet from NFL's account announcing Commissioner "Roger Goodell" has died. The Hacker tweeted "We regret to inform our fans that our commissioner, Roger Goodell, has passed away. He was 57. #RIP."

League spokesman Brian McCarth validates that commissioner Roger Goodell is alive and healthy and they verify that the twitter account of NFL is actually hacked where he said in an email "We are reviewing and strengthening our cyber-security measures,"
As soon as the tweet arrived it was immediately deleted, and the league confirmed that Commissioner Roger Goodell is alive and well. However, this was not the end of a story as soon as the tweet was removed from NFL's tweeter account, two more tweets were tweeted in a very short interval of time. This time, the hacker tweeted " Oi, i said Roger Goodell has died. Don't delete that tweet" and the other one is " Ok, Ok, you amateur detectives win. Good job"
However, the tweets were  quickly deleted, but it was retweeted more than 2,000 times in a very short span of time and within few minutes of this activity NFL and Commissioner Roger Goodell became trending on twitter. The Wikipedia page of Roger Goodell also stated that he died on June 7, 2016.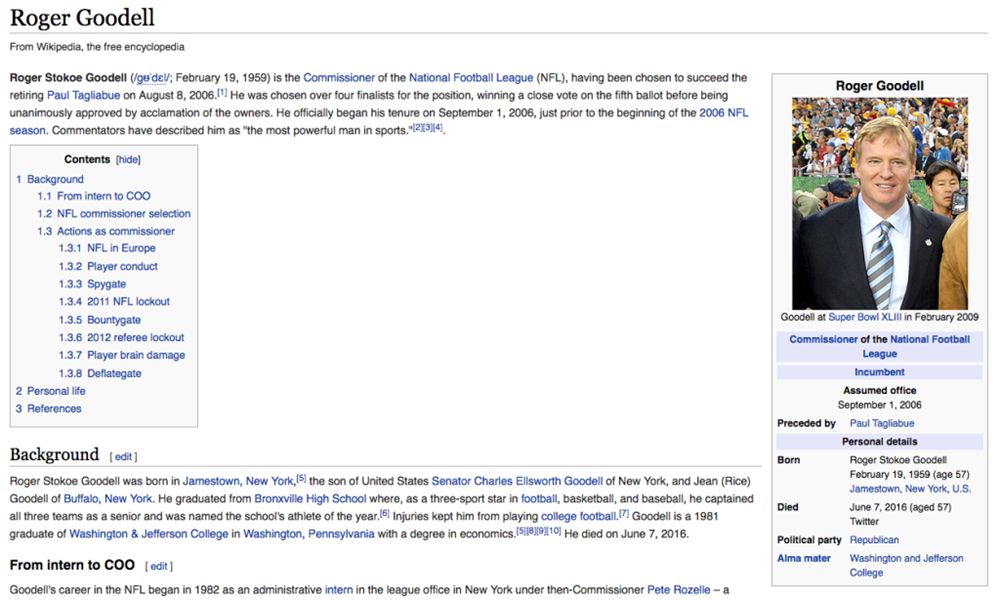 According to the sources, "Peggle Crew" the hacker group hacked National football league's twitter account. Hacker mentioned, "We got into a social media employee's email and found the account password there".
When asked why they have hacked the account? The hacker said "for the lulz"