As expected, HMD Global finally launch of a wide range of phones under the Nokia brand at MWC 2019. Yes, at MWC the Finnish company Nokia launched the new Nokia 1, Nokia 7 Plus, Nokia 6, Nokia 8810 4G And Nokia 8 Sirocco.
Nokia Just Launched Nokia 1, Nokia 7 Plus, Nokia 6, Nokia 8810 4G And Nokia 8 Sirocco
As expected, HMD Global finally launch of a wide range of phones under the Nokia brand at MWC 2019. The new Nokia 7 Plus, Nokia 8 Sirocco and Nokia 6 are the brand's new bets for the public that does not dispense with Pure Android and its major updates.
But the brand still amazed with the Nokia 1, a smartphone accessible to all and with Android Go, and with another return to the past, with the legendary Nokia 8810.
Nokia 8 Sirocco, Nokia 7 Plus and the new Nokia 6 are the new smartphones to join the family Android One, where in addition to the experience of Pure Android the user will get guaranteed updates for at least two years.
Nokia 8 Sirocco
The Nokia 8 Sirocco focuses on curved screen design and powerful content production features including Dual-Sight optimization, ZEISS lenses and carefully tuned acoustics with Nokia Spatial Audio, the Nokia 8 Sirocco is a powerful, ultra-compact device and nicknamed as "the most handsome Nokia ever."
The curved glass finish with a stainless steel bezel has been precision crafted to provide the perfect blend of beauty and strength. It is only 2 mm thick at the ends and the screen has pOLED technology with a resolution of 2K in 5.5-inch display. It has 6 GB of RAM and 128 internal storage and a Snapdragon 835 SoC. The rear camera is dual (12 + 13 MP) with ZEISS lens and the front camera is 5 MP.
The Nokia 8 Sirocco will arrive in April for a price that will be around the $750.
Nokia 7 Plus
The Nokia 7 Plus has screen, power, design and features to be the true hero of the Nokia smartphone range. With enhanced Dual-Sight, the dual rear sensors with ZEISS lenses aim to offer an ultra-sensitive 12MP wide-angle main camera for best performance in both low light and extreme light conditions and a 13MP secondary camera that offers 2x zoom for the moments when we want to get closer.
To capture every moment and for longer, the Nokia 7 Plus is equipped with a Snapdragon 660 SoC, 4 GB of RAM and 64 GB of internal storage. The battery has a capacity of 3800mAh, offering 2 days of battery life. The screen is 6-inches with 18:9 aspect ratio and Full HD+ resolution, with the 2.5D finish.
It will be available from April in the colours black/copper and white/copper, for about $400.
The New Nokia 6
The Nokia 6 receives a worthy successor, with the 2019 version appearing about 60% faster, now offers improved Dual-Sight, ZEISS lenses, fast USB-C type charging, better use of the screen compared to the structure, and a more engaging sound.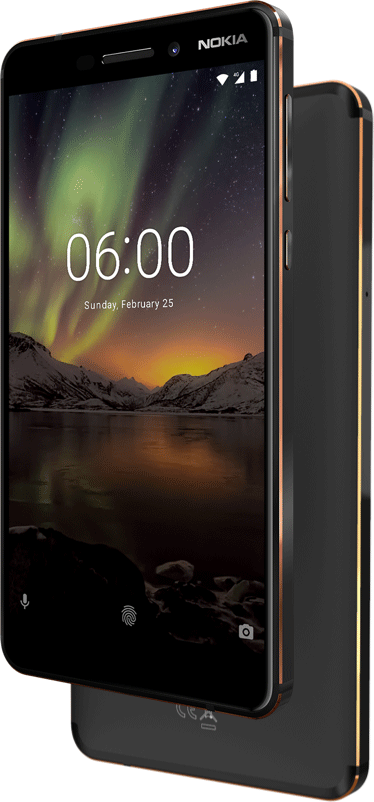 It has 5.5-inch (16:9) screen and HD resolution with the 2.5D finish, 3/4 GB RAM and 32/64 GB storage, while if we talk about the SoC then let me clarify that it equips a Qualcomm Snapdragon 630.
It will arrive in the colours black/copper, white/silver and blue/gold and will arrive in April for about $280.
Nokia 1
The Nokia 1 is a low-cost entry-level model, expected to arrive with the price tag of around $70 to the market, equipped with the Go version of Android Oreo which will reach the market in April, with a wide selection of coloured caps.
This model will only have 1 GB of RAM and 8 storage, 4.5-inch screen with 480 x 854 pixel resolution and a MediaTek soc, an MT6737M. The cameras will be 5 MP and 2 MP in the rear and front, respectively.
Nokia 8810
The redesign of the legendary Nokia 8110, now offers 4G features with an iconic curvilinear slider design, providing the opportunity to turn off, have fun and relax knowing that all the essentials of the smartphone are available when you need them.
It has access to the application store for Google Assistant, Google Search, Google Maps, Facebook and Twitter, and to send and receive important emails or contacts and to synchronize calendars with Outlook and Gmail. It also Comes with Qualcomm 205 SoC Mobile Platform and yes, comes with a revamped version of Snake.
Moreover, it is available in black and yellow, and it will arrive in May for about $80.
So, what do you think about all these new Nokia phones? Simply share all your views and thoughts in the comment section below.