The developers have implemented numerous new features with the latest Creator update for Windows. One of the major modifications that have been done in this update is the design change of the Windows Defender app.
The virus scanners, firewall, smart screen, device health, and family options are now placed on this same panel. The new design for Windows Defender looks clean, but many may find it complicated to use.
This is the only reason Windows 10 users are now searching for ways to regain the old Windows defender. If you are also searching for the same, you have landed on the right page.
Get the Old Windows Defender in Windows 10
In this article, we have shared a step-by-step guide on how to get the old Windows Defender back in Windows 10. Let's get started.
1. First, right-click on the desktop and select the Create Shortcut option. This will launch the panel from where it will ask for the file's location to which you wish to make the shortcut.
2. In the above panel, use the browse button and then go to the C:\Program Files\Windows Defender\
3. From the location, select the file "MSASCui.exe" and click on Ok.
4. Now, you will be asked to name the new shortcut; just name it Windows Defender and click Ok.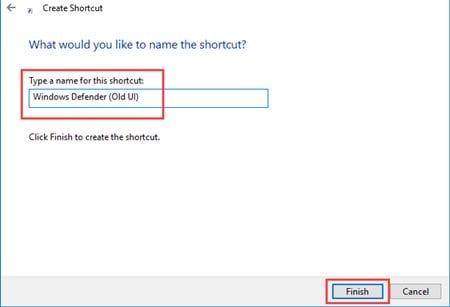 5. Return to the desktop and open the newly created shortcut. You need to double-click on it to open the classic Windows Defender.
That's it! This is how you can get the old Windows Defender back in Windows 10.
So, these are some simple steps that will help you get back to the old Windows defender. If you need more help, let us know in the comments below.