If we look nearby, we will find that all our friends are busy uploading images to Instagram, Facebook, etc. Since smartphones offer better camera hardware nowadays, we can't resist our urge to capture pictures. Those pictures are around 5-7MB in size and can fill up your storage quickly. Not only that, but uploading those images to social networking platforms is also a time-consuming process.
You can quickly sort these little things by using an image optimizer. Many online image compressors are available to compress images without losing their quality. Not only online image compressors but many Android image compression apps are available on the Play Store that can compress your images in no time.
Also Read: How To Remove Background from any Image
List of Best Online Image Compressors Without Quality Loss
This article has decided to share a list of the best image compressor without quality loss. You can use any image compressor to compress your large image files. So, let's explore the list of best image compressors.
Compress2Go is another best online image compression tools you can use today. The web tool only supports JPG and PNG file types, providing you with two types of compression options – Best Quality and Smallest File.
You must pick the Best Quality option for compression if you don't want to compromise the image quality. However, if you are okay with the visual differences, you can use the Smallest file option.
Compress2Go allows you to set the compression quality before compressing the image file. Overall, Compress2Go is a great online image compressor that you can use today.
If you are looking for a web-based image compressor that can easily compress JPG, JPEG, PNG, and GIF files, look no other than Media.io. Media.io is not as popular as the other sites; Still, it does a fantastic job of reducing your image file size by up to 65%.
You can use Media.io if you want to compress image files without losing their quality. However, Media.io has some limitations for non-registered users, like the number of conversions was limited to 5 times/day.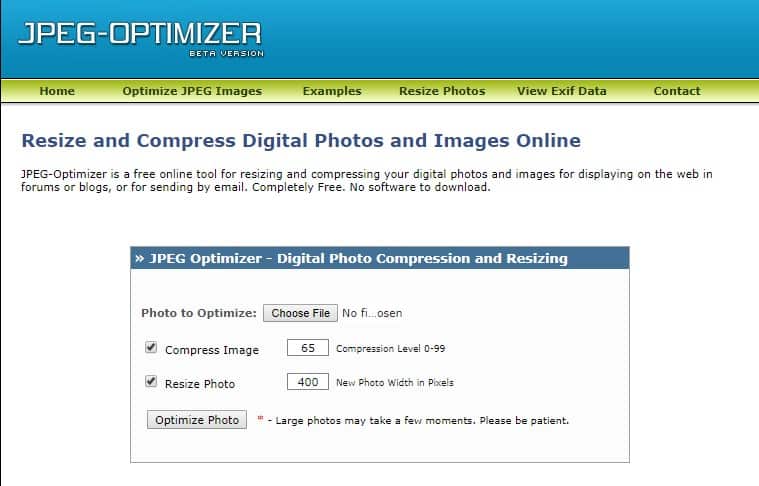 JPEG Optimizer is a web-based tool that you can use to compress the image file size. Despite its name, JPEG Optimizer can also compress PNG files.
What's more interesting is that it compresses images without losing any quality. You won't find any visible difference between the original and the compressed images.
If you are searching for an easy-to-use and responsive site to compress images without losing their quality, you must try Optimizilla.
Guess what? Optimizilla is one of the best and top-rated image optimizers, compressing JPEG and PNG photos. What's interesting is that Optimizilla shows the before and after versions before compressing the file.
TinyPNG is one of the top-rated image compressor sites you can visit. The site is known for its smart PNG and JPEG compression, balancing the quality while optimizing.
The web-based image compression tool is free to use and supports batch compression. Users can compress up to 20 images at the same time.
Img2Go is a relatively new website compared to all others listed in the articLikelike, every other online image compressor. Img2Go is a web app to reduce image size by adjusting its quality.
As an image output, it only supports two file formats – JPG and PNG. What makes Img2Go more powerful is that it offers multiple compressing modes. For instance, you can select to compress images to preserve the best quality or compromise the quality to get the smallest file size.
Compress JPEG could be the best site when it comes to image compression. You won't believe it, but the site allows users to select up to 20 .jpg or .jpeg file types.
It compresses the images without compromising the quality. In addition, the user interface of the web tool is pretty clean and straightforward.
TinyPNG is the site to compress PNG files, and TinyJPG is the site to compress JPG or JPEG file formats. The site reduces the file size of your JPEG images while maintaining their quality. The site's user interface is clean and allows bulk file compression.

If you are looking for a web-based image compressor to compress JPG, PNG, and GIF images, Iloveimg might be the best pick. The site reduces the file size of your images without affecting the original image quality.
Besides compressing images, Iloveimg also offers a few other image-related features like resizing images, crop images, image converting options, etc. It also has a photo editor that fulfills basic photo editing needs.
Image Optimizer is a site where you can compress almost every image file format like PNG, JPG, JPEG, etc.
Like the Reduce Images website, Image Optimizer allows users to select the image size and quality beforehand. Apart from that, Image Optimizer also has a standalone app for the Windows operating system.
Watermarkly is a web tool that compresses JPEG, PNG, and GIF images in easy steps. The site is free to use, and there's no need for any account creation.
The online image compressor can trim down the size of your images while maintaining the original quality.
Regarding file privacy, all photos you upload are kept private. The site process files on your device are not sent to any server.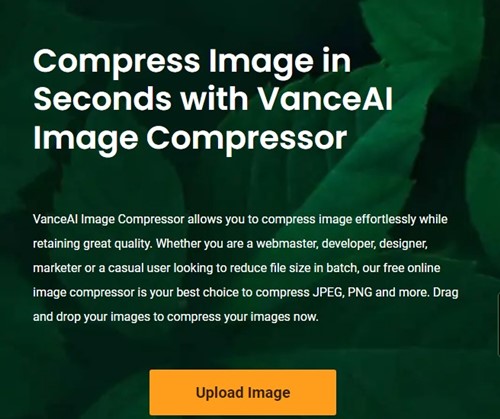 If you are searching for an easy-to-use image compressor, try VanceAI Image Compressor.
The site claims to compress your images while maintaining their quality. It doesn't matter whether you are a designer, webmaster, developer, or marketer; you can compress images of any size on the site.
The good thing about the site is that it supports batch photo compression and can compress your images by up to 80% in size.
So, these are the best image compressor you can use now without Quality loss. Let us know in the comment box below if you know of other such sites. I hope this article helped you! Please share it with your friends also.