The internet is a place that has both good & bad things, and kids shouldn't view some of the contents on the web. As a parent, you should be concerned about your kid's safety with a smartphone.
You should always look for ways to have better and more effective control over your kid's activities on the internet, and the best way to get started is by installing a Parental Control app.
Currently, hundreds of Parental Control Apps are available for iPhone. While most parental control apps are free, they have in-app purchases that unlock more features.
List of Best Parental Control Apps for iPhone
Hence, in this article, we will list some of the best Parental control apps for iPhone. With these apps, you can protect your child from viewing or watching inappropriate content on the web. Let's explore the list.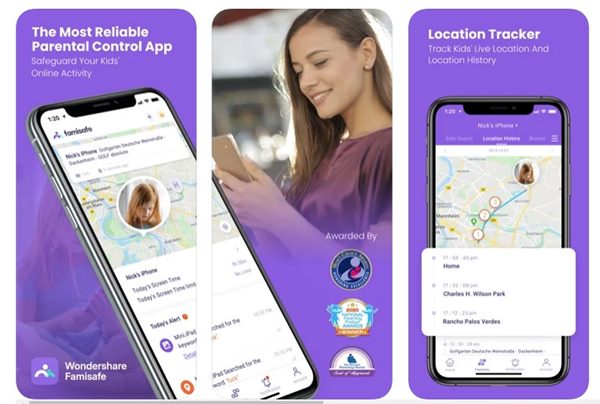 FamiSafe is one of the top-rated parental control apps available for iOS devices. The parental control app offers useful features such as kids' screen time limiting, location tracking, website filtering, game blocking, etc.
It also has an Explicit Contents Detection feature that shows you all the explicit content stored on your kid's device. Other than that, you can also track your kids with the Location tracking feature.
OurPact is a parental control app for iPhone that can help you control what your kid can view or watch online. The app offers more features than FamiSafe, but most features are available only on the Premium and Premium+ plans.
With OurPact, you get some amazing parental control features such as capturing your children's online activity, app blocking, website blocking, SMS & Call blocking, etc.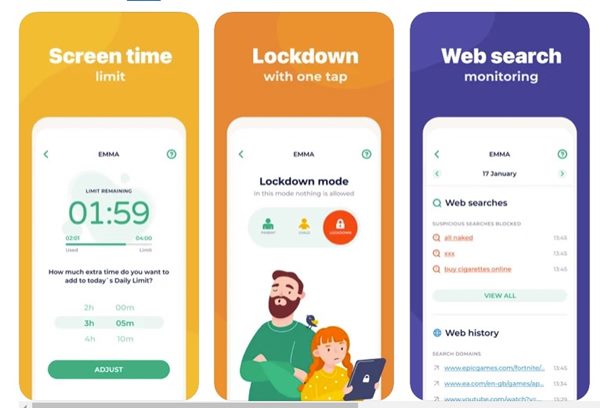 Kidslox is a parental control app for iPhones that lets you set daily screen time limits on your kid's iPhones. Besides setting daily screen time limits, Kidslox can block apps, block internet access, and filter inappropriate web content.
You can even use this app to track the location history of your kids' devices. The app shows you the location timeline on the map, and you can set the app to send you notifications once your kids leave or arrive at marked places.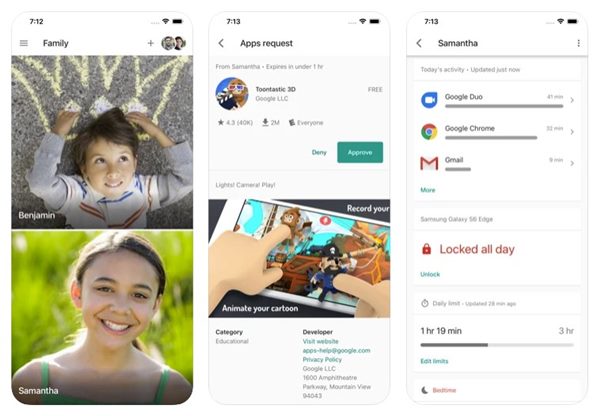 Google Family Link is one of the best and leading parental control apps that you can have on your iPhone. With Google Family Link, you can view your kids' online activities, manage their apps, set time limits, lock their devices remotely, etc.
Besides basic parental control features, Google Family Link also lets you block your child's purchases and downloads from Google Play. Overall, Google Family Link is an excellent parental control app on iPhone.
unGlue is one of the unique parental control apps that parents can have. It provides almost all parental control-related features parents need for their kids, such as setting screen time limits, blocking apps, turning off the internet completely, and more.
Apart from features & app blocking, unGlue also allows monitoring kids' online activities to keep an eye on the sites & apps they visit and use.
It also has a premium plan that unlocks more features, but the basic version is more than enough for regular parental control features.
Kidgy is not as popular as the other apps on the list; it still provides enough parental control features to satisfy your needs. The app is designed to keep your kids safe online. You can use it to monitor their online activity, know their current GPS location, and more.
The only drawback of Kidgy is that it's not free. You need to pay a monthly $9.99 to use its services. Since it's a premium app, Kidgy enables more parental control features, such as monitoring the contact list and assigning tasks remotely.
Qustodio Parental Control App is a very easy-to-use and lightweight parental control app for iPhone available on the Apple app store. The app is known for its excellent cross-platform support across every major operating system.
To get started, you must install the Qustodio Parental Control App on your device and the Qustodio Parental Control Kids app on your child's device. Once done and linked, you can manage your kid's daily screen time, modify the safe search filter, track their GPS coordinates, block apps, etc.
Norton Family Parental Control may not be as popular as the other apps on the list, but it still offers useful parental control features. With Norton Family Parental Control, you can monitor the sites and content your child views, set limits on your child's internet access, access weekly reports, and more.
Other than that, Norton Family Parental Control also brings a location tracking feature that you can use to track your child's location. In addition to that, you can even set the app to send you alerts when your child arrives or leaves marked places.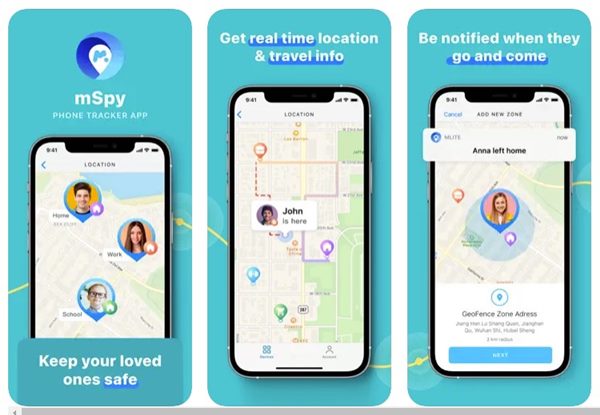 Well, mSpy is not precisely a parental control app; you can still use it to check your kid's location history. The app shows you the real-time GPS location of your beloved ones. In addition, you even have the option to access the location history for the past 3 months.
Apart from location tracking, you can use mSpy to monitor the contact list. Overall, mSpy is an excellent location-tracking & parental control app that you can have on your iPhone.
Find My Kids is very similar to the mSpy app listed just above. Like the mSpy, Find My Kids lets you track your child's location online. You can even connect the Find My Kids app with your kid's GPS watch.
While the app doesn't have enough parental control features, it does have the most important one – Location tracking. You need to install the Pingo app on your kid's device, which will gather and provide you with the location information on the main app. The Pingo app on your child's smartphone will allow them to chat with you and even send SOS emergency alerts.
The app's name may sound off, but it's a parental control app for iPhone with all tools you would need to raise your kids in this digital age.
With Bark, you can monitor what your kids see online, monitor their content, manage screen time, filter websites, etc.
Also, the app lets you monitor your child's texts, emails, YouTube, and other apps. Overall, Bark is a great parental control app for iPhone you should take advantage of.
If you are looking for parental control options to keep your kids safe and focused, Circle Parental Controls App might be the one for you.
With this app, you can keep track of your kid's online time, check out their history, data usage habits, etc.
It also has a location tracker that keeps track of your kids through their mobile device and sends you the location. Some other features of the Circle Parental Controls App include setting daily screen limits, filtering web content, etc.
So, these are some of the best parental control apps you can use on your iPhone. You should start using these apps if you are concerned about your kid's safety with a smartphone. Let us know if you want to suggest any other parental control app.