When we don't take proper care of the Windows operating system, it becomes bloated, which leads to performance issues. Performance issues like lags freezes, and BSOD errors are common on Windows OS.
Fortunately, the software availability is also relatively high on the Windows operating system. So, to deal with performance degradation, we need to use a PC Optimizer.
Plenty of PC Optimization tools are available for the Windows operating system, which can clean junk files, temporary files, unwanted registry entries, etc.
Not just that, but this PC Optimizer can also improve gaming performance to a significant level. Here we will share some of the best free PC Optimizer you can use today.
Also Read: How To Easily Update Drivers In your Windows PC
10 Best Free PC Optimization Software/Tools
It's worth noting that there are plenty of PC Optimizer tools available on the internet, but most are not worthy of being used. So, let's check out.
If you need software that can provide seamless speed and performance improvements for your Windows PC, you need to try Avast Cleanup. It's a PC Optimization software capable of making your PC faster, better, and more efficient.
With Avast Cleanup, you can optimize your games, update your programs, optimize your hard disk, clean junk files, etc. Avast Cleanup is a part of Avast Premium, but you can use the free trial for a one-time cleaning.
Avira System Speedup is a PC optimizer that claims to speed up your PC and wipe your online traces. It can optimize your PC's startup, clean junk files, and optimize other elements in just one click to enhance performance.
Avira System Speedup has both free and premium versions. The free version can only optimize your PC's startup, clean junk files, and can optimize only a few speed-boosting elements. However, you get more advanced features with the premium version, such as battery optimization, registry cleaning, and backup & restore options.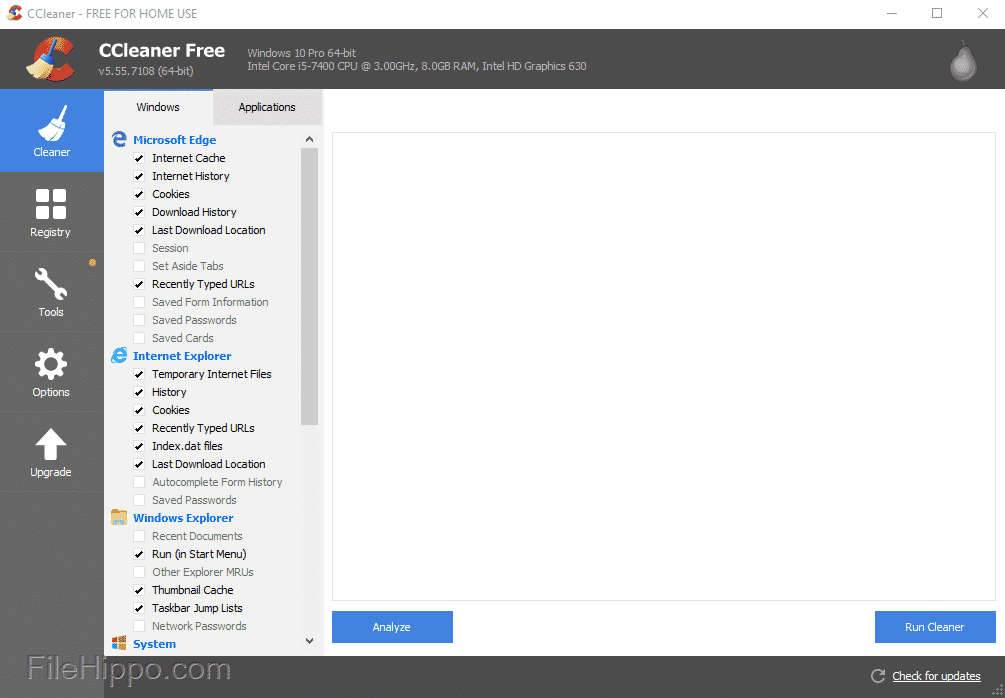 Piriform CCleaner is one of the leading PC Optimization tools available out there. CCleaner has been there for a while, and millions of users now use it.
The great thing about Piriform CCleaner is that it scans and cleans the junk files and cache files stored on your computer. Not just that, but Piriform CCleaner can also remove app residuals as well.
When it comes to features, Ashampoo WinOptimizer can beat all other software on the list. The features of the Ashampoo WinOptimizer could prove very handy in boosting, cleaning, and optimizing the PC's performance.
Apart from basic PC cleaning features like junk cleaning and managing startup apps, it can also tune your internet connection to provide you with better internet speed. You can even use Ashampoo WinOptimizer to uninstall stubborn apps and leftover files from your system.
BleachBit is a little bit different from all others listed in the article. The software is meant to free up disk space. With BleachBit, you can easily clean cache, delete cookies, clean internet browsing data, clean temp files, etc., in just one click.
The PC optimization software is available on all major platforms, including Windows, Linux, Mac, etc.
AVG is one of the leading names in the security world, and it needs no introduction. The famous security company also has a PC optimization software known as AVG TuneUp, which brings lots of PC optimization features.
The good thing about the tool is that it continually monitors your PC's performance for automatic maintenance. AVG TuneUp has a junk cleaner, disk cleaner, bloatware remover, and a startup optimizer.
Norton Utilities claims to clean, tune, and speed up your PC in no time. It automatically optimizes your PC's processing power, memory, and hard drive whenever it detects high-demand apps or games.
Another best thing about Norton Utilities is recovering deleted files from your computer. On the downside, Norton Utilities is a premium software.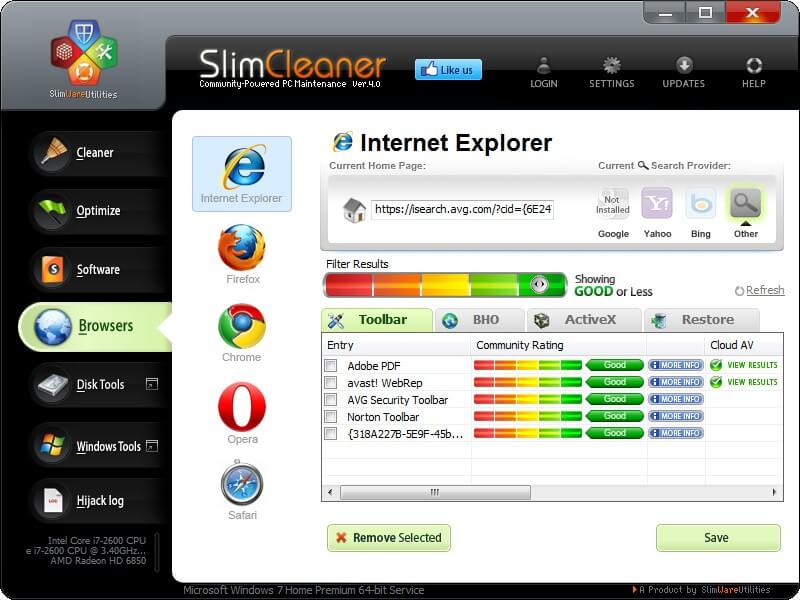 If you are searching for the best free PC tune-up software for Windows 10 computers, you need to give SlimCleaner a try.
SlimCleaner is generally known for its junk-cleaning abilities, but it can also optimize other system components to improve PC performance. The most useful tool of SlimCleaner is disk defragment, which effectively frees up the disk space.
Glary Utilities Pro is another best PC optimization tools on the list that can improve your computer speed. With Glary Utilities Pro, you can optimize and improve your hard disk drive performance.
You can also use Glary Utilities Pro to optimize memory, context menu, registry, startup, etc. The software also can scan and fix privacy and security issues.
Iolo System Mechanic is a complete system optimizer app available on the web. The PC optimizer program removes junk files, unwanted apps, bloatware, and auto-run settings, clears RAM, and wipes various logs and browser histories/cache.
The latest version of the Iolo System Mechanic ensures total performance, protection & privacy. However, the free version offers you limited system optimization features.
You can use any free PC optimization software to enhance your PC's performance. You need to start using these programs to optimize the performance of your Windows 10 or Windows 11 PC. If you know any other PC optimization software, let us know in the comments.