If we search for live streaming apps on the Google Play Store, we will find countless apps over there. However, it was the Twitter-owned Periscope app that stands out from the crowd. For those who don't know, the Periscope Android app allows users to broadcast and explore the world through live videos.
Lots of people confuse Periscope with TikTok, but both of them are entirely different. We upload videos on the TikTok app, whereas Periscope is used to broadcast live videos. So, if you are searching for the Periscope type app for your Android device, then you are reading the right article.
Best Periscope Alternatives For Android
In this article, we are going to share some of the best Periscope alternatives for Android in 2020. So, let's explore the list of best Periscope Alternatives for Android in 2020.
If you are using a Facebook Android app for a while, then you might know that the app provides users an option to upload live videos. To use Facebook live, you don't need to install any other app as the feature is already there on the Facebook app itself. Users need to tap on the video icon at the status bar to stream live videos with the audience.
Well, YouTube app for Android can also be used to stream live videos. However, to stream live videos, your YouTube channel needs to have at least 100 subscribers. The good thing is that YouTube also lets you monetize the live streams. So, YouTube Live is another best Periscope alternatives in 2020 that you can consider.
It is one of the best and top-rated live streaming app on the list which is much similar to the Periscope app. Guess what? On BIGO LIVE, you can easily go live to get many fans. Not only that, but the platform also allows users to talk with their fans. Other than that, users can also watch the live streams of millions of talented broadcasters.
Well, Likee is another best video creation and sharing app that allows users to live stream videos. On Likee, you can either upload short videos or live broadcast. Lots of celebrities and talented artists also use the Likee app to meet with their fans. Apart from that, Likee also provides users lots of video creation tools like filters, special effects, stickers, etc.
With Yome Live, you can easily show your talents, gain followers, and receive a virtual gift. If you don't want to broadcast, then you can use the app to watch the live streams of others. So, Yome Live is another best and top-rated Android live stream app that you can use right now.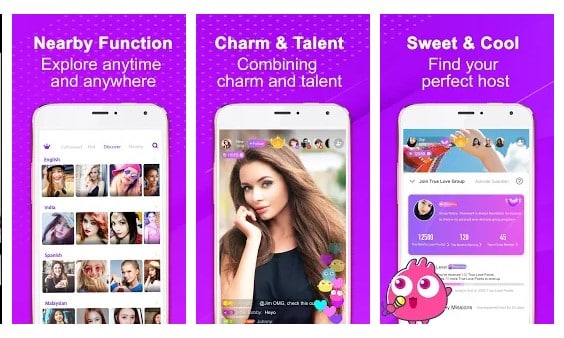 This is another live streaming app for Android that lets you connect, interact and broadcast live videos with the world. Apart from live video streaming, Uplive also lets you chat with other users, play games with random peoples, etc.
Well, if you are searching for an incredible platform to view live videos and for instant communication, then you need to give Tango – Live Video Broadcasts a try. Guess what? with Tango – Live Video Broadcasts, you can live stream and earn easy money. As a viewer, you can follow your favorite broadcasters and chat directly.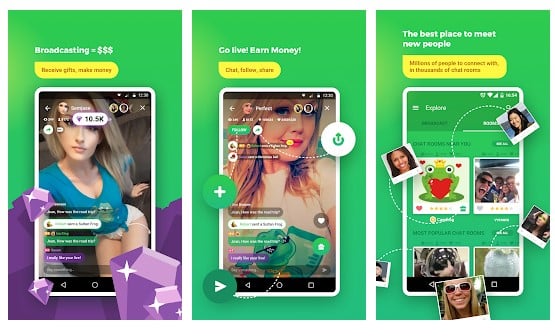 The great thing about Camfrog – Group Video Chat is that it has millions of active users and thousands of active video chat rooms. You can join any of the thousands of rooms and connect with people. So, the concept of Camfrog – Group Video Chat is pretty much similar to the Periscope app, and its worth a try.
This is another best app that provides users an opportunity to chat with live broadcasters and connect with the audience. The app lets you join different broadcasters as a guest. Once joined, you can send selfies, send gifts, etc. The app is available for both Android & iOS and its definitely the best Periscope alternative that you can use today.
It is one of the best and popular video messenger app available on the Google Play Store. To live stream, users need to create an account with Glide. Just like Periscope, Glide also allows users to connect with others to have a real-time conversation. However, Glide has a messaging limit of 5 minutes.
So, these are the ten best Periscope alternatives on the list that you can consider. If you know any other such apps, let us know in the comment box below. I hope this article helped you! Share it with your friends also.