Many important things have now gone digital. These days, you can even access your banking accounts from your computer. You can also watch videos, play games, etc., on your computer.
While the performance of your PC depends on your processor and graphics card, you still need to spend time picking the right monitor for you. Having the right monitor is very important, especially for those who spend a lot of time staring at the PC monitor.
Best Ways to Pick Right Monitor for your PC
While picking a monitor for your PC, you need to check a few things, which we will discuss in this guide. Below, we have shared some tips for picking the right monitor for your PC. So, let's get started.
1. Find the Connection Ports
Look for the monitor if it has compatible, high-quality connection ports. This means that if you have good ports on the monitor, you can get the best quality output, and suitable ports are a must for making the connection.
This is not hard to find the compatibility of the ports, almost every different port has a different design, which makes it easy to distinguish. Hence, make sure to purchase a monitor that your PC's motherboard supports.
2. Multiple connection modes
Find if your monitor has multiple numbers of connecting port types. If your monitor has the most number of ports for making the connections, this is obvious that you could be able to make the connection with the CPU or the computer through the many alternative ways.
Again this is not hard to locate if your monitor has the output or the connection ports. Look for HDMI, the Display port, and the mini-display port; the monitor is amazingly good if these are available.
3. Screen Size
You will always look at the bigger screen size while buying the monitor. A bigger screen size is always great to look at. In your budget, find the best size monitor for the computer but never underestimate the display's resolution and screen quality.
See if the monitor is really good to be placed on any surface so that you can place your computer anywhere without getting the issues.
4. Aspect Ratio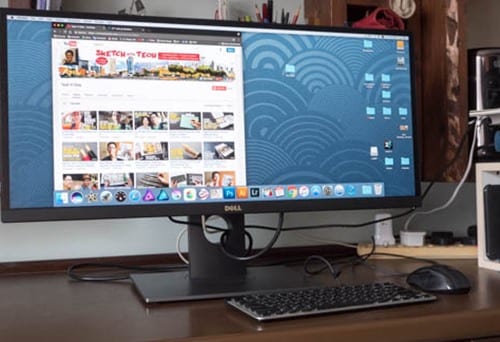 Find the accurate ratio of the screen size that would be best suited for you. The best suitable screen aspect ratio is 16:9, which is the ideal size for the display.
Although this screen size or the aspect ratio is great for professional work, you could get a better experience with the view!
So, these are some of the crucial points that will help you pick the best and the right monitor for your computer. If you want to suggest more tips on choosing the right monitor for our PC, let us know in the comments below.