Over the past few years, the technology around us has evolved. Those days are gone when we had to rely upon computers to edit photos. These days, photo editing can be done through a smartphone.
You don't need to be a professional photo editor to edit photos. You can now use photo editing apps such as PicsArt, Snapseed, etc., for photo manipulation. Regarding photo editing apps, PicsArt is one of Android's best photo editing apps. The app is easy to use and has lots of features.
However, compared to other photo editing apps, PicsArt is complicated to use. That's the only reason why users search for its alternatives. So, if you are also searching for the best PicsArt alternatives, your search ends here.
List of Best PicsArt Alternatives For Android
We have got you covered with the best free PicsArt alternatives for Android smartphones in this article. So, let's check out the best alternatives.
This is one of the powerful photo editing apps available on the Google Play Store. The App is always known for its amazing effects and filters and has many features.
Photo Editor Pro is widely known for its image processing features, like you can set the Picture scene, add picture frames, add warmth effects, create bokeh effects, etc.
If you are searching for a PicsArt alternative for Android to add typography & artwork, then PicLab might be your best pick. With PicLab, you can easily create filters, photo effects, Light FX, etc.
Not only that, but PicLab also allows you to add textures, borders, patterns, and more to the images.
It's a selfie editor that suits every level of photographer. Moreover, it's an interactive app to simplify the process of beautifying the face.
With Fotogenic, you can easily set the skin complexion, whiten the skin, add more details, etc. Apart from that, the App offers lots of color adjustment features.
Well, Lumii is one of the best and most popular PicsArt alternatives on the list that you can consider. With Lumii, you can easily add photo filters and photo effects. Furthermore, the app lets you edit photos easily with presets, filters, effects, curves & HSL.
Moreover, the app has plenty of features to enhance images. You can also create trendy double-exposure effects for pictures with this App.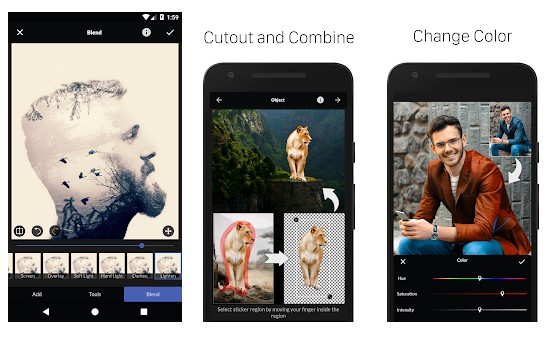 LightX Photo Editor & Photo Effects is one of the best and most powerful photo editing apps on the Google Play Store. With LightX Photo Editor & Photo Effects, you can easily edit photos like a pro.
The photo editing app for Android can change the background, apply different colors to different regions, merge photos, and more.
When it comes to the best PicsArt alternatives, ToolWiz Photos is the best one. It is a photo management app, and it's packed with more than 200+ tools. In addition, the photo editor of ToolWiz Photos offers over 40 Prisma-style filters, 80+ filters, and effects.
This one is pretty much similar to the PicsArt regarding the features. The App has many photo editing features like RGB color adjustment, white balance tool, splash effect tool, etc. Apart from that, it also got an option to remove objects from images.
The app also offers many professional tools and intelligent features for photo editing. You can even create moving art with PhotoDirector.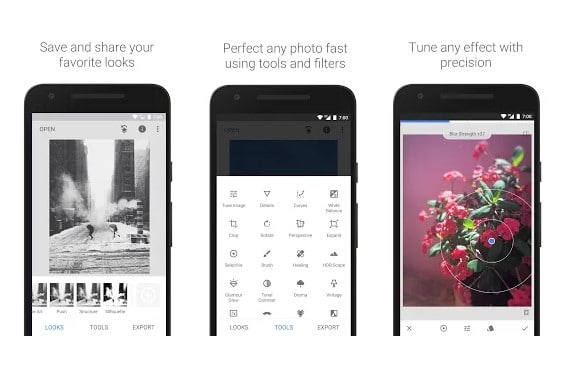 This is the last App on the list and probably the best one. The Android app packs over 29 tools like Healing, Brush, Structure, HDR, Perspective, etc. With Snapseed, you can easily add filters, lens blur effects, glowing effects, etc.
Snapseed is an Adobe Photoshop alternative made for Android smartphones. It offers you almost every tool you can think of for photo editing.
Pixlr is an Android photo editing app on the list that offers you many useful & handy photo editing features. With Pixlr, you can create photo collages, adjust the color of photos, use a double exposure effect, and more.
Apart from that, Pixlr also brings simple tools for removing blemishes, red-eye, smoothening skin, or whitening teeth. Overall, Pixlr is an excellent app for Photo editing on Android.
If you are searching for a free, powerful photo editing and camera app for Android, then look no other than Adobe Lightroom. The Android app offers easy photo editing tools to simplify photo editing.
Adobe Lightroom lets you achieve professional photo editing faster with the help of presets, filters, and AI. Currently, the app has over 150+ new hand-crafted presets that can be used to recreate any photo in no time.
Photo Editor – Polish from Inshot is a very popular photo editing app for Android available on the Google Play Store. Millions of users already use the app, and it provides many features to edit your photos.
To get started with photo editing, you have plenty of stylish photo effects to choose from. You also get features like face tunes, photo collage, background blur, photo filters, the ability to change photo background, etc.
Photo and Video editor from Canva is an Android app that lets you design anything easily, quickly, and for free. Basically, it's a free PicsArt alternative for Android that provides you with a full-fledged photo editing tool, filters, and effects.
Apart from photo editing, Canva also offers you a video editor that you can use to create videos within minutes. It has a massive content library, but you need to purchase a Canva subscription to access it.
So, these are some of the best PicsArt alternatives you can use now. If you know of other such apps, let us know in the comment box below. I hope this article helped you! Could you share it with your friends also?