Well, if we look around, we will find that smartphones are slowly replacing the need for a personal computer. We are right now living in an era where smartphones are mandatory and we can't survive a single day without it. From making calls to playing games, we use our smartphone for a different purpose.
If we talk about gaming, Android's Google Play Store is filled up with games. Don't believe it? Just take a brief look at the Google Play Store, you will find games of every different category. Despite having such huge numbers of games, sometimes we want to play PC games on our Android device.
Technically, it's possible to play PC games on Android, but we need to use some third-party apps. So, in this article, we have shared some of the best methods to play your favorite PC games on Android and iOS. So, let's check out how to play PC games on Android & iOS 2019.
Also Read: How To Play PSP Games On Android
How To Play Your Favorite PC Games On Android and iOS
To play your favorite PC games on Android or iOS device, users need to use a software known as Remotr. If you are unaware, Remotr is a tool which allows users to stream and play computer games on mobile devices or Smart TV. Let's check out some of the key features of Remotr application.
Features Of Remotr:
Play your computer games from your Android device,
Enjoy awesome game performance,
Customize and configure controls,
Connect multiple devices at the same time,
Use the accelerometer to control your games,
Use Bluetooth or OTG gamepad, keyboard or mouse,
Enjoy full Xbox controller emulation on Windows,
Play local co-op games with your friends using only smartphones/tablets.
Steps To Setup Remotr Game Streaming App To Play PC Games:
Step 1. First of all, you need to download Remotr app on your PC and that you can get from Here.
Step 2. After downloading the app you just need to create the account for the app with your valid details.
Step 3. Now you need to download and install Remotr App App on your Android
Step 4. After installing the app in your android login with the same account of your PC.
Step 5. Now when your devices are connected on same login network then you will see your PC address there, simply tap on it.
Step 6. Now you need to select the games that you want to play on your android.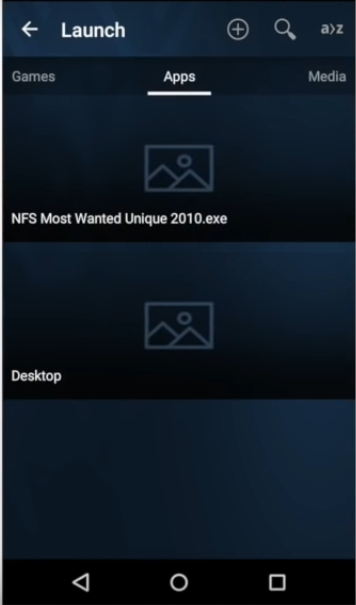 Step 7. Now on the next screen, you will be setting up the controls for it to play the game. That's it! you are done, now you will be playing your favorite PC game on your android.
Remotr App For iPhone Users
iPhone users need to follow the whole procedure like Android Users have to Register an account using an Email address and have to search for your PC using Remotr iOS app. Let's know the tutorial to use Remotr on iPhone
Step 1. You need to download and install Remotr App on iOS and on Your Computer.
Step 2. Now you need to register using your Email address.
Step 3. Now you need to Log in on client application( iPhone App) with the same email ID and Password as on the Streamer (Computer App)
That's it! Now you can enjoy your PC games on iOS. The installation process is somehow similar to Android one. It doesn't need to jailbreak your iPhone simply Install the app and Enjoy!
Also Read: Best Android Tricks & Android Hacks
#2 Using ApowerMirror
Well, Apowermirror is basically a screen mirroring software that allows users to mirror Android screen to computer or computer screen to Android. The great thing about ApowerMirror is that it's fully compatible with Windows, macOS, Android, and iOS device. To play PC games on Android, users just need to mirror their computer screen to mobile devices. By this way, the game will be running on the computer, but users can control the computer screen from Android.
Step 1. First of all, download & install ApowerMirror mirroring tool on your computer. Once installed open the software.
Step 2. Now download and install Apowermirror on your Android smartphone. Connect both of the devices to the same WiFi network and then tap on the 'M' button.
Step 3. Now, wait until ApowerMirror Android app scans for the available devices. Once done, you will see your computer name. Tap on the computer name and then select 'Computer Screen Mirroring' option.
Step 4. That's it, you are done! Now just run the PC game on your computer and you will be able to play the game on Android through screen mirroring.
This is how you can use ApowerMirror to play PC games on Android by screen mirroring. If you have any other doubt, let us know in the comment box below.
So above is all about Play your favorite PC games on your Android and iPhone. With this guide, you can easily run all of your favorite PC games on your android by just using this cool app. You just need is the same account on both the devices. Hope you like this, do share with others too. Leave a comment below if you have any related queries with this.