When we post something on a Facebook group, all the group members can see our name. But sometimes, we don't want to reveal our names in the groups. To deal with this problem, Facebook offers a feature that lets you post on Facebook groups without revealing your account information.
This means you can post on Facebook groups without any members knowing who posted the content. This is possible with the Anonymous Posts features that let you post anonymously in a group without revealing your name. The only criteria is that the group admins should allow anonymous posts.
If a group has the anonymous posts feature enabled, the admins, moderators, and the Facebook team can see your name in anonymous posts. Also, anonymous posts won't appear right away in the groups; you have to wait for the manual approval.
Steps to Post Anonymously on a Facebook Group
So, assuming that a group administrator has enabled Anonymous posts, you can easily create and share an anonymous post. The steps to create an anonymous post in a Facebook group are simple; you need to follow some of the simple methods shared below.
Enable Anonymous Post feature in Group
If you own a Facebook group and want to enable Anonymous posts, you should enable the feature on your group first. The group members can create Anonymous posts only if this feature is enabled.
Here are the simple steps to enable anonymous posting in a Facebook group.
1. First of all, open the Facebook group that you manage. Then, on the left pane, scroll down and click on the Group settings.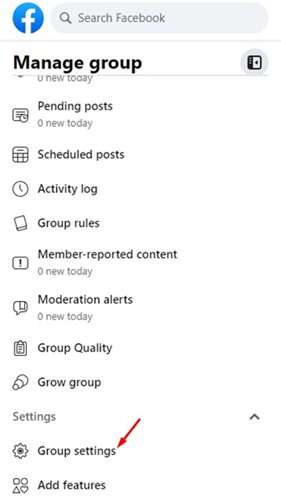 2. On the Group Settings, scroll down and find the Anonymous posting option.
3. Click on the pencil icon to edit the option and enable the feature. Once done, click on the Save button.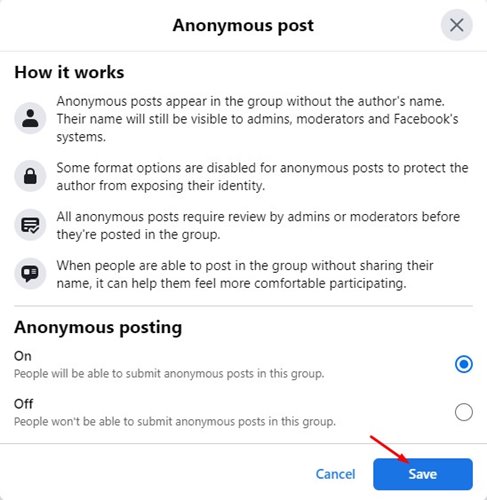 That's it! You are done. Now your group members will be able to create anonymous posts.
Post Anonymously on a Facebook Group
1. First of all, open your web browser and log in to your Facebook account. Now open the Group where you want to create an anonymous post.
2. Now click on the Anonymous post option as shown below.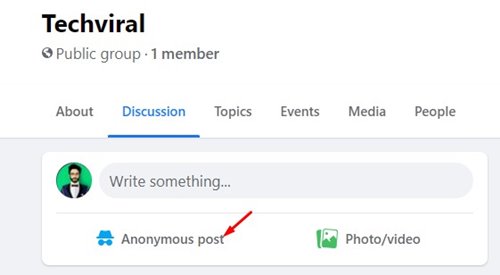 3. Click on the Create Anonymous Post button on the confirmation prompt.
4. Now, type in what you want to post and click on the Submit button.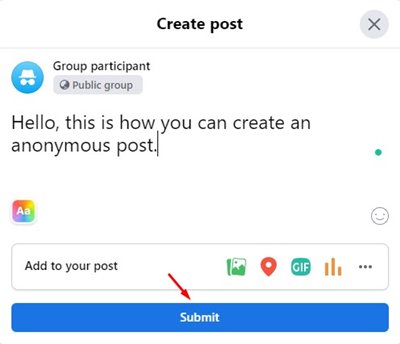 5. The Anonymous Post will appear like this on the Group.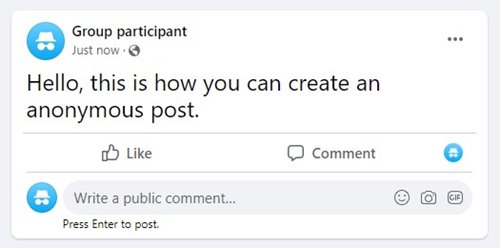 Anonymous post is indeed a great feature. You can post your questions without revealing your name. I hope this article helped you! Please share it with your friends also. If you have any doubts related to this, let us know in the comment box below.