Although TikTok is banned in India, it has significantly impacted the video streaming industry. When TikTok was launched, it quickly gained people's attention with its unique concept of sharing shorter video clips with voiceovers.
Today, almost every video streaming site is trying to follow the same concept of sharing shorter video clips. Shorter videos take less time to view; hence they can generate more views in less time.
Instagram and YouTube have already introduced a TikTok type feature called Reels and Shorts. Anyone with a YouTube account can watch or upload Shorts in easy steps. If we talk about YouTube Shorts, it's less popular than Instagram Reels, but many users use it.
Steps to Post/Upload YouTube Shorts from PC
Hence, if you are a content creator and want to publish your YouTube Short videos, you might find this article useful. This article will share a step-by-step guide on post or upload YouTube Shorts from PC. Let's check out.
Although YouTube doesn't provide any direct option to upload YouTube Shorts, you can still upload your Shorts from a computer. Here's what you need to do.
1. Open your favorite web browser and open the studio.youtube.com webpage. Next, log in to your Google Account.
2. Click the Create option below on the Channel Dashboard page.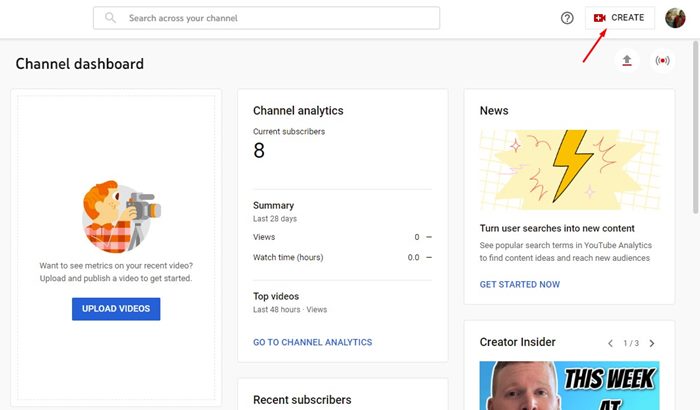 3. From the list of options, click on Upload Video.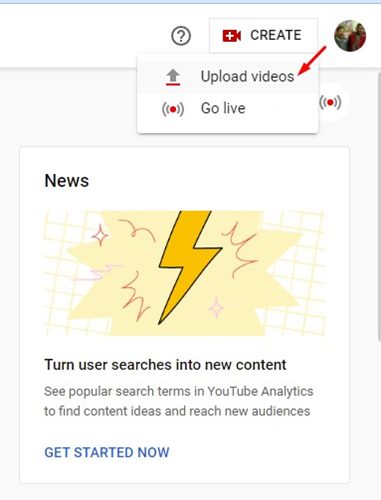 4. On the Upload Videos pop-up, click on the Select Files and upload the Shorts video.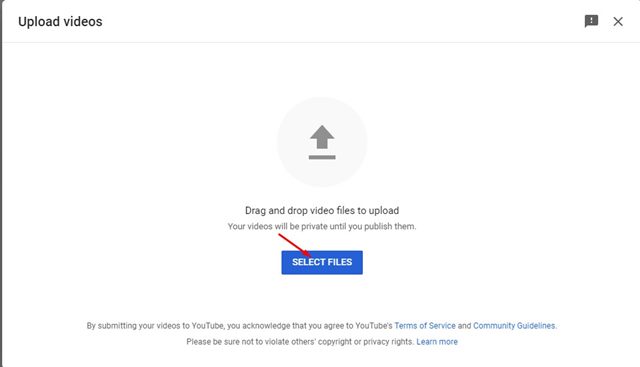 5. Once uploaded, you will see the video editing page on YouTube. You need to enter the Title and Description for the video. Adding the #Shorts hashtag on the Title is recommended to increase the chance of getting the video viral. Once done, click on the Next button.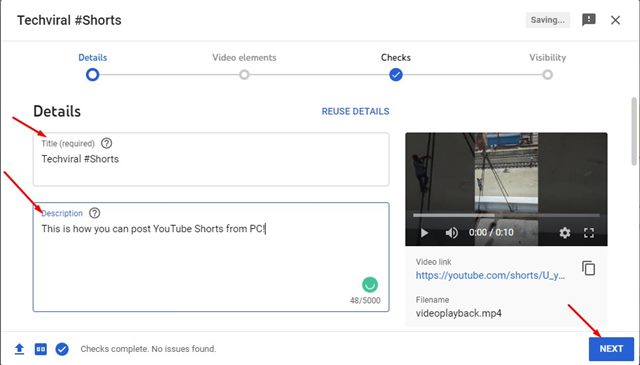 6. Now scroll down to the Audience and select 'No, it's not made for kids'. Once done, click on the Next button.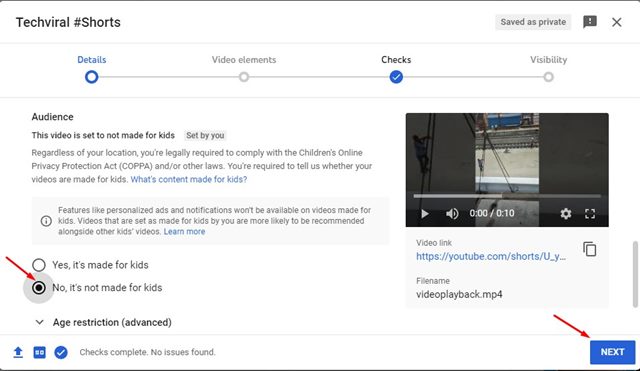 7. On the Video elements screen, click on the Next button.
8. On the Checks screen, click on the Next button.
9. Select 'Public' and click the Publish button on the Visibility page.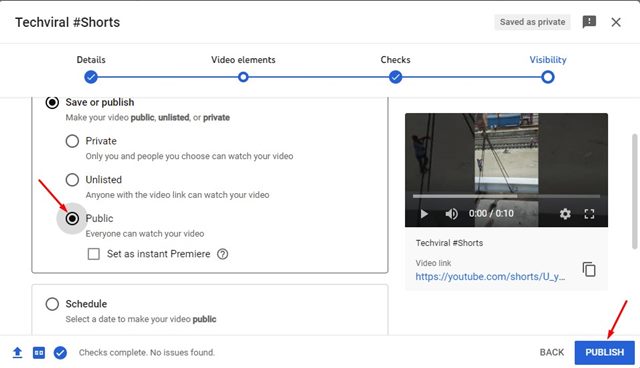 10. The video will be published. You can now share the Shorts video with your friends via social networking or instant messaging.
That's it! You are done. This is how you can upload YouTube Shorts from your PC.
Frequently Asked Questions
Can I upload any video as short?
Technically you can upload any video as short on YouTube. But you should refrain from uploading videos that you don't own. This will trigger copyright issues and may invite legal troubles. Also, the video needs to match the requirements of YouTube Shorts.
How do I use YouTube Shorts on my laptop?
You can access YouTube Shorts on your laptop. For that, open YouTube and go to Home. On the left side, click Shorts. This will open the YouTube Shorts player on your laptop, and you can now watch the videos.
Why are my YouTube Shorts not showing on my laptop?
If YouTube Shorts are not showing up on your laptop, you must ensure you are signed in with the same Google account used for uploading. If it's still not showing, you can clear the browser cache & cookies.
How to Fix YouTube Shorts Not Working?
YouTube Shorts may stop working due to several reasons. One of the most prominent reasons is the internet problems. If the internet is working, check whether the servers of YouTube is working, clear the browser cache, re-login to your Google Account, etc.
YouTube shorts is less competitive than TikTok & Instagram reels; hence, the chances of getting your videos viral are more. You can easily upload shorter videos via YouTube Shorts to gain views quickly. So, this guide is all about how to upload YouTube shorts from a PC.