Let's admit; nothing is private in this digital world. It doesn't matter how hard you try to protect your privacy. Trackers are bound to follow you around from site to site. Not many will know, but search engines like Yahoo, Google, Bing, etc., also track our browsing activities to push targeted ads.
Similarly, our browsing details were tracked by other companies in some way. To bypass web trackers, experts often recommend using VPNs and Proxies. However, the truth is that a VPN alone can't help you maintain complete anonymity. To protect privacy, one needs to use a privacy-centric web browser.
Also Read: Best Websites to Download Windows Software for Free
List of 10 Best Privacy-Focused Web Browsers for iPhone
We have already shared a list of the most secure web browsers for Android. Today, we will be discussing the best privacy-focused browsers for the iPhone. These web browsers for the iPhone provide better privacy features compared to others.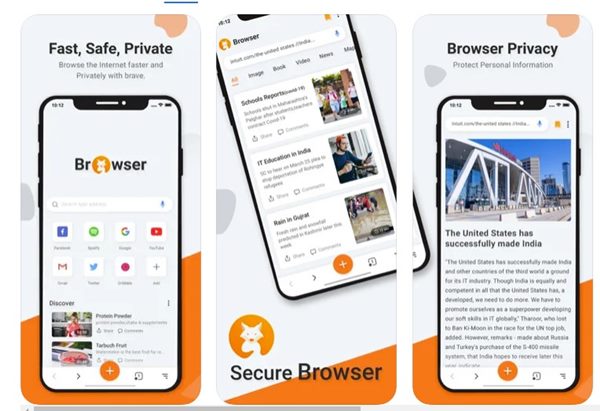 If you are searching for a web browser app that prioritizes stability & privacy over anything else, you shouldn't miss Browser Pro – Private Browser. Browser Pro – Private Browser is a web browser for Android that brings a wide range of useful features.
Browser Pro – Private Browser has private browsing (incognito mode) that allows you to surf the web without leaving a trace in your history. The web browser also brings a download manager with video downloaded, a bookmark manager, and more.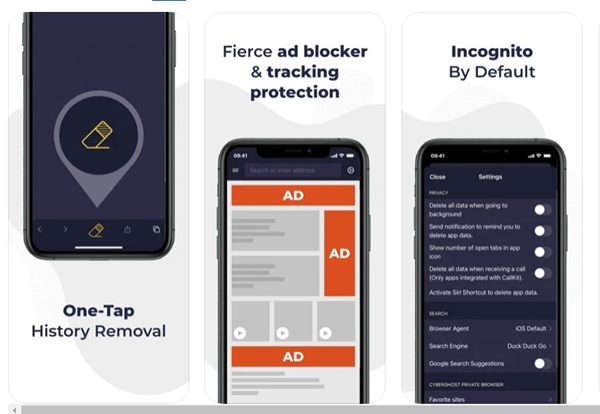 CyberGhost Private Browser is not as popular as the other web browsers; it still offers many useful features. The web browser has been made by keeping privacy & security in mind.
CyberGhost Private Browser stops all types of online tracking and monitoring by default. It also offers useful security options, such as protecting bookmarks with biometrics. Overall, CyberGhost Private Browser is a great privacy-focused web browser that you can use on your iPhone.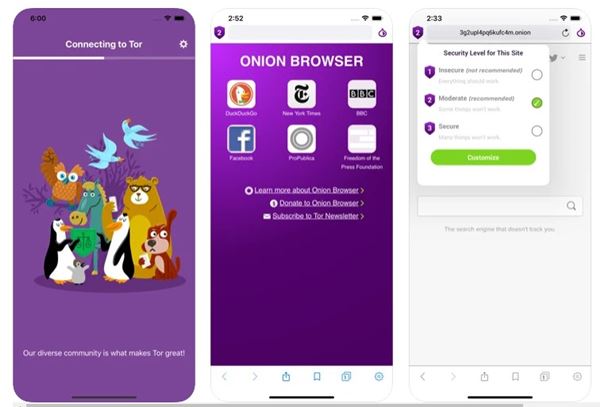 Although there's no Tor Browser for iOS, the Tor Project officially recommends the Onion browser for maximum privacy option on iOS. Onion Browser is an open-source web browser that brings lots of security, safety, and privacy features.
The good thing is that Onion Browser encrypts your internet traffic and then redirects it through three different regions to hide your real IP. Since Onion Browser uses Tor Network, ISPs can't track your browsing activities.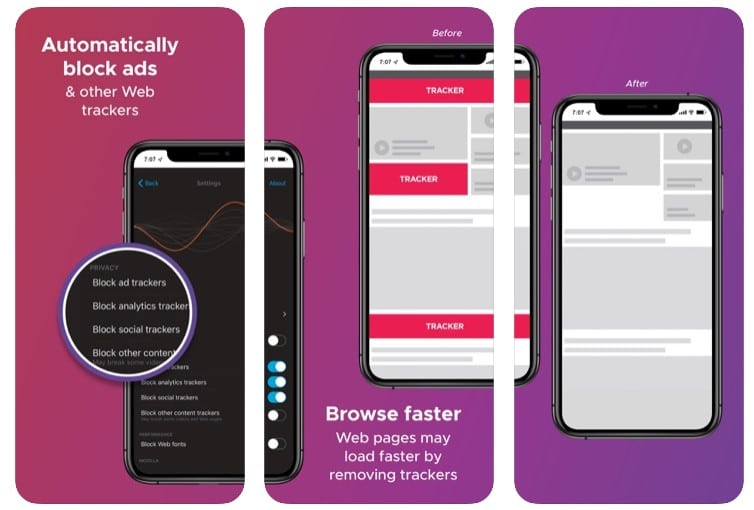 Firefox Focus is one of the best web browsers available, which blocks a wide range of online trackers. It has a Private Browsing mode that blocks a wide range of common web trackers without any settings.
Not only that, but Firefox Focus also erases the history, passwords, cookies, trackers once you close the app.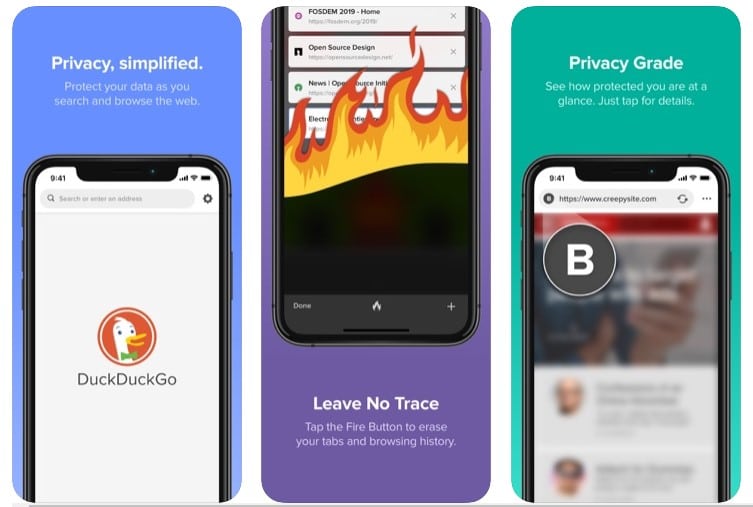 This one is pretty much similar to the Firefox Focus browser listed above. It offers a handful of privacy options that you need to take control of your personal information seamlessly. By default, it blocks all hidden third-party trackers and ads.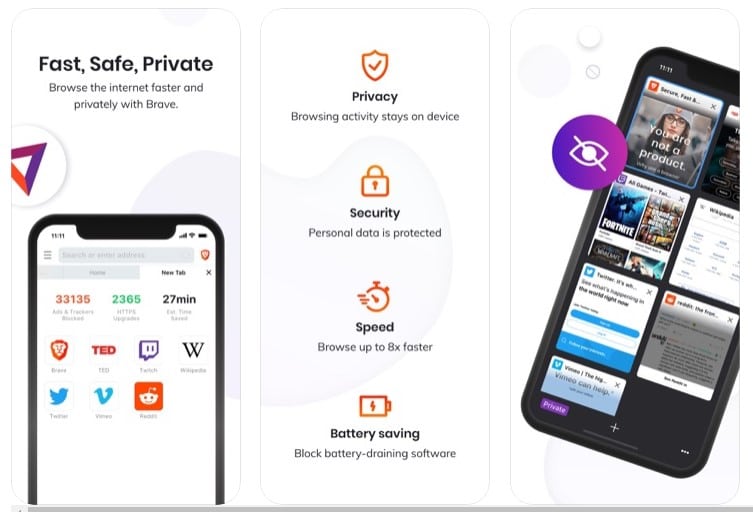 It is one of the popular web browser app available for Windows, Android, and iOS devices. If we talk about the Brave browser for iOS, the web browser automatically blocks ads, trackers, malicious scrips, and fingerprinted.
Not only that, but Brave Browser also has a built-in bookmark manager, download manager, etc.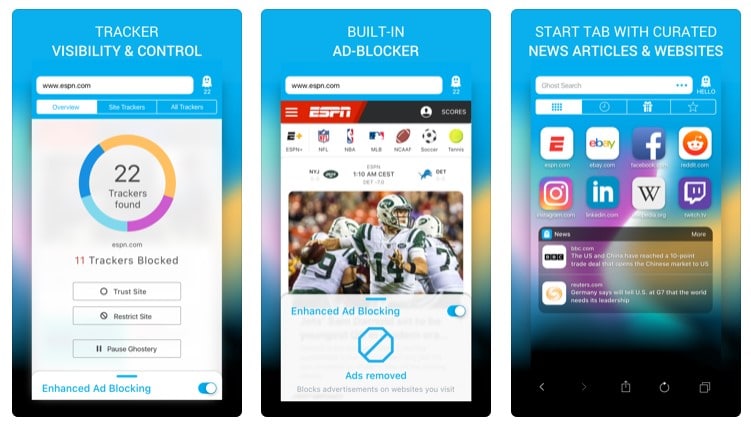 If you are searching for a web browser that offers a fast, private, tracker-and ad-free browsing experience on iPhone, then Ghostery Privacy Browser might be the best pick for you.
The browser might look outdated, but it allows you to see who's tracking your data on the website. Not only that, but the web browser also has a built-in ad blocker, private search engine, ghost mode, etc.
If you are searching for a private web browser with a built-in VPN for iOS, then Cake Web Browser might be the best pick for you. The web browser offers a private browsing mode and a VPN for privacy.
The VPN provides military-grade encryption without tracking, throttling, or bandwidth restriction. It also offers many other privacy features like anonymous browsing, private tab time bomb, passcode protection, etc.

Snowbunny Private Web Browser is one of the fastest and lightweight web browsers available on the iOS app store. It's also one of the first iOS web browsers to introduce the Full-Screen browsing mode.
Snowbunny Private Web Browser can display a 35% more viewable area with the full-screen mode. It also has a private mode that doesn't save your browsing history, cookies, or anything behind.
If you are searching for a fast, free, and full-featured web browser for your iPhone, then Aloha Browser might be the best pick for you.
Millions of users now use the web browser, and it's known for its clean interface, ease of use, and excellent features. Aloha Browser offers many users features like an ad blocker, free VPN, private tabs, QR code reader, etc.
These are the few best Privacy-focused browsers that you can use on your iOS device. If you care for your privacy, you should start using these web browsers on your iPhone. If you know any other private web browsers for iOS, let us know in the comments.