The world's most used instant messaging app, WhatsApp, is known for its messaging features and is one of the most preferred platforms for users to talk with their family and friends.
But, here, the fact is that WhatsApp calls are not always perfect, as some people, despite using them every day, still lack functions that, for many, could be essential, but the company seems to resist implementing them. One of them is the possibility of recording calls in WhatsApp, which unfortunately has not yet appeared in the application.
How to Record WhatsApp Video And Voice Calls On Android
However, the fact is that by using third-party tools and apps, it is simply possible to praise the calls that we make through the messaging service. So, now, without wasting time, let's simply explore the tutorial we mentioned below.
Record WhatsApp voice calls
One of the most popular apps to record calls is Cube Call Recorder ACR, with more than 5 million active installations on Google Play and a rating of 4.7 stars out of 5, making it one of the most well-known apps in its category.
This application was created to record voice calls, of course, those made through the mobile network. But, apart from this, it also offers the possibility to record the audio calls carried out through many apps like Skype, Line, Facebook, WhatsApp, and more.
1. First, download & install Cube Call Recorder ACR on your Android smartphone.
2. Then, choose from which apps you want to record the audio of the calls (In this case, simply select WhatsApp).
3. Now, after selecting the desired app of which you want to record the audio calls (In this case, WhatsApp), leave it; now, all your audio calls in WhatsApp will be recorded.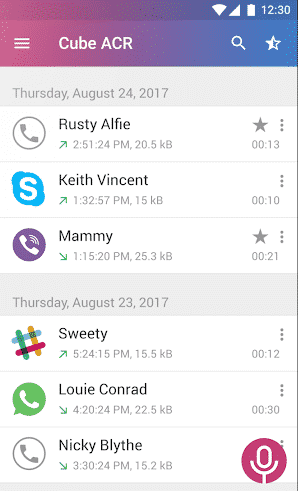 4. It will also be possible to activate automatic recording so that it is not necessary to start recording manually each time a call is made.
That's it; now you are done.
How to Record WhatsApp Video Calls on Android?
Well, just like voice calls, you can also record video calls. For that, you need to use the screen recorder apps for Android.
We have already shared a list of the best screen recorder apps for Android. However, please note that not every screen recorder works with WhatsApp. For recording WhatsApp video calls, you need to use specialized WhatsApp video call recorder apps.
So, what do you think about this? Simply share all your views and thoughts in the comment section below. And if you liked this tutorial, do not forget to share this tutorial with your friends and family.