On a desktop computer, we get the 'Recycle Bin' option, which allows users to recover accidentally deleted files and folders. However, on Android, the 'Recycle Bin' feature is missing. That means there's no option to recover files after being deleted.
What if I tell you that you can add the 'Recycle Bin' feature on your Android device? Many Android recycling bin apps on the Google Play Store can be used to secure data from being accidentally deleted by yourself or any other person.
Also Read: How to Delete or Hide the Recycle Bin in Windows 10
10 Best Recycle Bin Apps For Android
This article will share some of the best Android recycle bin apps you can use now. These apps will help you recover accidentally deleted files. So, let's check out.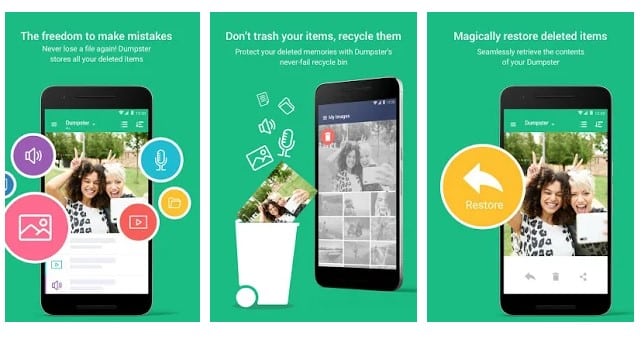 Dumpster is an Android app that replicates the functionality of your PC's Recycle Bin. It's a recycle Bin app that stores every file you delete from your smartphone.
If you wish to get back the deleted files, you need to access the Dumpster app and recover the files. It's pretty easy to restore files accidentally deleted on Android via Dumpster.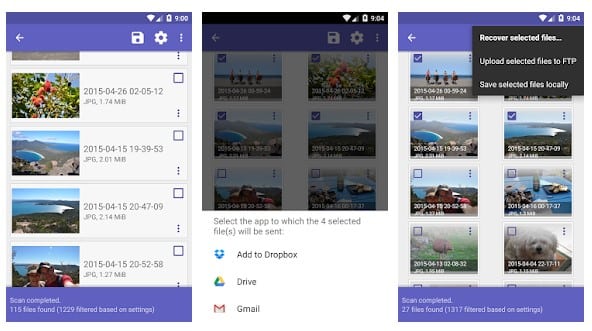 It is another best recycle bin apps you can use on your Android device. Although the app works on rooted and non-rooted smartphones, it works best on a rooted device. Like Dumpster, DiskDigger also saves all deleted files on your Android smartphone.
Another feature of DiskDigger is its cloud storage service, allowing users to utilize DiskDigger's cloud service to save deleted files.
Recycle Master is like the Trash on Mac or Recycle Bin on Windows. With Recycle Master, you can quickly scan and restore files that have been deleted.
The good thing about Recycle Master is that once installed, it runs continuously in the background and stores every file you delete. You can access the Recycle Master to restore all the files you accidentally deleted.
You can also lock the app with a password so that no one can see the trash items.
Cx File Explorer is a file manager app for Android that offers you many useful file management features. Besides the file management features, Cx File Explorer offers A Recycle Bin that stores all deleted files.
You can access the Bin folder of Cx File Explorer to recover deleted files on your Android device. Overall, Cx File Explorer is a great recycle bin app for Android.
File Commander is a full-fledged file manager app for Android smartphones. With File Commander, you can quickly move files between folders, analyze storage, recover deleted items, etc.
It has a Recycle bin feature allows you to restore & manage deleted files. However, the Recycle Bin feature is only present in the premium version of File Commander. Some other File Commander features include a storage analyzer, file converter, free cloud storage, and more.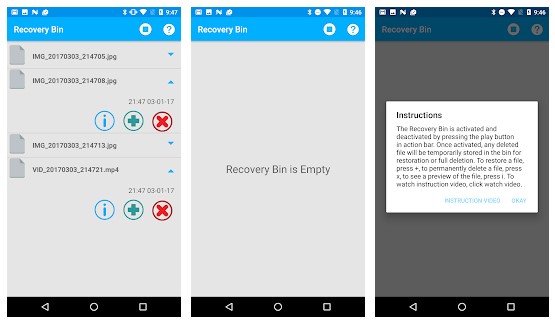 As the app's name says, Recycle Bin works exactly like the recycle bin on your computer. Once installed, it activated a recovery bin.
The recover bin stores every file type that you delete from your smartphone. The app works in the background even if the app is swiped away. To permanently delete the files, you must empty the Recycle Bin's recovery bin.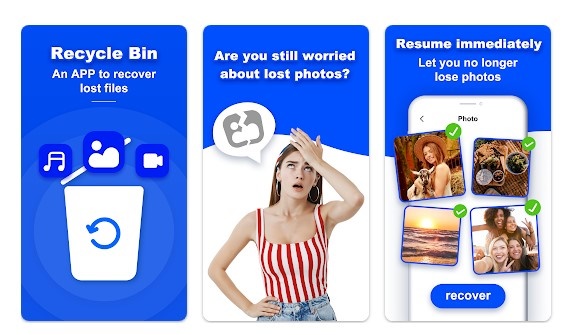 Recycle Bin: Restore Deleted is basically a recovery app for Android that has many positive reviews on the Google Play Store. The app is very popular and has been downloaded over millions of times.
The app seeks your storage permission and keeps track of all your deleted files, allowing you to get back to them later.
Also, you get a flexible and secure cloud storage option that can free up your storage space. You can use this app to retrieve important files, recently deleted photos and videos, etc.
DV Gallery is a full-fledged gallery app available on the Play Store. The app offers users many features like password protection, unique sorting options, setting files as favorites, etc. One of the outstanding features of the DV Gallery is the recycle bin.
Instead of deleting your files permanently, it stores them in the Recycle bin. You can retrieve deleted photos & videos via the recycle bin of the DV Gallery.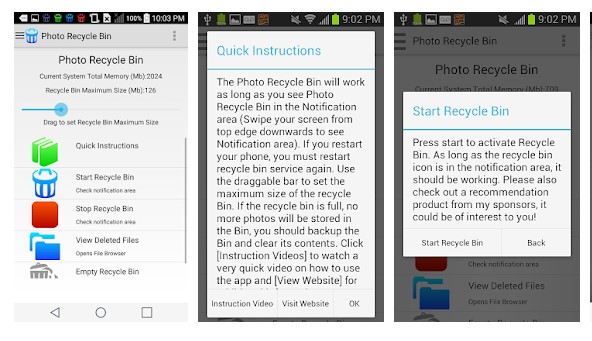 The Android app works just like your computer's recycling bin but only supports photos. Every photo you deleted from your phone was stored under the Photo Recycle Bin.
You can retrieve the deleted photos anytime from the Photo Recycle Bin. The app works on both rooted and non-rooted Android devices.
Well, Video Recycle Bin is slightly different from all others listed in the article. It only focuses on the video files that you delete from your smartphone.
Once installed, the app runs in the background and saves every video you delete from your smartphone.
If you wish to get back the deleted videos, access the Bin folder of the Video Recycle Bin and restore the videos to their original location.
Frequently Asked Questions
Does Android have Recycle Bin?
Modern Android smartphones arriving these days do have a recycle bin feature. In some phones, the feature is named 'Trash', 'Recently Deleted', or 'Bin' folder. This folder stores your deleted files and keeps them for about 30 days.
My phone doesn't have Recycle Bin
If your Android phone doesn't have a recycle bin, don't worry! You can use the apps shared in the article to add the same feature. Most of these apps are free to download and use.
Can Recycle Bin Store deleted apps?
No! The Recycle Bin apps in the article won't work with Android apps or Games. They are only supposed to store the media files. Some of them supports document files as well.
How to Recover Uninstalled Apps on Android?
There's no way to recover deleted apps on Android. However, if you have installed the apps from the Google Play Store, you can open Play Store > Profile picture > Manage Apps and devices > Manage. On this screen, you will find previously installed apps on your devices.
These are the ten best Recycle Bin Android apps you can use on your smartphone. If you know of other such apps, let us know in the comment box below. I hope this article helped you! Please share it with your friends also.