Almost everyone loves to spend time surfing the web. However, we need to use a proper web browser like Google Chrome or Mozilla Firefox to access the internet. Regarding Google Chrome, the web browser is available on almost all platforms and offers a wide range of features that can improve your web browsing experience.
There are higher probabilities that you might be reading the article in the Google Chrome browser. However, Chrome has a few bugs which can ruin your web browsing experience. Some bugs automatically close the web browser, whereas others crash the entire browser.
Let's admit that we all have gone through automatic Chrome shutdown, chrome crashing issues at some stage of our internet life. Due to these automatic shutdowns & crashes, we all lose our open tabs. What's worst is that Google Chrome doesn't provide any prior notification or confirmation alert before closing the open & active Windows.
Best Ways to Restore Chrome Tabs After Crash
If you have already dealt with such a situation or if this issue has already made your internet life dull, then here we have a practical solution for you. This article will share some easy ways to reopen all closed tabs on Google Chrome Browser.
Restore Chrome Tabs after Crash
Below, we will share a few best methods to help restore the previous session on Google Chrome. The best thing about these methods is that it doesn't rely on any third-party app. So, let's know how to restore Chrome Tabs after a Crash.
1. Reopen Closed Tabs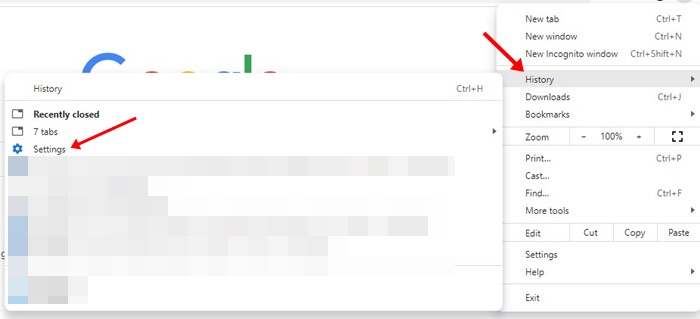 Since there's an easy way out, you don't need to go through the entire history to bring back the opened tabs on Google Chrome Browser. To restore chrome tabs, you need to Press CTRL + H, which will open Chrome's History.
If you have accidentally closed chrome tabs, or it happened due to any bug, then Chrome History will show you the option to 'Recently Closed'
Once you select the 'Recently Closed tabs', all your closed tabs will re-open instantly. The same thing goes for MAC, but you need to use the key combination of 'CMD + Y' to access Chrome History.
2. Recover Using Keyboard Shortcuts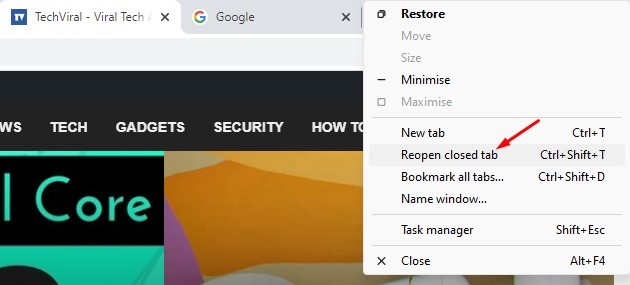 This is much easier compared to the previous method. In this method, you need to use some keyboard shortcuts to reopen closed tabs on Google Chrome Browser. However, the method will only work if you have accidentally closed the tabs. If you have restarted your computer, you won't get back the closed tabs.
On Windows, you need to open the Google Chrome Browser and press CTRL + SHIFT + T. This key combination will instantly open the last chrome session. For Mac, you need to use the CMD + SHIFT + T to reopen closed tabs on the Chrome browser.
Another easy method is to right-click on Chrome's tabs and select the option 'Reopen Closed tab' to get back the closed tabs.
4. Using TabCloud
TabCloud is one of the useful Google Chrome extensions available on the Chrome web store. The great thing about TabCloud is that it can save and restore window sessions over time and sync across multiple devices.
That means the chrome sessions can be restored on another computer. So, if your Chrome has just crashed, it automatically will have the saved version of the previous browsing session. So, TabCloud is another best extension that can be used to restore chrome tabs after a crash.
5. History
Well, if nothing works in your favor, then this is the final thing you could do. Since web browsers record all your browsing activity, you can quickly re-open the tabs through Chrome history. However, this will not restore the current session, as it will reload the page from the start. So, Chrome history is another way to restore chrome tabs after a crash.
6. Permanent Fix
Google Chrome provides users an option in which it restores the last session. The feature is available in the latest version of Chrome. If you activate this feature, Chrome will automatically restore the last browsing session after a crash.
Click on the three dots > Settings > On Startup. On the On Startup section, select 'Continue where you left off'. Enabling this option will restore your previous browsing session after Chrome crash or restart.
So, this is how you can restore closed tabs after quitting Chrome Browser. So, what's your opinion on this? Share your views in the comment box below.