Let's admit that the technology around us is evolving rapidly, and it had already changed the way we communicate with others. These days, people rely more on social networking and instant messaging apps to communicate with friends and family members. Although we rarely use SMS these days, it still serves as a popular & reliable means of communication.
There are times when we want to schedule a text message in advance. There could be various reasons why you want to schedule an SMS. Maybe you want to remind your friends that you're still meeting for drinks, or perhaps you want to remind your brother to bring the essential grocery items in the morning.
Whatever could be the reason, you can use Message scheduler apps to schedule text messages on Android. Recently, Google added the ability to schedule text messages in its Messages apps.
The new Google Messages feature allows you to schedule text messages at a future date and time.
Steps to Schedule a Text Message with Google Messages
In this article, we share a detailed guide on scheduling texts with Google Messages on Android. So, let's check out.
Note: The Message scheduling feature on Google Messages hasn't rolled out to all users. If you are unable to find the new feature, then you need to wait until the year-end. Also, make sure to update the Google Messages app from the Play Store.
Step 1. First of all, head to the Google Play Store and update the Google Messages app.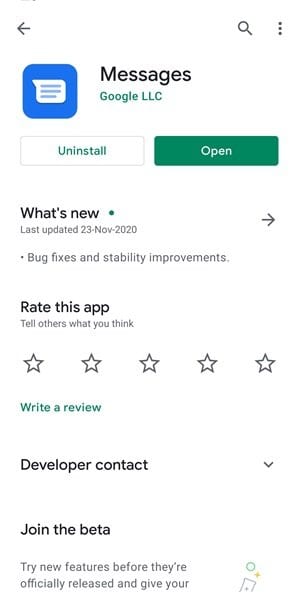 Step 2. Next, start a new conversation or enter an existing one.
Step 3. Now type out a message you would like to schedule.
Step 4. Now tap and hold the send button. This would initiate the message scheduling features.
Step 5. In the next pop-up, tap on the 'select date and time'
Step 6. Now you set the date and time and tap on the 'Save' button.
Step 7. Once done, tap on the 'Send' button, and your message will be scheduled.
That's it! You are done. This is how you can schedule a text message in Google Messages for Android.
So, this article is all about how to schedule text messages in Google Messages app. I hope this article helped you! Please share it with your friends also. If you have any doubts related to this, let us know in the comment box below.