There are various reasons that make Instagram the top and leading photo-sharing platform. This includes the reputation of Meta (Facebook), its features, its user base, and the availability of mobile apps.
As of now, Instagram is used by over a million users, and it allows users to exchange text messages, make voice & video calls, share photos & videos, share stories, and more. If you are an active Instagram user or an influencer, you might be interested to check your Instagram account history.
Like every other social networking platform, Instagram also holds loads of data on you, and this includes everything you did years ago. With the Instagram Android app's help, you can easily check the last time you changed your password, the day you changed your bio, website, and more.
Steps to View Your Entire Instagram Account History
Also, with Instagram's Account History page, you can find out when you created your account. Hence, if you are interested to see your Instagram account history, you are reading the right guide. In this article, we will share a step-by-step guide on how to view full Instagram history. Let's check out.
1. First of all, open the Instagram app on your Android smartphone.
2. Next, tap on the profile picture as shown in the screenshot below.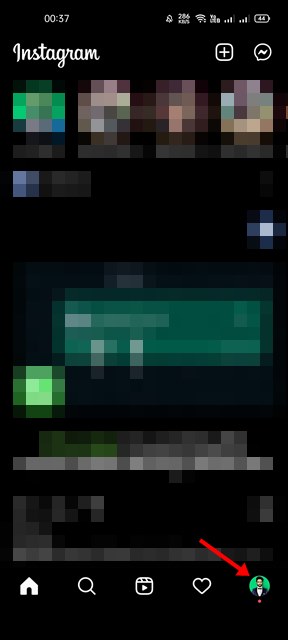 3. Now tap on the hamburger menu (Three lines) as shown in the screenshot below.
4. From the menu that pops up, select the Your Activity option.
5. On the Your Activity page, scroll down and tap on the Account History option as shown below.
6. On the Account History screen, you will be able to see the entire Instagram history.
7. The account history section also allows you to make changes to your Instagram Account. For example, if you want to update your Bio, tap on the Bio option and update it directly.
8. Similarly, you can update your password, privacy settings, messaging features, website, and more.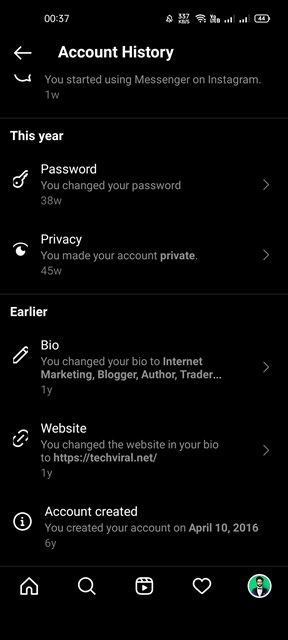 That's it! You are done. This is how you can view your full Instagram History.
How to Check the Account Creation Date?
Well, Instagram also allows you to check the account creation date in easy steps. Hence, if you are interested to check when you have created your Instagram account, follow our guide – View When an Instagram Account was Created.
So, this guide is all about how to view your full Instagram history in easy steps. I hope this article helped you! Please share it with your friends also. If you have any doubts related to this, let us know in the comment box below.