[dropcap]L[/dropcap]et's have a look at the guide for how to send automatic reply to WhatsApp message in android that is possible with the two ways that are either through rooting the android and without rooting the android. And here I'm going to discuss both the ways so that you can implement the one that you like the most. So have a look at the complete guide discussed below to proceed.
Till now you must have ready my lots of guides on Android, Windows & iOS and I'm here again with one cool guide related to Whatsapp that you can implement in your android device. There are lots of tweaks and tricks that you have tried in WhatsApp but what about the automatic reply. You must have heard this term for only emails but this is possible in the WhatsApp too. And that is simply possible using some apps that can take your words commands and will send your automatic replies to the messages that will arrive on your Whatsapp messenger. And you can also customize those automatic replies according to your wish. Many of you have read some guides where this can be done only on the rooted android but my guide is not limited to that as one of our techviral visitors message me to write the guide for the method that works on non-rooted android and that is the reason I'm going to mention both the ways that you can use to set the automatic replies on your WhatsApp. So have a look at the complete guide discussed below to proceed.
How To Send Automatic Reply to WhatsApp Message in Android
The method is quite simple and straight and you just need to get the two apps that is one for the rooted android and other for the nonrooted android. And there you will be setting up the custom message for your automatic replies. Actually, I got an idea of this method from my brother when he was exploring the guide for setting up the automatic reply on his mail and then I thought of doing this on the Whatsapp. So I researched over the internet and got the way by which this was actually possible. And now I'm writing this guide so that you guys can also do this on your android phone, Read the guide for both rooted and nonrooted android to set this auto replier.
Also Read: How To Schedule Whatsapp Messages On Android (4 Methods)
#1 Setting Up Automatic Reply on Rooted Android (whatsapp message scheduler)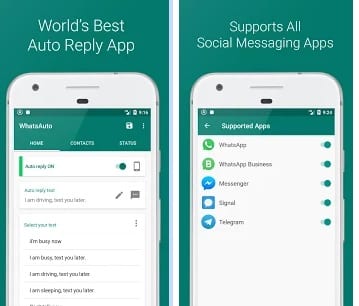 This method is simple but you need a rooted android for implementing this. Make sure your device is rooted as the app will only work if your device is properly rooted.
First of all in your rooted android you need to download and install one the best apps that are WhatsAuto – Auto Reply App. This is the app that will allow you to set the custom auto-reply on your what app.
After downloading you need to provide the root access and open the app. Whenever you're busy turn ON WhatsAuto and set custom message, it will automatically reply to all incoming messages.
There you can select turn On the option and can set the message that you want to send to all the messages coming on your WhatsApp.
Once that is done, you will see all your WhatsApp message will be replied with this auto replier.
Also Read: Best WhatsApp Tricks and WhatsApp Hacks 2019
#2 Setting Up Automatic Reply on Rooted Android
This is a simple and straight method and can be implemented in the just 2 steps explained below.
First of all in your rooted android you need to download and install one the best apps that are AutoResponder for WA – Auto Reply Bot. This is the app that will allow you to set the custom auto-reply on your what app.
Here you can set the custom reply to custom messages. As like for the message where are you can set the message I'm little busy in the office chat with you later.
Once the messages are set you can save the option and can turn the app on so that custom automatic reply can be ON.
That's it you are done now your incoming WhatsApp messages will be automatically replied with these custom relies on.
Also Read: How to Mirror Your Android Mobile Screen to Window PC
#3 Using GBWhatsApp
Well, for those who don't know, GBWhatsApp is one of the best WhatsApp mods available for the Android operating system. The great thing about GBWhatsApp is that it removes all restrictions that are set by the official WhatsApp app. You can enjoy multiple themes, endless privacy options, etc with GBWhatsApp. The latest version of GBWhatsApp also got the option to send an automatic reply. Here's how to use GBwhatsApp to send an automatic reply to WhatsApp messages.
Download & Install GBWhatsApp Apk on your Android smartphone and launch the app.
Head to the GBSettings and then turn on the 'Auto Reply Message'.
Now tap on the Plus (+) button and create an auto-reply.
In the next step, you need to set the receiver. So, select from 'Contact'. 'Groups' or 'Both'
Once done, you can also assign a specific time to active the auto-reply.
That's it, you are done! This is how you can use GBWhatsApp to send Automatic Reply to WhatsApp message in Android.
So the above guide is all about how to automatic reply to WhatsApp message in android, Use the above two ways and you can easily set the custom replies on your Android. Hope that you might be liking the information given in this article if it is so then please try to share it with others too. Also, share your suggestions and opinions regarding this content by using the comments section below. Your indulgence in our work is really grateful to us, keep supporting us and we would be always coming up with all new amazing information. At last but nevertheless, thanks for reading this post! And if you have any topic in the mind that you want us to write then please share with us so that we can work on it for you and you can explore the things better with us.